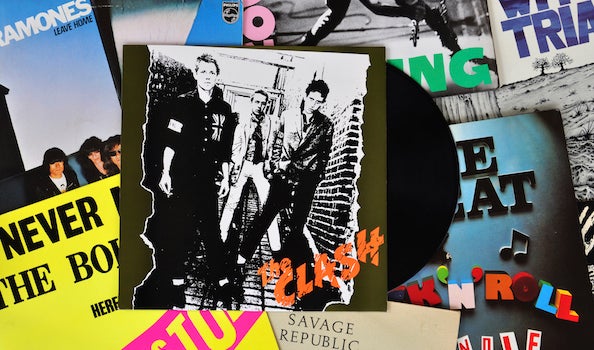 18 Nov 2015
The Truly Fascinating Life Of Mick Hucknall
In case you haven't heard, Simply Red are back! Mick Hucknall and the gang are heading to The O2 this November. We reckon @Mr_Billyonaire is pretty excited: 'Mick Hucknall has the best voice on the earth. Fact. No argument.'
Mick Hucknall has the best voice on the earth. Fact. No argument.

— Billy Sheldon ☠ (@Mr_Billyonaire) May 19, 2015
That's right, Billy. But it's not only Hucknall's singing voice that's full of unique and interesting quirks; his general life is, too. In fact, his life has been so interesting it totally deserves an entire feature written in dedication. Which is precisely what we've done. Welcome to the truly fascinating life of Mick Hucknall...
So did you know…
He started out playing in a punk band
Before all that, though, Hucknall was at the gig often referenced as THE beginning of the punk movement. Pretty serious stuff, really. In 1976 – four days before his 16th birthday – Sex Pistols performed at Manchester's Lesser Free Trade Hall. Hucknall was there, in some kind of studded leather jacket (probably), along with members of The Smiths and Joy Division, before either band was even officially formed.
His love of punk is what instigated his foray into the musical world, where he founded Frantic Elevators in the late '70s. Although his punk band would never hit the dizzying heights of fame, it did lay the foundations for Simply Red's creation seven years later.
He produces Sicilian wine
And that's just plain cool. The wine is labelled Il Cantante – which translates to 'The Singer'.
He LOVES Man United
As a born-and-bred Mancunian, there were only ever two ways his football allegiance could go – and it went to the red half of Manchester. Ever wondered where the name Simply Red came from? Well now you know!
His unwavering passion for United even led him to try and buy the club in 1998. It didn't work out. But at least he got to hang out with Eric Cantona!
He co-owns a reggae label
Yeah we were surprised, too. Blood And Fire was founded in 1993 and has a strong penchant for reissuing traditional '70s reggae records. Bizarre, but also very awesome!
He has dated A LOT of women, including CATHERINE ZETA JONES
He even issued a public apology to women all over the world – expressing his regret for 'hurting some really good girls'. Speaking to the Guardian, Hucknall claimed to have dated over 3,000 women in his time – 'often about three women a day, every day'. To be honest, we're not entirely sure how he found the time, whilst juggling being a hugely successful pop star. He must just be exceptional at time management. Of these women, the most famous is Welsh actress Catherine Zeta Jones, who Hucknall dated for four months prior to her meeting Michael Douglas.
These days, though, all of that is behind him, and he's shown a touching level of genuine remorse for any hurt he caused women in his past.
Oh, and he also used to date Martine McCutcheon. And this happened…
Martine McCutcheon once ACTUALLY THREW UP IN HIS HAIR!!!
Yep. It happened. We apologise if you've just eaten your lunch, but this is too good to leave out!
The ex-Eastenders star had a drink too many and managed to be sick in Hucknall's exquisite curly hair, in the back of a taxi. McCutcheon opened up about the palaver a while later, saying: 'I was quite nervous to be on a date with him. I just kept drinking, and I wasn't really eating, and then the next thing we're getting in a car and as the engine went over, my mouth went "Grrr". He said, "Sorry?", thinking I said something, and I just went "Borrrrr". All over him.'
That poor lovely hair! We hope he offered to pay the driver's cleaning fees.
He runs an Irish country estate
Along with bandmate, Chris de Margary, Hucknall bought Glenmore Lodge back in 2005, where he now offers a range of sporting experiences (including deer stalking!!).
Basically, if you ever fancy a weekend of hunting and fishing, you know precisely where to go!