Home
Thinking About Having A Party?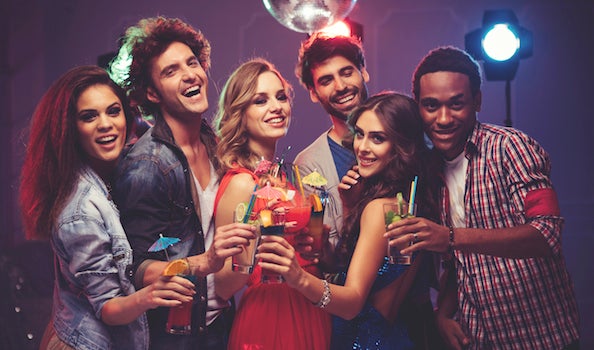 19 Nov 2015
Thinking About Having A Party?
Here are 6 reasons why it should be at The O2
So, you're having a party are you? Sure, it's London and there are thousands of options. You could invite all your friends to your house, despite the fact that you've got a nice new sofa which will inevitably get red wine spilled all over it. You could hire out the back room in that pub down the road – the one that smells like men's toilets. Or you could spend a ridiculous amount of money on a cool Soho club that will be so packed out you can barely find your friends amongst the furore.
Of course, there is another option. The O2 is brimming with restaurants, bars and a mother-flippin' ARENA that are all perfect for hosting parties of all shapes, sizes and themes. Not convinced? Here are six reasons The O2 is the ultimate party destination…
You can go BIG
If your party is actually pretty special, (we're thinking weddings, big anniversary's, landmark birthday celebrations), then we have four massive event spaces that all vary in atmosphere. Building Six can hold up to 3,000 people, and as a super-club with a modern, industrial feel, is perfect for parties with a focus on dancing. Atmospheric but still huge; there's also the indigo at The O2 space which is built on versatility.
Need a space? Need a suite of dinner tables? Need a buffet or a dance floor? We got it all.
You can go INTIMATE
For smaller parties, there are plenty of options too; whether it's the best table in luxury Argentinian restaurant Gaucho, or chilling in our exclusive Green Room, with a 150 person capacity, and a back-catalogue of impressive visitors, including Rihanna and Jay-Z.
The party can last FOREVER!
Why stop at one party? Sometimes it's worth investing in the long haul, which is why we offer the option to purchase a VIP suite. A whole host of awesome stuff is included, such as stellar views of the arena, comfortable seating, a private, plush environment and the option to see 12 shows for free. We can also bring you whatever food and drink your heart desires, ensuring there's a party atmosphere whenever you pop in for a visit.
You can party on a BUDGET
Do you know what really makes a party awesome? It's not the glitz or glamour – it's your friends! Take Gemma and Ben, for example, who both celebrated their impending weddings at the O2 in the classic way – by going to one of our events! @GemmaLovesCake was chilling 'At the O2 ready to see Take That @GaryBarlow for my mini hen do' while @BJ_07 went 'Back on the coach... Now to the O2 for #kisstory #StagDo @Majestic' – sometimes all you need is your mates and a great show to visit, followed by a few drinks or a lovely dinner and you've had the best party in the world.
At the O2 ready to see Take That @GaryBarlow for my mini hen do

— Gemma Morgan (@GemmaLovesCake) June 6, 2015
Back on the coach... Now to the O2 for #kisstory #StagDo @Majestic

— Ben BJ Jackson (@BJ_07) April 4, 2015
It's SO easy to get into central London
You can be at Bond St station in roughly 17 minutes, and being close to town is useful if you feel like exploring London in the early hours. Luckily, North Greenwich is on the Jubilee Line, and we're pretty smug that all the best stops fall on that line.
But…you DON'T EVEN HAVE TO LEAVE!
The joy of The O2 is that we've simply got everything here already. Hungry? Yep – we have dozens of restaurants covering almost every cuisine imaginable. Thirsty? We've got everything from cocktails to fresh juices. Need to fill some time? We've got free exhibitions, exclusive VIP events and thrill-seeking experiences (ever scaled our roof before? You have to try it!). Basically, if you want to stay put, you're more than welcome to!
Still have more questions? Not a problem – head to our Hire a venue section to get in contact, and we'll help you work out what's best for you.