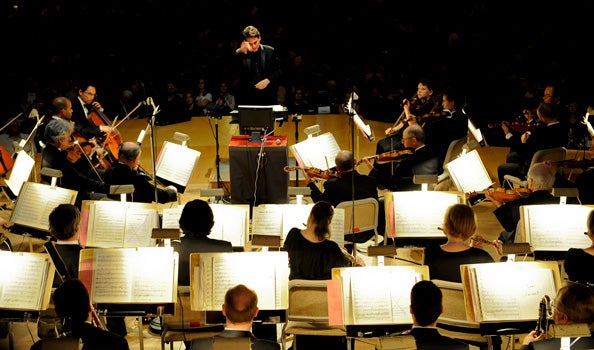 5 July 2016
Turn The Violins Up To 11: How To Make Rock Sound Totally Magical
Did you ever listen to your favourite album and think, 'this would sound way better with a full 100-piece orchestra in the background?' If not, you're in for a treat, because even the heaviest metal and the catchiest rock and roll can send shivers down your spine when the drums and guitars are swapped for harps and oboes. Have a listen to some of these stunning symphonic takes on rock and pop classics. You'll get goose bumps, we promise.
Kiss with Australia's Melbourne Symphony Orchestra
(Highlight: the orchestra in full Kiss makeup!)
Damon Albarn with the Orchestra of Syrian Musicians
(Highlight: guitar and qanbus duet)
Deep Purple with the Royal Philharmonic Orchestra
(Highlight: the specially written concerto lyrics)
Metallica with the San Francisco Symphony
(Highlight: EVERYTHING)
Meat Loaf with the Melbourne Symphony Orchestra
(Highlight: the orchestra kicking off as Meat Loaf shouts 'that!')
Aerosmith with the Boston Pops Orchestra
(Highlight: Steven Tyler sharing the mic with the conductor)
If, after listening to those, you never want to hear anybody singing anything again unless there's a full orchestra involved, we've got you covered. This November, the Royal Philharmonic Concert Orchestra is coming to The O2 to back classic Elvis tracks, and Pete Tong will be bringing you Ibiza Classics performed by The Heritage Orchestra. Prepare for more goose bumps!