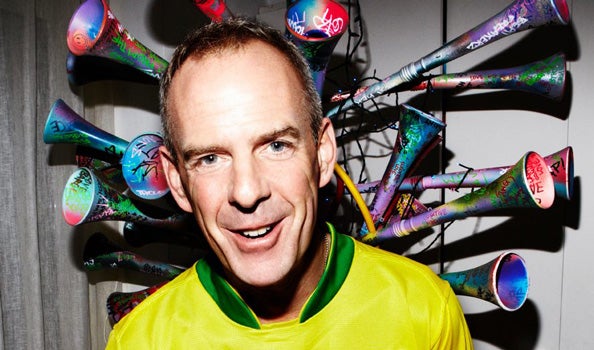 22 July 2016
What Are The Best Ibiza Bangers Of All Time?
Ibiza: the land of sun, sea, sand and some of the best dancing tunes EVER. From tech-house to sundown anthems, the superstar sounds of the Balearic Island are always sure to awaken your inner party animal.
But what are the greatest tunes ever made famous by this party paradise? With a handful of Ibiza legends – Jean-Michel Jarre, Pete Tong and Fatboy Slim – all playing The O2 arena in coming months, we look at five songs which make us wish we were right there, right now…
1. Fatboy Slim – The Rockafeller Skank
He's come a long way baby, but The Rockafeller Skank – a rabid, Northern Soul-tinged, big beat belter – was arguably Norman Cook's finest moment. Released in June 1998, its central refrain, "Right about now, the funk soul brother", became a defining sound of the summer. Fingers, toes and glow sticks crossed it gets an airing when the man himself plays The O2 on 17 December.
2. Pete Tong – I Lost My Mind
So many of this legendary DJ's back catalogue could have made it onto the list, but this 2015 smash by Pete Tong and Kingstown seemed appropriate as we've lost our minds with excitement for his upcoming show at The O2 on 1 December.
Super fan @borleyrose has already seen him live – and, safe to say, she was impressed.
@JeNeSuisPasClem OMG did you see Pete Tong last night? Brilliant set 😃👍👍💃💃💃💃

— Kate (@borleyrose) July 9, 2016
3. Stardust – Music Sounds Better With You
If you're only ever going to make one song – as the French house trio Stardust did – you might as well make sure it's a classic. This groovy hit of electronica managed to sound both timeless and fresh when it was released in 1998. So much so, in fact, that 15 years later Mixmag named it the sixth greatest dance track – EVER! Some praise.
4. Jean-Michel Jarre – Oxygène Part 4
JMJ was knocking out Ibiza sounds before Ibiza was even a thing. Long before the island gained its party reputation, the 67-year-old French pioneer was creating revolutionary albums of electronica, ambient and synth-pop that would become the blue print for chill-out lounges everywhere. The best of the bunch remains Oxygène Part 4, a 1976 slice of supernatural summer beauty. The O2 is honoured to be welcoming him on 7 October.
5. Roger Sanchez – Another Chance
Plenty has been said about the talent of American tribal house master, Sanchez. He's been named best house DJ at the prestigious DJ Awards on four separate occasions, and has both Grammies and gold discs under his belt. But perhaps @Jack_W_Gardner, who's currently living it up in Ibiza, best sums up his achievements. We couldn't agree more – and Another Chance is the man at his best.
@djrogersanchez has made some bloody good music in his time let me tell ya

— Jack Gardner (@Jack_W_Gardner) May 24, 2016