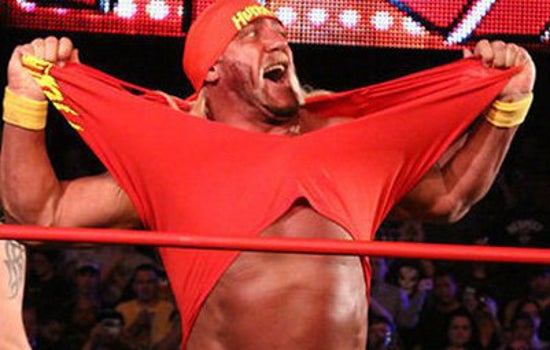 15 June 2016
What Are Your Favourite Old School Wrestlers Doing Today?
Big Daddy, The Undertaker, Hulk Hogan… if you haven't heard of the world wrestling greats, perhaps a Brainbuster would help jog your memory? Or a Rock Bottom to finish you off?
A flock of current superstars will take part in WWE Live In London when it comes to The O2 in September. But ahead of the big day (Wednesday 7 September btw), we look at what the old-timers are up to - they might have retired but they helped make wrestling what it is today.
'Stone Cold' Steve Austin
The sheer number of injuries Stone Cold suffered during his career meant he was never going to continue in the sport for as long as his colleagues. And, as one of the biggest-ever names in the game, it was no surprise to see him move into films after hanging up his leather waistcoat for good.
He was cast as a baddie in The Expendables, and looked pretty indestructible until his character, Paine, was set on fire. Most of his other roles are of the straight-to-DVD variety, but he did appear as host on WWE Tough Enough, Redneck Island and Steve Austin's Broken Skull Challenge. Thankfully Broken Skull is the name of a ranch used in the series, not a medical problem contestants leave with!
The Rock
The Rock famously dubbed himself the Most Electrifying Man in Sports Entertainment. And for a time, when he constantly asked if we could smell what he was cooking, he was right. Dwayne 'The Rock' Johnson was a brilliant wrestler and showman, combining unmatched athleticism with the motormouth of Muhammad Ali.
As a film star, he's an even bigger draw, with his movies earning a record-breaking $1.3bn in 2013. He's appeared in box-office busters including the Fast & Furious series, The Scorpion King, G.I. Joe: Retaliation, San Andreas, and the forthcoming Central Intelligence with Kevin Hart. Johnson's also due to star as Black Adam, the villain in DC Comics' planned film Shazam.
For a bit of Rock inspiration, check out this meme, courtesy of david_lundy!
Hulk Hogan
Hulk Hogan has spent more time in the headlines in the past few years than he ever did in the ring as a wrestler. There was a 2007 divorce, and more recently, a high-profile court case against a gossip website that published a naughty video of him and Heather Clem.
Over the years, he's opened a couple of restaurants, endorsed many a food and kitchen appliance, featured in a string of reality TV series including Hogan Knows Best and had a go at acting. Who could forget his turn as Thunderlips in Rocky III, or early 90s comedies Suburban Commando and Mr. Nanny? Most people, it would seem.
Macho Man Randy Savage
Not all wrestlers made it through to retirement. One of the very biggest stars of the 80s and 90s, 'Macho Man' Randy Savage passed away in 2011 from heart disease, aged 58. Another giant of the ring, The Ultimate Warrior, died in 2014. Big Boss Man, The British Bulldog, Earthquake, Eddie Guerrero, Road Warrior Hawk, André The Giant, Rowdy Roddy Piper and Chyna are just a handful of other WWE superstars who've died since finishing wrestling. Each and every one left their mark on the sport, and are still missed by fans around the world.
Mick Foley
During his intense career, Mick Foley wrestled under his own name, as Mankind and Cactus Jack. He's best known for a series of death-defying falls and stunts that should've really resulted in serious injury, isn't that right @shivyomak?
16 years ago since my first wwf ppv 👌 @RealMickFoley scared the hell out of 11 year old me 😂 still fav match ever pic.twitter.com/xgmYVIKfwJ

— Brianna Blackwell (@shivyomak) January 23, 2016
Outside the ring, Foley has found success as a children's author, writing four books, while the three volumes of his jaw-dropping autobiography have all been bestsellers. On top of that, he's involved in all kinds of activism, from visiting armed forces overseas, fundraising for victims of sexual assault and donating money to start schools in the Philippines, Mexico and Sierra Leone. A hero of the ring, a saint outside it.