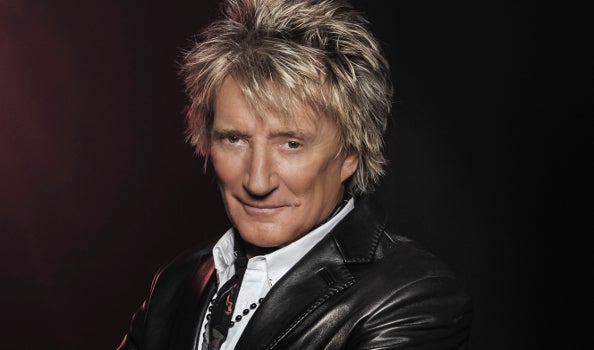 16 June 2016
What Football Clubs Do Your Favourite Celebs Support?
When you're watching footy on the telly and the cameraman pans around, it's always pleasing to see a familiar – and famous - face in the crowd.
Fair enough, they're usually in a VIP box with the best seat, but when an international music star or Hollywood hero is in the crowd, you can't help but feel united through sport.
From the obvious to the downright bizarre, we take a look at who our favourite celebrities support.
Rod Stewart
Stewart has had football running through his veins since, well, he's had veins. He once tried out for Brentford FC, but thankfully for Stewart fans, music beckoned and football took a backseat.
In case you don't know which team he supports, check out the massive Celtic badge on Stewart's drums when he returns to The O2 arena in November. That should give you a pretty good clue, isn't that right @larky83?
Rod Stewart pays monster bar bill after dozens of Celtic supporters took up his offer of a free drink in Las Vegashttp://t.co/CeQAaRgM9P

— mmcm (@micksuntan) August 17, 2015
Louis Tomlinson
Everybody knows Tomlinson is a massive Doncaster Rovers fan. So big, in fact, he's not only tried to buy the club, he's also won a competition to design next season's away kit. The club insisted his global superstardom had nothing to do with the choice of winner but as @LouTomlinsonACE points out, Rover fans aren't impressed with the decision.
Showbiz news: Doncaster Rovers fans unhappy with Louis Tomlinson's competition win - Bromsgrove Advertiser https://t.co/MvosKSdxeV

— Louis Tomlinson News (@LouTomlinsonACE) April 7, 2016
If you're not already convinced of the One Direction star's love of football, he's also being tipped to play Premier League winner Jamie Vardy in the movie of his life.
Gary Lineker
Speaking of Vardy, we're not sure ex-footballers should really qualify for this list, but the nation's favourite crisp muncher has always worn his true blue and white colours on his sleeve.
He'll be without more than just his sleeves if he ever carries out his promise to present Match of the Day in 'just his undies' after Leicester City won the league. We'll be keeping an eye out for that next season then, Gary.
Will @GaryLineker actually present @BBCMOTD in just his pants?! @mrdanwalker went to meet @LCFC's number one fan...https://t.co/hIV2n6zJSQ

— BBC Breakfast (@BBCBreakfast) May 17, 2016
Prince William
Unfortunately not everyone can support a winning team, and Prince William confessed to choosing Aston Villa because he wanted an emotional rollercoaster.
He got what he asked for when the team were relegated from the top flight this year for the first time since the 1986/87 season. We're not ones to question our future king's dedication, but the same can't be said for other fans. Let us know if you spot him in the stalls, @SMcClay29!
"Prince William enjoying the cup final as a neutral after his Aston Villa suffered relegation" Oh please, like he could name any players

— Stephen McClay (@SMcClay29) May 21, 2016
Adele
During a gig at The O2 arena earlier this year, we loved it when Adele made no secret of who she supports by unveiling a Tottenham Hotspur flag on stage. Born in Tottenham, she's an ardent fan and will be hoping her club can go two places better next season.
We love this shot of @Adele embracing the @SpursOfficial merch 😂 #AdeleLive2016 pic.twitter.com/Lz5cevmTop

— The O2 (@TheO2) April 4, 2016
David Cameron
In one of politics' most cringeworthy moments, prime minister David Cameron, a self-proclaimed life-long Aston Villa fan, accidentally referred to himself as a West Ham supporter. We've all heard of political U-turns, but this one really took the biscuit!
Jermaine Jackson
Michael Jackson's older brother Jermaine is a big Sheffield Wednesday fan. With the Owls reaching this year's playoff finals at Wembley, Jermaine said he visited the club more than 30 years ago and has been rooting for them ever since.
He's even rewritten a song to show his support. We're glad we're not the only ones who find this bizarre @Sarah_Wearing!
Jermaine Jackson supporting Sheffield Wednesday is on a par with Gazza and the fishing rods in weirdness.

— Sarah (@Sarah_Wearing) May 28, 2016
The Queen
So which club lays claim to the ultimate fan base? Turns out West Ham United can count the Queen among its supporters – alongside many other famous faces. Barack Obama, Russell Brand, James Corden, Ray Winstone and Keira Knightly are all rumoured to be behind The Hammers. Oh, and Katy Perry, much to the approval of @glesgabhoy71
This morning I dedicate my first #humpday picture to West Ham and the lovely @katyperry 😉#coyi 🔥 pic.twitter.com/Ag8DCgQocV

— Glasgow Devil★ (@glesgabhoy71) February 10, 2016
They might even have been able to count the prime minister among their ranks if he could just make up his mind.
And that's not all…
The list of celebrity supporters doesn't stop there. Ant and Dec are regularly seen in the stalls at St James Park watching Newcastle United, the Gallagher brothers are die hard Man City fans, and Usain Bolt, the world's fastest man, fancies himself as a player for his beloved Manchester United. But whether we'll see him at a game – or on the pitch – next season is another matter.