What Goes Down At The O2 After The Main Event?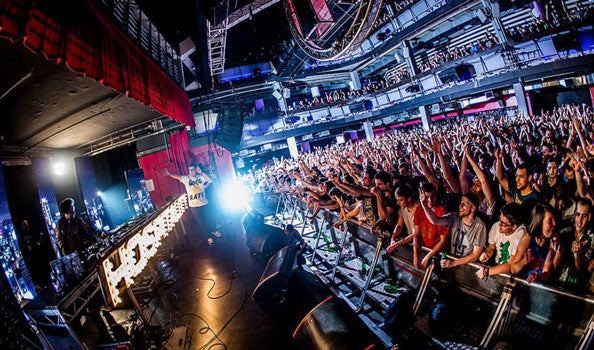 29 Apr 2016
What Goes Down At The O2 After The Main Event?
Our arena can hold up to 20,000 people, which means that on event days, we have literally thousands of people milling around our huge, beautiful venue – filling up our many restaurants and bars. If you're the type to enjoy the show and then head straight home, think again. There are so many reasons to hang around and soak up the atmosphere, and here are just a few of them…
Building Six
If the main event has you all riled up, you don't need to go home! We've got Building Six to provide you with a dancefloor and some bangin' tunes to keep the party going. We host some of the biggest club nights in the UK, including Speakerbox, Hospitality and Cocoon. We also have a seriously awesome Body Kinetic dancefloor which reacts to the bass, allowing you to feel the music through your entire body. If you need a break from the epic indoor atmosphere, there's a chill-out terrace with cosy heaters, beds and clusters of sofas, all with our famously cinematic view of London.
Head to one of our many bars
We know that, whether it's before or after an event, sometimes only a cocktail will cut it. We boast all kinds of bars within our curvaceous walls, from informal beer stalls to familiar favourites like All Bar One and, indeed, to more unique offerings, like our airport-style lounge bar NY-LON.
Go out for a late bite
Cheering for your favourite band, laughing at your best comedian, marvelling at the skill of an incredible circus performer – all of these require a lot of energy and, take it from us, enjoying a show is hungry work! If you're feeling peckish after an evening performance, don't despair. We have a couple of restaurants that take orders until 11pm, including the sizzling South American Las Iguanas, and the delicate pan-Asian Water Margin.
Up at The O2
If you've seen a film at our cinema or a matinee show that finishes in the early evening, the best way to round off the day has to be our spectacular Up at The O2 guided exhibition of our iconic roof, complete with breathtaking vistas of the London skyline. We highly recommend our twilight or sunset walks for a truly memorable experience.
So, what are you waiting for? It's time to explore everything we have to offer, beyond just the best arena in the UK…