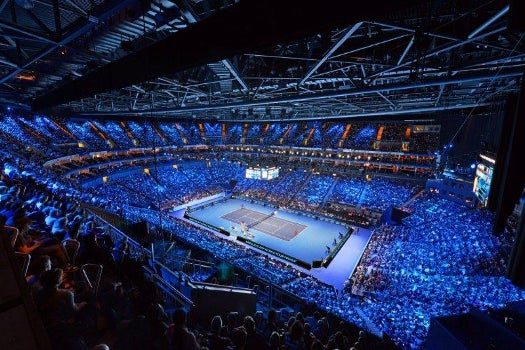 15 June 2016
What You Can Expect From 2016's Barclays ATP World Tour Final
There's no lush green turf like Wimbledon, or open-air drama on the clay at Roland-Garros, but at the Barclays ATP World Tour Finals, you're getting more than just tennis.
For eight days in November this year, The O2 becomes the centre of the tennis universe as the best of the best head to London for the largest indoor tournament in the world. Expect lights, noise, action; as the superstars of tennisdom battle it out in this end of season showdown.
Djokovic is back to defend his title
If last year's event is anything to go by, you're in for edge of your seat, seat of your pants, nail-biting stuff. In 2015, we saw the two best players in the world - arguably of all-time - contest the final, with Serbia's Novak Djokovic defeating Swiss sensation Roger Federer 6-3, 6-4 to land the lion's share of the £4 million prize fund. Nice work - if you can get it.
Perhaps unsurprisingly, Djokovic is the first player to book his place at The ATP Finals after winning The French Open - completing his career Grand Slam in the process. He's also recently become the first player in history to earn $100 million in prize money. See you there Nick, we'll bring the love!
.@DjokerNole is 1st to qualify for #FinalShowdown after reaching #RG16 SFs. Read & Watch: https://t.co/WxBRZHpJ19 pic.twitter.com/60DtkxuTOy

— ATP World Tour (@ATPWorldTour) June 2, 2016
The almighty Murray will make a bid to be top dog
The ATP World Tour Finals is far from a one-man show. Djokovic may not have lost a match on O2 ground since 2011, but there'll be an assembly of players determined to knock him off his perch.
Andy Murray was unable to stop the Djokovic juggernaut at The French Open, but if UK supporters get behind him like they did at Wimbledon last year (including his mum, who's shrieks of 'Come on Andy' were loudest by far), anything could happen.
And Federer will no doubt aim to go one better after losing in the final three times in four years.
Underdog Nadal and the Bryan brothers will make a comeback
Rafael Nadal, the Spanish heartthrob with the floppy hair and steely determination, will be hoping to light up the cold November days after a poor 2015 season. Meanwhile, the Bryan Brothers, Mike and Bob, are gunning for a third doubles title since the event moved to The O2 seven years ago.
With all the razzmatazz of a pop concert, and clever use of music and lighting, The ATP Finals are a real spectacle for spectators. To use one of Djokovic's favourite hashtags, everyone's starting to #FeelTheLove!