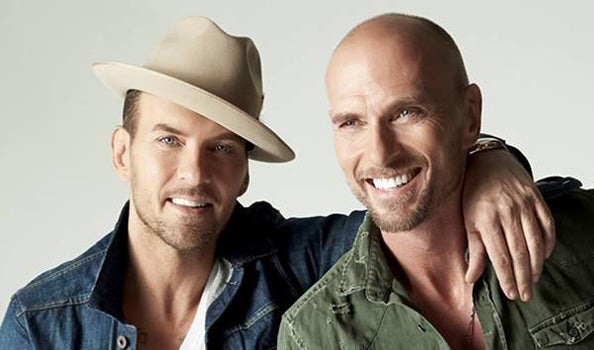 28 Nov 2016
Which Bands Have Survived A Line-up Change? [3 mins]
Sticking together isn't always easy, even for some of the world's biggest bands. We take a look at groups who've soldiered on, even after their fellow band members have headed in another direction.
1. Take That
Take That were untouchable in the 1990s. Gary, Mark, Robbie, Howard and Jason could do no wrong as number one single followed number one single, and tours sold out in a matter of seconds.
But Robbie Williams wanted more, leaving fans - and fellow band members –bereft. The former five-piece managed one more single before calling it a day in 1996, and boy oh boy were tears shed!
You can't keep a good group down, however, and the remaining foursome reformed in 2005 whipping out a chart-topping album and hit world tour. Williams came back to enjoy the ride - but sadly not for good. And when Jason Orange left in 2014, the now three-piece persevered.
Proving less really is more, Gary, Mark and Howard are set to Shine at The O2 arena in June 2017. And we are ready to Take That and Party!
2. BROS
Denim-clad teen idols BROS were the biggest thing in pop when they formed in 1986. No wonder tickets for next year's reunion are such a big deal, with fans already counting down the days 'til they play under the tent in August.
This time around the Goss brothers will be a two-piece. Craig Logan will not be joining in the fun, having broken hearts around the world in 1989 when he originally announced he was leaving the band. It's not holding @Alison_Boler back though, she's waited 30 years for this!
Its a GREAT day when the Bros reunion show at O2 sells out in SEVEN SECONDS and I get three tickets! Waited 30years for this!! 😬

— Alison Boler (@Alison_Boler) 7 October 2016
3. Spice Girls
If you want a band that conquered the world, look no further than the Spice Girls. Posh, Sporty, Scary, Ginger and Baby were trendsetters in all sorts of ways, from gravity-defying footwear to starring in their own *ahem* inspirational film.
However, worldwide fame soon took its toll on Geri, who said goodbye to her bandmates in 1998. The remaining members carried on for two more years before announcing their split, but reformed as a five-piece in 2007 for a short-lived return and an epic performance at the London Olympics.
4. One Direction
One of the most successful British bands since The Beatles, One Direction were an overnight sensation. Quite how Harry, Louis, Niall, Liam and Zayn put up with that level of dizzying fame for so long is anyone's guess, and it was perhaps only a matter of time before one buckled and decided to go it alone.
Zayn Malik was the first to jump ship, announcing he was quitting the band in 2015. One Direction released one album, Made In The AM, without Zayn before announcing they were taking a break too. And we all know what that means…
5. Oasis
Perhaps only the Sugababes have had more line-up changes than Oasis. The Manchester five-piece got rid of their first drummer, Tony McCarroll early on. After their third album, original members Bonehead and Guigsy announced they were heading for the door.
Next out was drummer Alan White, leaving Noel and Liam Gallagher to fight it out between themselves. They miraculously kept going until 2009, when they had one final bust up and called time. Will they ever bury the hatchet and reform? Don't look back in anger, we say.