Home
Your A to Z Guide To The O2 [4 mins]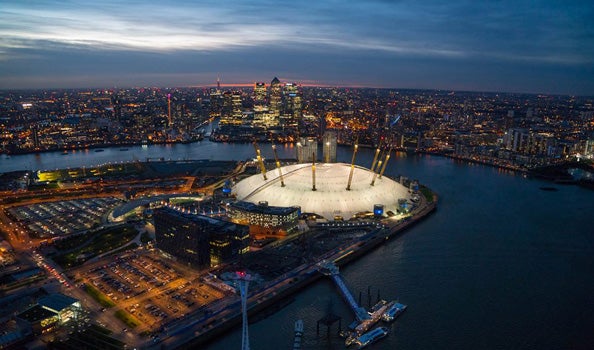 28 Nov 2016
Your A to Z Guide To The O2 [4 mins]
Believe it or not, we're more than just a tent. In fact, there's so much great stuff going on that we've put together this A to Z guide of everything that's EPIC about coming round to our place.
A is for Awesome acts
We've hosted some of the world's biggest acts since opening our doors in 2007, from U2 to Justin Bieber, Bon Jovi to Ed Sheeran. And there's plenty more where that came from.
B is for Backstage access
Sky customers and their friends can make the most of Sky Backstage. Enjoy a drink before a show or warm up your vocal chords with some karaoke - we'll see you there!
C is for Celeb spotting
If you're reallllllly lucky, you might spot a celeb while you're at an event. Like Kevin Spacey – who the beady-eyed @tennis_eyes picked out in the crowd at the ATP World Tour Finals.
D is for Dance the night away
Clubbers, unite! Building Six is one of the most awesome clubs in the world – and it just happens to be at The O2.
E is for Easy access
Getting to The O2 couldn't be easier. You can travel by bus, tube or river bus – and there's plenty of parking, too.
F is for Family days out
Keeping the kids entertained can be a 'mare, but fear not, we've got it covered. From bowling to grabbing a bite to eat at one of our many restaurants, we'll guarantee you a fab family day out.
G is for Green room
Fancy following in the footsteps of the rich and famous? Of course you do! Our Green Room is available for hire and holds up to 150 guests.
H is for Hire a venue
Speaking of hiring venues, did you know there are various other spaces you can hire for exclusive use?
I is for indigo at The O2
For comedy and music, indigo at The O2 is THE place to be. Its theatre style allows you to get up close and personal with some of the biggest stars.
J is for Jaw-dropping experiences
Whether you're climbing our roof with Up at The O2 or loving life at Sky Backstage, we offer a whole host of experiences you'll never forget.
K is for Kids' entertainment
If you've got little ones to occupy or are simply a big kid at heart, why not take them to see the latest Disney movie at Cineworld?
L is for Legends
There aren't many people who can be rightly called a legend, but for those who can, there's a strong chance they've performed here. Prince played a whopping 21 nights in 2007, plus we've hosted the likes of Madonna and The Rolling Stones
M is for MBNA Thames Clippers
Just when you thought a trip to The O2 couldn't get any more exciting, along came the MBNA Thames Clippers – otherwise known as river buses. You could even treat yourself to a glass of bubbly on board to really get the party started…
N is for Nissan Innovation Station
The Nissan Innovation Station is your opportunity to try a virtual high speed test drive and find out more about the latest in car technology. Oh, and did we mention, it's FREE!
O is for OMG moments
Making dreams like @vicki_mcandrew's come true since 2007.
OMG managed to get tickets to see @BrunoMars at the O2 next year with @GoodyearJos @Kirra_megan #megaexcited

— Vicki mcandrew (@vicki_mcandrew) 18 November 2016
P is for Plenty of parking
If you're planning on travelling to us by car, the good news is there's no shortage of parking. Remember to pre-book to avoid disappointment.
Q is for Queue jumping
Did you know, O2 customers with the Priority app can make the most of fast-track lanes at selected events?
R is for Restaurants and bars
And while we're at it, did you know there are 25 restaurants and bars under our tent? Yes, 25! With cuisine from all corners of the globe, there's something to suit even the fussiest eater.
S is for Star Wars Identities Exhibition
Star Wars geeks and newcomers unite, this interactive exhibition is a stunner and at The O2 until September, 2017.
T is for The O2 arena
Unless you've been living under a rock you probably already know The O2 has its own arena, which seats up to 20,000 people, and hosts the biggest names in sport, music and entertainment.
U is for Up at The O2
If you want amazing views of London, there's no better way to do it than with Up at The O2. If you don't believe us, take a look at these amazing snaps.
V is for VIP experience
Live it up like a VIP with one of our exclusive packages. You'll be the envy of all your friends, we promise (or you can bring them along too!)
W is for World-class sporting events
Think we're all about music and comedy? Think again. We've hosted some of the biggest sporting events, with the World Cup of Gymnastics, WWE Raw and WWE Smackdown just a few of those planned for 2017.
X is for 'Xcitement at every turn
OK, so we cheated on this one. We defy you to come down and not have a good time though!
Y is for You'll never want to leave…
It's a risk you will just have to take. The main question is… what will you do first?
Z is for Zzzzzzz
Don't know about you, but we're exhausted after all that – and if you could do with some shut-eye after your adventures at The O2, the good news is there's no shortage of hotels close by. Pass us the fluffy bath robe…