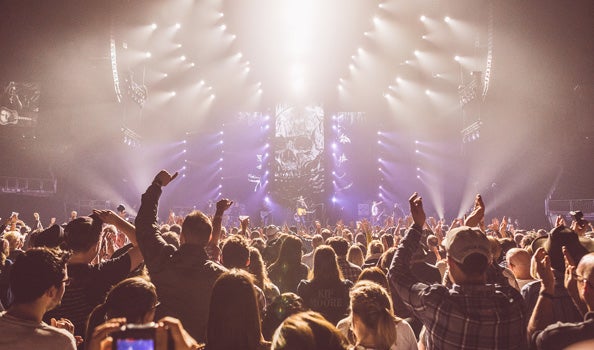 22 Mar 2016
5 Epic Nights Out You Can Have This Year
We know it's easy to head home every night, put on a film and binge on pizza – but that's not what life's about. Even if your dream night is relaxing on a lounge-worthy sofa forevermore, it's time to plan what your epic night out of 2016 is going to look like – you know, the one that gives you at least six anecdotes to keep you going. The event that sparks a new Facebook profile picture. The night you tell all your friends and family about because it was so…well…epic!
Here are five awesome nights coming up at The O2 that are sure to be extremely memorable...
For the rockers
Stone Free Festival is definitely the obvious choice for you. With performances from Alice Cooper, The Darkness and Blackberry Smoke all playing live, it promises to be a weekend filled with flamboyant air guitaring. There's also an abundance of rock-friendly fodder, including craft beers, rare vinyl stalls, classic film screenings, Q&As with rock legends and vintage merchandise. And, once it's all over, you can head to The Brooklyn Bowl for an epic after party which will last all night.
Might just end up going to the stone free festival on my own

— Marius Amerio-Cox (@MariusAmerioCox) February 4, 2016
And we say hell yeah – come along solo and make friends with us and thousands of other rock fans!
18 & 19 June. Prices start from £50. VIP experiences available.
For the funksters
Turn It Loose Night has been a stalwart of the Brooklyn Bowl evening scene since it began. One particular event we're really excited by is Myles Sanko joined by Crowd Company and Hollie Stephenson for a night of funk, jazz and soul. There's nothing better than a smooth cocktail and incredible live music to make a night epic. Just don't forget to bring a date.
2 April. £10 entry. 18+ only.
For the rappers
Don't push us cause we're close to the edge… of excitement! Rap legend Grandmaster Flash is coming to the Brooklyn Bowl and performing all his old classics. Known as the Godfather of Hip Hop, it's impossible to be a fan of this genre of music without appreciating his influence on DJing, rapping and modern culture. And seeing him live? Well, if that's not epic, we don't know what is.
4 June. £20 entry. 18+ only.
For the fashionistas
Early this year we had to say goodbye to one of the world's most beloved musical talents and cultural icons, David Bowie, which has sparked hundreds of tributes and dedications. Of course, putting his unique and awe-inspiring fashion sense and musical style hand in hand with a generally festive mindset creates something really magical: The Bowie Experience. Scheduled for mid-December, indigo at The O2 will proudly host a dedication to all his greatest hits. Dressing up isn't mandatory – but it is highly recommended!
15 December. Prices start from £15.
For the old-skoolers
When you hear the phrase "old skool anthems" does your heart rate bump up a notch? Yep, we thought so. Well, prepare for your ultimate epic night with endless '80s, '90s and early '00s classics from KISS DJs Justin Wilkes and DJ MK at KISSTORY. We've also got Scott Garcia dropping some serious garage hits and a special guest that's still a secret. Sorry, guys – you'll have to come along to see who it is! Head over to the industrial club, Building Six, for the night of your life…
9 April. Prices start from £19.50. VIP experiences available