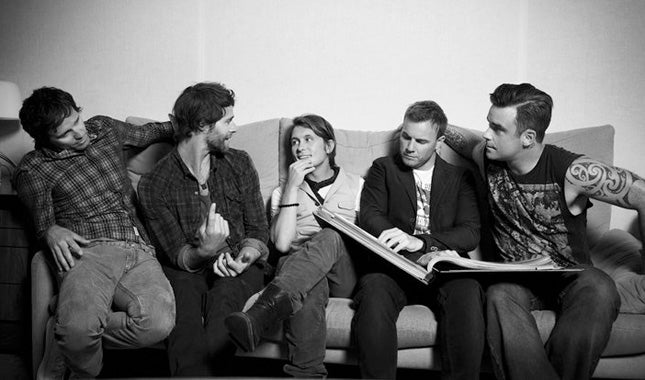 17 Mar 2016
5 Fist-Punching Moments When Great Bands Got Back Together
It's always a sad day, when your favourite band announces they are breaking up. Unfortunately, unless your most beloved group is The Rolling Stones (who we're not sure will ever actually break up), it's going to happen to us all one day.
Here at The O2, though, we like to think of ourselves as an optimist bunch. When our favourite bands break up we give ourselves two choices:
mope around for weeks feeling sorry for ourselves, only eating triple chocolate chip ice-cream and listening to their back catalogue on repeat, or
remember all the great bands that have made epic comebacks, and cross our fingers it happens to our darling group one day
Still not convinced? Well, we looked back at some of the spectacular bands who eventually got back together. Here's what we're getting at…
The Libertines
When The Libertines broke up in 2004, it was almost inconceivable to imagine the charming indie rockers back on a stage together, let alone releasing a new album. But oh how wrong we were. Thankfully, the quartet reformed in 2010 to perform at Reading and Leeds festivals, and released new album Anthems For Doomed Youth last year. Incidentally, the boys played a storming set at The O2 in January, and if you missed it, we assure you it was actually real!
Busted
Twitter nearly exploded when news broke that Busted are reforming – with fans taking to social media to openly cry virtual tears of happiness and express their disbelief that IT'S ACTUALLY HAPPENING! @LilyRoseCorbett is still struggling to accept it:
I don't think I'll ever get over the fact that busted are back together

— lily (@LilyRoseCorbett) January 17, 2016
Yep, that's right Lily Rose, after over a decade apart, Charlie, James and Matt are back, and will be ripping up The O2 on 27-28 May. It's not an evening we recommend missing...
Take That
It hasn't been a bad comeback for Take That, really. Since the boys returned to our radios and TV sets in 2005, they've scored an astounding three Number One albums and singles, packing stadiums and arenas across the country. And it gets better; fans everywhere lost the plot when news leaked that Robbie Williams would be joining his old band mates for a new album. It turns out that dreams do come true.

Blur
We'd almost given up hope of seeing Blur back together again. But after years of clinging onto the faint prospect of a reunion, our pleas were finally heard. Damon and Graham put their differences aside, and went on to perform one of the most phenomenal comeback shows of all time. There have been some legendary headline slots at Glastonbury festival over the years, but not many can rival Blur's blistering 2009 reunion appearance. It was most certainly worth the wait.

Spice Girls
For die-hard Spice Girls fans, 28 June, 2007, will always be a truly special and momentous day. It was on that day, at a press conference held here at The O2, that the Spice Girls announced they were reuniting. Before we knew it, there was a new single, a worldwide tour and a documentary taking a behind-the-scenes look at the reunion. Since then, the infamous girl group has been nominated for a BRIT award, performed at the Olympics' closing ceremony and released the Spice Girls musical, Viva Forever!. As the band approach their 20th anniversary, we can only hope for more of the same.