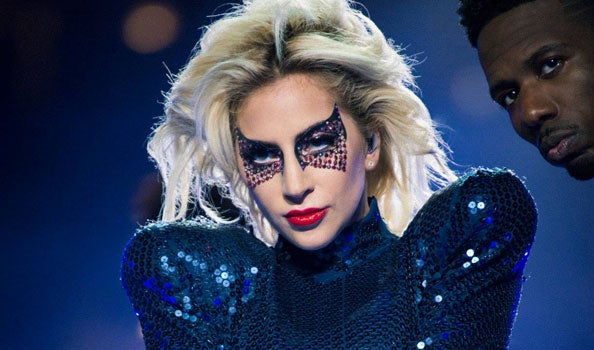 14 Jan 2018
5 Times Lady GaGa Owned It Like No One Else
Outfits in the halls of fame, putting Hollywood actors in the shade, some of the best pop songs of our time and genuinely being one of the nicest superstars in music, Lady GaGa is everything a modern day icon should be. Not to mention one of the most loyal stars to her 'little monsters' aka fans.
No one excites and entertains like GaGa, so here are few of our favourite and most memorable moments both on and off stage:
1.The Superbowl 2017
She already wowed when she sang the national anthem at the NFL 2014 Superbowl, but this year's performance saw GaGa give a simply jaw-dropping performance as the headline. Flawless vocals, killer dance moves, all the favourite hits, of course the outfit shone, and she even jumped off the top of the roof at Houston's NRG Stadium to start. Only GaGa.
2. Wins a Golden Globe, knocks Leo from his chair
Not just one of most iconic female singers of our time, GaGa won her first Golden Globe in 2016 for her role in 'American Horror Story' and called it one of the greatest moments of her life. But it was the walk to accept her award that went viral in a flash as she knocked Leonardo DiCaprio along the way; Leo's face is surely one of the best Hollywood reactions of ALL time?!
3. David Bowie Tribute – The Grammys 2016
The entire world mourned the loss of a legend, David Bowie in January 2016, and when Lady GaGa paid tribute to the Starman at The Grammys, the world listened. Gaga gave one of the most amazing performances of Bowie's songs and also visually blew the world away with her look and special effects.
4. The 'Meat Dress'
It has to be in here. Only GaGa could make salami look this good. Worn at the 2010 MTV Video Music Awards, GaGa explained –
"If we don't stand up for what we believe in and if we don't fight for our rights pretty soon, we're going to have as much rights as the meat on our own bones. And, I am not a piece of meat."
She came under fire for wearing it, but true to form stood her ground. It went on display at the Rock and Roll Hall of Fame in 2011 where it was first preserved by taxidermists as a type of jerky.
5. Telephone featuring Beyoncé
A short film in its own right, when Queen B and Stefani joined forces on the track, Telephone, the video had everyone talking for months after. Two feminist icons ruling the screen and sound waves together was one of the most glorious pop diva duos since Britney and Madonna's, Me against the Music. Diet Coke cans in the hair? Owned it.