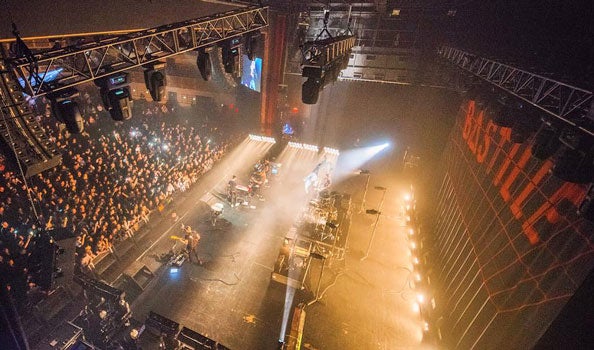 1 Sep 2016
7 AWESOME Bands Named After UNUSUAL Places
When you first start a band, having kick ass songs and an ice-cool image is sometimes the easy part. The difficult bit is trying to find a perfect name. Don't believe us? Just ask Arctic Monkeys. Even Alex Turner has said he doesn't like their moniker!
The solution? Some bands turn to famous places for inspiration. With Bastille playing The O2 in November, here are our favourite bands named after interesting locations.
1. Bastille
They're a London band named after a prison in, er, Paris. But – wait! – this makes more sense than you might think. The lads chose their title because lead singer Dan Smith's birthday falls on Bastille Day, a French holiday marking the storming of the famously cruel fortress. So, a good name and now you know when to send him a birthday card, too!
2. All Saints
Some said that Britain's best girl group of the 90s looked and sounded like angels. So why All Saints? Simple. Because two of the four – Mel and Shaz – started their career singing backing vocals at Sarm West Studios near All Saints Road, in London. Don't miss them supporting Take That in 2017.
3. Linkin Park
Originally called Xero and then Hybrid Theory, it's easy to see why the nu-metal boys wanted to come up with something catchier. They did so when lead singer Chester suggested this name as he drove past Lincoln Park in Santa Monica on his way to practice. Presumably the spelling mistake was deliberate..?
4. East 17
Famed for hits like Deep and Stay Another Day, as well as for their rivalry with Take That, East 17 were one of the UK's biggest boy bands during the 90s. With admirable civic pride, they named themselves after the postcode of their hometown, Walthamstow in London. It's Alright!
5. The Crookes
Sheffield outfit and DIY indie janglers The Crookes aren't named after a gang of petty criminals, but rather the suburb where they shared a house as students. They're still adored there too, as noted by @luciademayo after a gig at the city's Tramlines festival this summer.
@TheCrookes were mad at tramlines!! Had a great time!! Hope George has safely resurfaced from all the underwear...

— Lucy (@luciademayo) July 24, 2016
6. MC5
Arguably one of garage rock's greatest ever bands, MC5 did fast and furious punk before your dad had even heard the term. Their ethos was to keep things simple – and that applied to their name too. MC5 is because they were a quintet from Detroit, nicknamed Motor City. Simples.
7. Earth
This Washington band didn't want to just call themselves after a suburb, city or even country. For them, only the whole Earth would do! Frontman Dylan Carlson – who was once the room-mate of super-cool Kurt Cobain – did so in honour of Ozzy Osbourne's original name for Black Sabbath.