Everything You Need To Know About The Star Wars Exhibition At The O2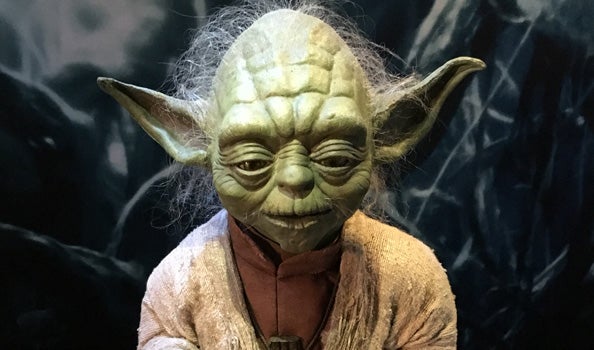 5 Dec 2016
Everything You Need To Know About The Star Wars Exhibition At The O2
Star Wars Identities is a groundbreaking exhibition at The O2 where hundreds of iconic costumes, props and models from the films are on display.
And no matter your age, and whether you're a superfan or newcomer to the world of Skywalkers, Sith Lords and protocol droids, there's something for everyone. Take @davidiwanow's advice and get yourself along.
Just spent the last few hours exploring #StarWarsIdentities #SWIDLondon at @TheO2 you should check it out pic.twitter.com/c4fzjPaePT

— David Iwanow (@davidiwanow) 20 November 2016
What is it?
This exhibition is about more than characters from the famous films. It's about you as a visitor too. When you enter the exhibition you are greeted with the question 'What forces shape you?' and this is a leading theme. The exhibition explores identity including everything from your genes, parents, mentors, friends, influences and personality.
Don't worry, you will DEFINITELY find out more about cinema's greatest collection of characters; Luke Skywalker, Han Solo, Princess Leia, Obi-Wan Kenobi, Darth Vader, Emperor Palpatine, Yoda and more. But with help from a team of scientists at Montreal Science Centre, the exhibition aims to uncover a bit more about you.
What do you do?
If you're used to wandering around a museum or gallery, taking a look at the exhibits then heading home with achy feet, think again! This is an interactive exhibition which keeps you engaged throughout.
The first thing you need to do is grab an audio earpiece and electronic wristband. As you wander around, you scan your wristband and take part in interactive quizzes to build up your unique profile in the Star Wars universe. From a moisture farmer from Tatooine, who enjoys laughing with your friends, to a Mon Calamari Sith Lord from Coruscant with galactic domination on your mind. Your TRUE identity will be revealed at the end! And then a picture of your character is emailed to you after the event.
What's on show?
There's a staggering amount to see at Star Wars Identities – more than 200 artefacts to be (not quite) exact! They include Luke, Darth Vader, Obi-Wan, Princess Leia and Boba Fett costumes as seen in the films. There are droids including R2-D2, C-3PO, The Force Awakens' breakout star BB-8, Jabba's 8D8, a Trade Federation Battle Droid and the lovable Mouse Droid, as well as the Yoda seen in The Empire Strikes Back when Luke travels to the Jedi Master's Dagobah swamp for the first time.
There's also artwork showing characters' evolution from creator George Lucas' first thought through to the versions we all know and love. There are models of various ships and vehicles, such as the largest Super Star Destroyer model used during filming, X- and Y-Wings, a T-47 Speeder seen on Hoth, the Rebel Alliance's Home One, an AT-AT and, of course, a TIE fighter.
Finally, as you walk around, you'll see screens showing key scenes from Episodes I-VI, along with 'making of' featurettes to fully explain how those famous moments came to life.
What's more, you've got plenty of time to get yourself along - Star Wars Identities will be at The O2 until 3 September, 2017.