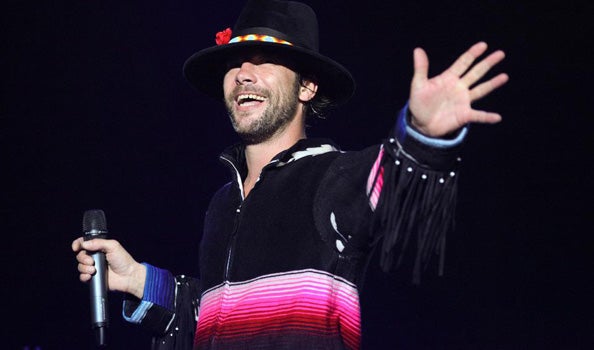 28 Mar 2017
It's All About June!
This June we turn 10 and we're feeling excited AND nostalgic. Excited because we have alt-j, Celine Dion , Jamiroquai and Ed Sheeran playing very special 10th Birthday shows, and nostalgic because – there's just so much love, good times and vibes going off in the tent!
We're clearly not the only ones feeling nostalgic either. Jamiroquai fans are bursting at the seams (we feel the tent might too), to see Jay Kay and the band perform their first live show in seven years - it sold out in less than 1 minute!
It's reunion time with a capital 'R', but here's (Love with a) Little L to get you in the mood:
Which leads us nicely on to say, "It only takes a minute girl", to buy a ticket, to buy a ticket! Ha-ha! June is not just about our big birthday, Take That ARE back for good. The super group played the tent in 2007 when we were newbies so we couldn't be more thrilled to welcome them back as part of our celebration month. We know Chloe feels the same:
@TheO2 Take That😭🎉🎉 so so buzzed to see them again!

— Chloe🦋 (@ChloeCoggieX) 21 February 2017
Their debut album won the Mercury Music Prize back in 2012 and they have some of the most loyal fans in music – it's alt-j! The amazing trio are one of THE most exciting bands to see live so we are counting the sleeps until 16 June. Here's the brilliant 'Pusher'', to tide you (us) over until then:
And then there's the icon that is Celine Dion. Celine also played the arena in 2007 and joins us with a string of dates which are sure to be as epic as every note she hits. In fact, some fans still can't get over 2007 hey Vicky?
@danellis25 I just found these from 2007 @celinedion at the O2 look how close I was pic.twitter.com/uqmLj5fmlT

— Vicky Power (@vmrpower) 14 July 2016
As it's all coming back to us too, here's the classic love song:
And will Thursday 22 June be the most romantic date of all the birthday shows? We only ask because that's the night that Ed Sheeran plays and when that happens, the audience tend to get carried away (5 marriage proposals in ONE night at The O2 in 2014, just sayin). Who knows, all we know is, we'll be there, hoping!
See you there. Find out more about our birthday celebrations here.