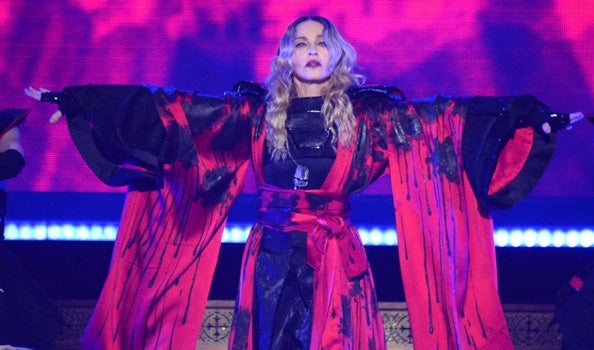 24 Apr 2017
Most Memorable Tours
Sometimes a tour comes along that breaks the box office, blows the audience's mind, and leaves die-hard fans counting the days until the next one. Then there's the electric feeling that stays with you for days sometimes months, wait – did it ever leave?
Five epic tours we can't get over:
Madonna – Rebel Heart Tour 2015
The Blond Ambition World Tour in the '90s just may be one of the most iconic tours in recent times, but when Madonna brought her Rebel Heart Tour to The Tent in 2015 and it became the tenth highest-grossing tour of ALL, time. A cool $305.2 million in sales no less, and just another win to let the world know she's still the Queen of pop in any decade.
One Direction – On The Road Again Tour 2015
You know why this was memorable – Zayn! After an amazing five years with the band, during the Spring part of the tour Zayn performed in Hong Kong before flying back to the UK and announcing his departure from the band a few days later. Harry, Niall, Liam and Louis soldiered on of course and we were lucky enough to have them play for six wonderful nights all to ourselves! Here they are as a five, sob, in Little Things:
Beyoncé – Mrs. Carter Tour 2013
Not that you would expect anything less from one of the most successful and talented women on the planet, but when Bey took her 2013 Mrs.Carter tour on the road it became one of the highest-grossing tours of the decade, and made her the highest-grossing female and solo tour of the year. Let's not forget – we all have as many hours in the days as Beyoncé…
The Rolling Stones – 50 & Counting Tour 2012
When we recently asked you guys about your favourite time with us, The Rolling Stones obviously came up a million times (well nearly, you get us). Two electric nights with us from the tour celebrating their 50 years together was more than anyone could handle. It's no wonder that the band have claimed the highest-grossing tour spot multiple times, with the A Bigger Bang Tour (2005 – 07), still at the two number slot today. Here's Mick and boys playing Wild Horses:
The Spice Girls – The return of The Spice Girls Tour - 2007
We can't not talk about this one. Because:
They played a legendary seventeen nights with us
It was the highest-grossing event of the year
The first date with us sold out in 38 seconds
All London dates sold out within one minute
We'll leave it there
Viva Forever