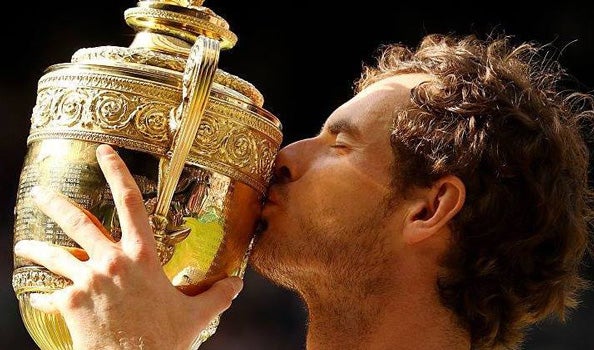 3 Oct 2016
The Top Tennis Moments of 2016
A superb year of tennis action comes to a head in November when we host the Barclays ATP World Tour Finals.
From Andy Murray's Wimbledon and Olympic double, to Puerto Rican Monica Puig making history, we look at standout moments from 2016!
Novak Djokovic crashes out of Wimbledon
Champion in 2014 and 2015, Djokovic's hopes of a third successive Wimbledon crown - and a calendar-year Grand Slam - were ended by 6ft 6in man mountain Sam Querrey.
Djokovic is known as one of the best returners in the game, but on this occasion he was no match for world number 41 Querrey. It's the stuff dreams are made of.
It began a bit of a downward spiral for Djokovic, according to @Jonesy_OmegaMan. But we wouldn't be surprised if the Serb rises again for 2017, no pressure Novak!
Djokovic has had a lousy summer, first Querrey at Wimbledon, then Delpo at the Ollys, and now injury in the US Open Final... #badtimes

— Jonesy (@Jonesy_OmegaMan) September 12, 2016
Juan Martín del Potro getting stuck in a lift
Imagine this: You're about to take on Novak Djokovic at the Rio Olympics and find yourself stuck in a lift for 40 minutes. Who's most likely to come to your rescue? Chances are the Argentinian handball team won't be top of your list – but that's exactly what happened to fellow Argentinian del Potro.
The tennis superstar then strode onto court like nothing had happened, beating Djokovic in the opening rounds of the Games and losing to Andy Murray in the final to take the silver medal. Not bad for somebody ranked 145th in the world and recovering from injury.
Andy Murray wins Wimbledon for the second time…
Murray had tears in his eyes after lifting that famous trophy for the second time, beating Milos Raonic 6-4, 7-6, 7-6. "It's the most important tournament for me every year," he said. "I've had some great moments here and some tough losses. I'm glad to get my hands on the trophy again."
Murray nearly had tears in his eyes for different reasons at the Rio Olympics following a brutal final match against del Potro. It was edge-of-your-seat stuff but Murray managed to cling on to glory and bag himself the title of two-time Olympic Champion.
...And let's not forget his shutdown of TV presenter John Inverdale
"You're the first person ever to win two Olympic tennis gold medals. That's an extraordinary feat, isn't it?" asked Inverdale. "I think Venus and Serena [Williams] have won about four each," Murray shot back. Take that Inverdale, game, set, match!
Monica Puig makes history in Rio
Puig became the FIRST EVER athlete (male or female) to win a gold medal for Puerto Rico. EVER – did we say that already? She beat German Angelique Kerber - despite being ranked 32 places lower.
It proved third time lucky for Puig, who'd lost her two previous encounters with Kerber. She dropped to her knees after securing her victory.
The moment was so momentous, even singing sensation and fellow Puerto Rican Ricky Martin couldn't contain his pride, tweeting: 'Today, with no doubt, my Puerto Rico is the world's most happy island.'