Home
The Most Instagram-Worthy Sun Traps And Summer Spots In Greenwich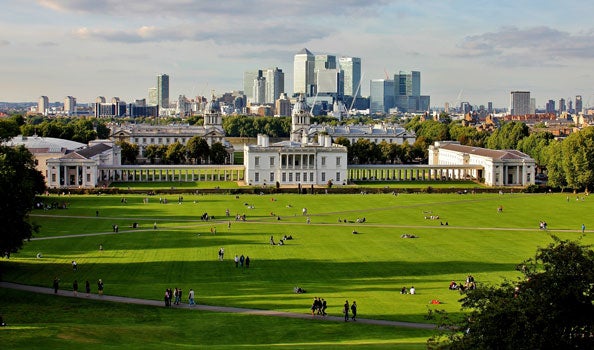 4 Aug 2016
The Most Instagram-Worthy Sun Traps And Summer Spots In Greenwich
The Royal Borough of Greenwich is a special place. It's the home of time, the birth town of King Henry VIII and Elizabeth I, and former host to performances by William Shakespeare himself. Did we mention it's really pretty, too? Greenwich is steeped in history and packed with gorgeous parks, buildings and views, and they all look even better in the sunshine. So if you're visiting The O2 this summer, fire up your camera phone and get swept away by the sunny views in this stunner of a borough. #nofilter
1. Greenwich Park
This Greenwich World Heritage Site park is both picturesque and huge – 180 acres, to be precise. Thanks to its position on the top of a hill, you'll get gobsmacking views of sunny London from here, so it's a prime Instagram spot. Swing by any time from 6am, all year round.
2. The Rose Garden
If there's anything more photogenic than a garden full of roses, we've never seen it. Head over to the eastern side of the park and you'll see this bevvy of beauties behind the Ranger's House. The garden was originally planted in the '60s, and is made up of mostly hybrid tea and floribunda roses, in case you were wondering.
3. The Wilderness Deer Park
In the south east of Greenwich Park is The Wilderness, a lovely secluded woodland that's home to 14 red and 16 fallow deer, not to mention foxes, wood mice and roosting bats, oh my. You'll find paths leading to special viewpoints where you can watch and photograph these dashing deer go about their business.
4. Old Royal Naval College
Originally a retirement home for sailors, Christopher Wren's 18th century Naval College is now used by the University of Greenwich and the Conservatoire of Music and Dance. It's been named by UNESCO as 'the finest and most dramatically sited architectural and landscape ensemble in the British Isles', so if that doesn't deserve a sun-drenched photo, nothing does.
5. Cutty Sark
Pay a visit to the 147-year-old Cutty Sark, one of the most famous ships in the world. It's a very cool summer sight, whether you're seeing it from the outside set against a deep blue sky (even the glass-domed subway tunnel next door is supremely photogenic) or from the inside, peering up at the clouds through its glass beams.
6. Greenwich Pier
Another World Heritage Site over here. The pier is right next to the Cutty Sark, the market and the Royal Naval College, so it's a big tourist destination. Plus, it's a pretty glam way to arrive into Greenwich; hop on the riverboat from Westminster, Embankment, London Bridge City, Canary Wharf or Tower and glide on over, sneaking in a few snaps of the sun-dappled Thames on your way.
7. The Emirates Air Line cable car
The cable cars zip across the Thames from Greenwich Peninsula to the Royal Docks like great big shiny birds soaring through the London sky, and it makes for the perfect photo op any time, from sunrise to sunset. Not enough for you? Book a seat in a cable car and get a lovely, sunny 360-degree view of the city.
Bonus summer photography tips!
When it's super bright, turn on your flash to keep heavy shadows at bay and make your picture pop.
Keep the sun behind you, not behind your subject.
Use an umbrella or piece of cardboard to create shade if you're taking a picture of your friend in direct sunlight.
Avoid close ups in the sunshine – you'll get way too much shadow.
Look out for the 'golden hour', when the light is softer and just perfect for photos. It's usually right after sunrise and right before sunset.
We're now fully expecting your Instagram feeds to be crammed full of gorgeous Greenwich pics this summer (say hi to us with #theO2), so check out Visit Greenwich and start planning your visit.