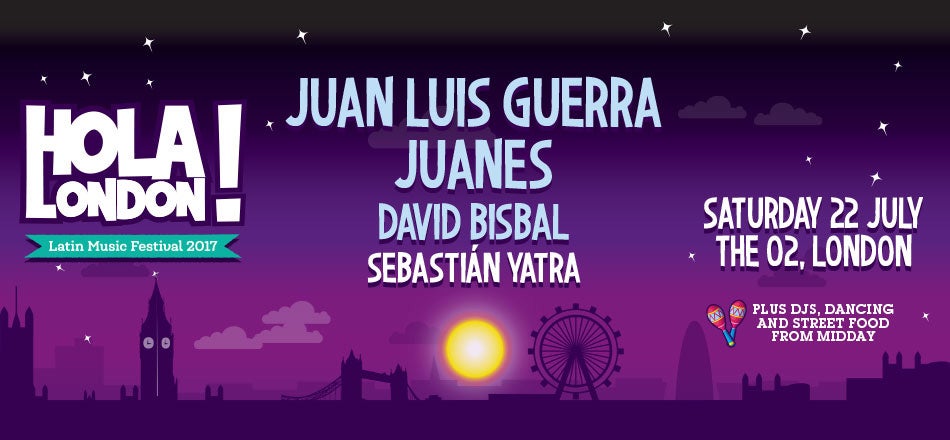 Hola! London
at The O2 arena
This summer London will welcome some of the leading names in Latin music, as stars hailing from Dominican Republic, Colombia and Spain take over The O2, for a celebratory day of music, dancing and street food. Grammy award winners Juan Luis Guerra and Juanes join forces to launch the very first Hola! London Festival on Saturday 22nd July 2017, along with David Bisbal and Sebastián Yatra.
Outside the arena, a Spanish and Latin American food fair will take up residence from midday and fans will have the opportunity to enjoy free music stages and activities.
Tickets go on general sale on Wednesday 29th March and are available at www.theo2.co.uk or by calling 0844 856 0202.
A limited number of VIP Packages are also available from www.theo2.co.uk
London has a huge and growing Latin American community, and fans of Latin, tropical, salsa, urban and dance music can enjoy a full day of high energy vibrant performances for one incredible day and night - all under one roof.
With the increasing impact of Latin artists on the musical world, the desire for more Latin music experiences, The O2, in association with Como No, launch this new event that celebrates the river of Latin music that runs through the heart of London. And with the all new night tube allowing dancing late into the evening, it's sure to be a fiesta to remember.
Este verano Londres recibirá a algunos de los nombres líderes en la música latina, ya que estrellas procedentes de la República Dominicana, Colombia y España acaparan The O2, para un día de música, baile y comida callejera. Los ganadores del Grammy Juan Luis Guerra y Juanes unen fuerzas para lanzar el primerísimo ¡Hola! London Festival el sábado 22 de julio de 2017, junto con David Bisbal y Sebastián Yatra.
Fuera del estadio, se establecerá una feria gastronómica española y latina desde el mediodía y los fans tendrán la oportunidad de disfrutar de actividades y escenarios de música gratis.
Las entradas salen a la venta general el miércoles 29 de marzo y están disponibles en www.theo2.co.uk o llamando al 0844 856 0202.
También hay disponibles un número limitado de paquetes VIP en www.theo2.co.uk.
Londres tiene una comunidad latinoamericana grande y en crecimiento, y los fans de lo latino, lo tropical, la salsa y la música de baile pueden disfrutar de un día completo de actuaciones vibrantes y llenas de energía durante un día y una noche increíbles, todo bajo el mismo techo.
Con el impacto creciente de los artistas latinos en el mundo musical, el deseo de más experiencias musicales latinas y la experiencia sin igual de The O2 en asociación con Como No, es el momento adecuado para crear un evento nuevo que celebre el río de música latina que corre por el corazón de Londres. Y con el metro nocturno totalmente nuevo que permite bailar hasta bien entrada la noche, seguro que va a ser una fiesta para recordar.
Important information
Security
Coming to the show? Don't miss a moment. Head down early. Enhanced security is in place. Pack light, we only allow small bags into the arena.
Road Works
Please be aware that there are road works taking place on Millennium Way in both directions just south of our Car Park 1 entrance until March 2017. Please allow extra time when travelling to or from The O2 by road.
Tickets
Please only purchase tickets through authorised ticketing sites including www.axs.com and www.stubhub.co.uk - The Official Ticket Resale Marketplace of The O2. If you have, or suspect you may have been a victim of fraud when purchasing tickets, please report it to Action Fraud www.actionfraud.police.uk.
Taking care of your ticket
Your ticket's barcode is unique. Don't share the barcode of your ticket with anyone, especially online, as it may be used to sell your ticket on without your knowledge.
Help Desk
If you have already used our on-line help desk - and still need to get in touch? We can be contacted on 0208 463 2000 or click on the Help button at the bottom right of the screen. We're here to help Monday – Friday 9-7pm and 10-6pm at weekends.