Event
timings
Coming to the show? Don't miss a moment. Head down early. Enhanced security is in place. Pack light, we only allow small bags into the arena.
Event timings: Doors: 12:00 // WBBL Play-Off Final: 13:00 // Hoops Aid: 14:45 // BBL Final: 16:00 (all event timings approx)
Close
2017 BBL Basketball Play-off Finals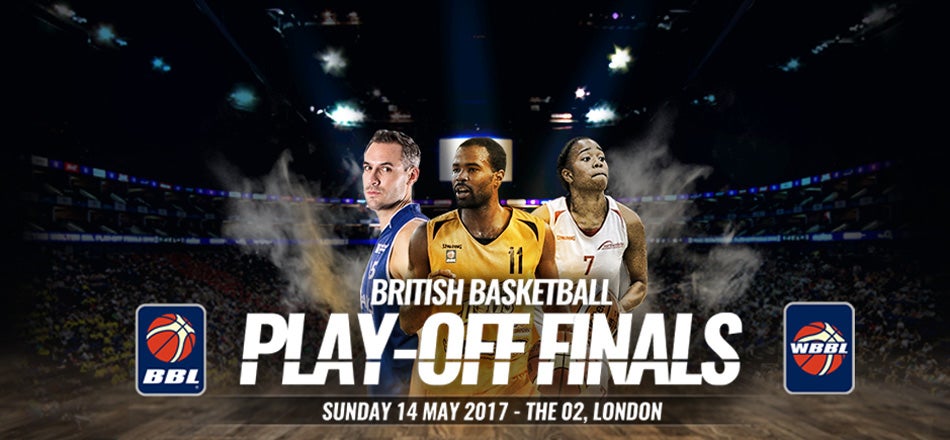 2017 BBL Basketball Play-off Finals
Get access to exclusive updates and a heads-up on tickets.
The line-up for the British Basketball Play-Off Finals are now set as a potentially record breaking crowd next Sunday at The 02 in London prepares to see the last silverware of the season handed out.
The BBL Play-Off Final will see BBL Champions and Trophy winners Leicester Riders make a return to the capital after featuring in last year's edition when they were edged out by DBL Sharks Sheffield.
Having comfortably cruised past London Lions in both legs of the Semi-Finals, the Ed Percival Molten BBL Coach of the Year Rob Paternostro will take his side up against familiar rivals in the shape of the 2017 BBL Cup winners and league runners-up Esh Group Eagles Newcastle.
The Eagles had to fight off Worcester Wolves in an epic Semi-Finals series to make it to The 02, where they won the Play-Off title just two years ago and head coach Fab Flournoy MBE will be looking to add to the longest honours list in BBL history.
With MVP candidates such as Taylor King and Rahmon Fletcher on show for each team, it promises to be exhilarating as the top two teams in the country go head-to-head.
Meanwhile history will be made in the WBBL Play-Off Final as Nottingham Wildcats or Sevenoaks Suns look to take the coveted prize for the first time. WBBL Champions Wildcats will be the favourites behind the outstanding Ashley Harris and influential Siobhan Prior.
However, with the superb Cat Carr and WBBL Trophy MVP Anne Pedersen, Suns will be hoping they can shine on their first appearance at the event and wrap up the most successful season in their history.
ALSO FEATURED ON THE DAY:
Hoops Aid
Tinchy Stryder
The new BBL Mascot unveiling
Jon Moses
Important Information
Security
Coming to the show? Don't miss a moment. Head down early. Enhanced security is in place. Pack light, we only allow small bags into the arena.
Tickets
Please only purchase tickets through authorised ticketing sites such as www.axs.com. If you have, or suspect you may have been a victim of fraud when purchasing tickets, please report it to Action Fraud www.actionfraud.police.uk.
Taking care of your ticket
Your ticket's barcode is unique. Don't share the barcode of your ticket with anyone, especially online, as it may be used to sell your ticket on without your knowledge.
Help Desk
If you have already used our on-line help desk - and still need to get in touch? We can be contacted on 0208 463 2000 or click on the Help button at the bottom right of the screen. We're here to help Monday – Friday 9-7pm and 10-6pm at weekends.