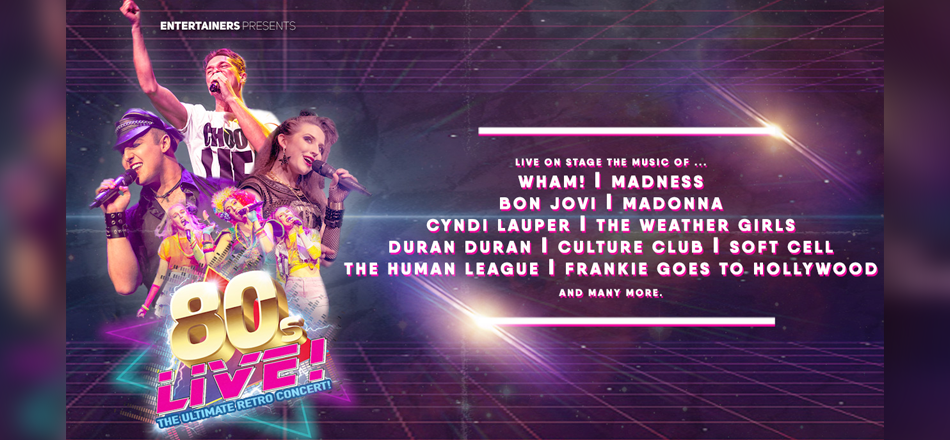 80's Live
Rescheduled
You will be directed to AXS.com to purchase your tickets. AXS is the official ticketing partner of The O2.
This event has been postponed to 18 November 2021
You may have heard of throwback Thursday, now it's time for the ultimate throwback decade - 80s Live!
Join us as we travel back in time to one of the most iconic eras of music for an exciting night out – put your hands together and get into the groove as our live band 'Electric Dreams' perform over two dozen chart topping anthems from artists including Duran Duran, Dexy's Midnight Runners, Culture Club, Kim Wilde, Rick Astley, The Human League, A-Ha, Tears for Fears, Wham and more!
Whether you were born in the 80s, were lucky enough to hear these sounds from your very own cassette player or you've had a Stranger Things glimpse of 80s life, once you've seen 80s Live, you'll want to relive it again and again.

Blending pop and soft rock, the show includes hits such as Living on a Prayer, The Final Countdown, Don't You Want Me Baby, Relax, Never Gonna Give You Up, It's Raining Men, Rio, Tainted Love and so much more.
Move aside Doc, we don't need The DeLorean to create our time machine. This is 80s Live!
Keeping you safe at events
To help everyone attending an event at indigo The O2 to stay safe we've made some changes to how we operate. Find out more about our enhanced health and safety measures.
You will be directed to AXS.com to purchase your tickets. AXS is the official ticketing partner of The O2.
Important Information
Security
Coming to the show? Don't miss a moment. Head down early. Enhanced security is in place. Pack light, we only allow small bags into the arena.
Tickets
Please only purchase tickets through authorised ticketing sites such as www.axs.com. If you have, or suspect you may have been a victim of fraud when purchasing tickets, please report it to Action Fraud www.actionfraud.police.uk.
Taking care of your ticket
Your ticket's barcode is unique. Don't share the barcode of your ticket with anyone, especially online, as it may be used to sell your ticket on without your knowledge.
Help Desk
If you have already used our on-line help desk - and still need to get in touch? Drop us an email at http://www.theo2.co.uk/email and someone will get back to you as soon as possible.