Home

•

MTV Unplugged: An Acoustic Evening with a-ha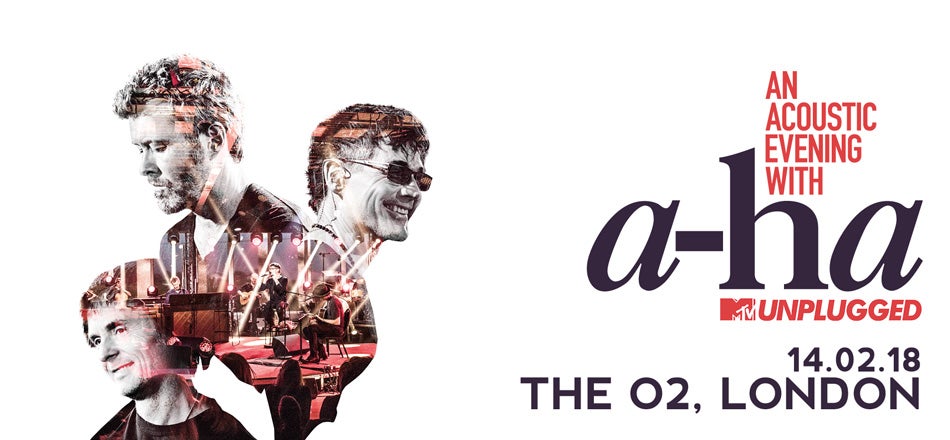 MTV Unplugged: An Acoustic Evening with a-ha
MTV Unplugged: An Acoustic Evening with a-ha
You will be directed to AXS.com to purchase your tickets. AXS is the official ticketing partner of The O2.
a-ha at The O2
To coincide with the release of a new album and accompanying concert film in November 2017, a-ha return with a string of live dates in early 2018 and the group have revealed they will perform their only UK show at The O2 on Wednesday 14 February 2018.
Following on from the success of their tenth album Cast in Steel in 2015 and subsequent world tour, Morten Harket, Pål Waaktaar-Savoy and Magne Furuholmen are returning once more with a new a-ha album and live dates. This time, however, rather than in the studio, the album will be recorded live on stage in June 2017; performed acoustically rather than with their normal electric and electronic set up. The band will then embark on an intimate, acoustic tour, as you've never heard them before.
'We've always done unplugged stuff on each show,' explains Pål about the origins of the project, 'but we've never done a full concert. So that's going to be cool.' For him, it's a rare chance to hear the songs in the way they were originally written: 'A lot of the songs were written [this way], we don't really use of a lot of technology when we write.'
The result, according to Magne is going to be a mixture of 'the old hits, stuff from the catalogue that we haven't performed for a long time, if ever, and some new stuff … we've rediscovered some of the old songs and look forward to turning this into something for our listeners.'
You will be directed to AXS.com to purchase your tickets. AXS is the official ticketing partner of The O2.
Important Information
Security
Coming to the show? Don't miss a moment. Head down early. Enhanced security is in place. Pack light, we only allow small bags into the arena.
Tickets
Please only purchase tickets through authorised ticketing sites such as www.axs.com. If you have, or suspect you may have been a victim of fraud when purchasing tickets, please report it to Action Fraud www.actionfraud.police.uk.
Taking care of your ticket
Your ticket's barcode is unique. Don't share the barcode of your ticket with anyone, especially online, as it may be used to sell your ticket on without your knowledge.
Help Desk
If you have already used our on-line help desk - and still need to get in touch? Drop us an email at http://www.theo2.co.uk/email and someone will get back to you as soon as possible.