Home •
Aloha from Hawaii starring Gordon Hendricks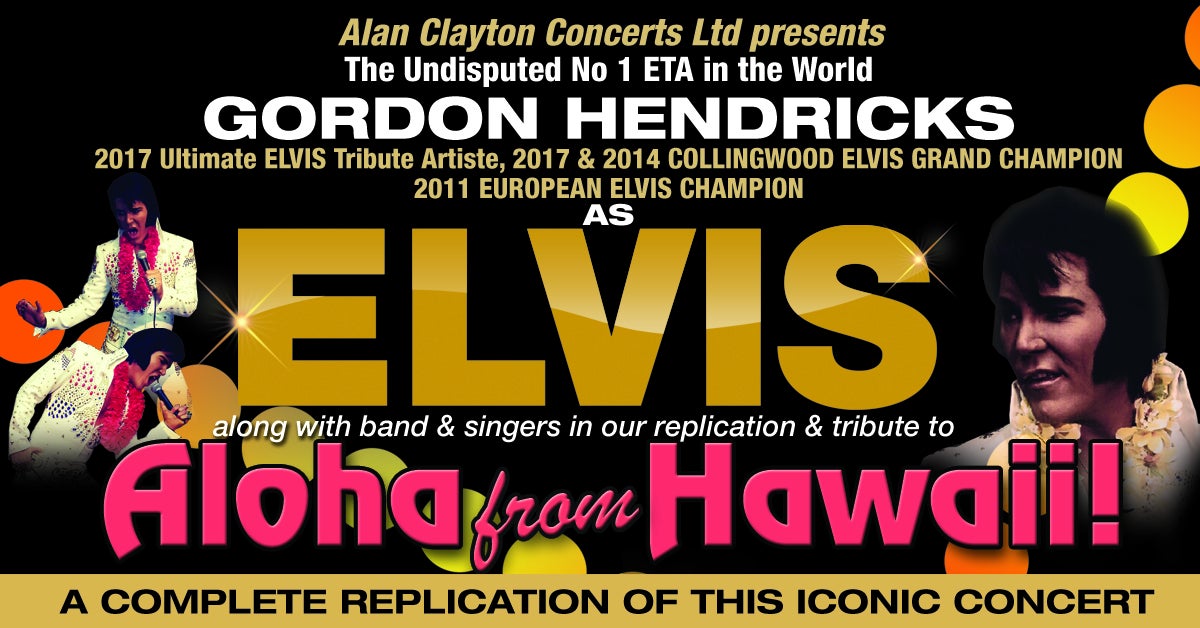 Aloha from Hawaii starring Gordon Hendricks
Aloha from Hawaii starring Gordon Hendricks
You will be directed to AXS.com to purchase your tickets. AXS is the official ticketing partner of The O2.
Gordon Hendricks as ELVIS Presents The Spirit of ALOHA from HAWAII in Concert
This show in a full first half takes you through the 1968 special and Elvis in Concert period into a special acoustic section where beautiful ballads and gospel songs are presented with an intimacy that leaves the audience in raptures. You will hear many favourites like In The Ghetto, Pocket Full of Rainbows, If I Can Dream, Little Sister, Return to Sender, along with further favourites in a full 60 minutes of pure ELVIS joy.
After the interval we present our replication of ALOHA FROM HAWAII. This is a superlatively choreographed and brilliantly engineered MAJOR theatre production which replicates the original Iconic "ALOHA FROM HAWAII" Show as beamed via satellite from Honolulu. It is all there, the orchestra, the Sweets, the Stamps - those incredible ELVIS vocals. The raw energy and sheer charisma of Gordon's performance is absolutely jaw dropping. Along with a fantastic band and singers this show creates a magical evening of Elvis that has never been done before in the UK.
This whole show has a fantastic variation of numbers that can only be replicated by a singer of huge talent and is unique and not produced anywhere else in the World.
Gordon is a multi award winner who is without doubt the World's No 1 Elvis Tribute and his shows are sensational – it's as if ELVIS himself is on stage – maybe just maybe he is.
Gordon Hendricks started his singing career in the early millennium in pubs and clubs but came to fame in 2005 when he won the last ever Grand Final of ITV's 'Stars In Their Eyes' by a record number of votes.
From that point forward, Gordon's career went from strength to strength and in many awars followed. In he became 2006 Best Elvis Presley 1968 Comeback Special in UK & Europe; 2011 European Grand ETA Champion; 2013 Tweed, Canada Grand Champion; 2014 & 2017 Collingwood, Canada Grand Champion, the only ETA to be crowned twice, and on the 19th August 2017 on the Graceland stage in Memphis he was crowned by Elvis Presley Enterprises the 2017 Ultimate Elvis Tribute Artiste Champion which made him the most decorated Elvis Tribute Artist from the UK.
Tributes and accolades by musicians and personnel who worked with Gordon Hendricks
"He has the looks of ELVIS, He moves like ELVIS and he sounds like ELVIS – he has my vote any day."
John Wilkinson – Elvis' guitarist between 1968 to 1977
"What ever Elvis had you have it too."
Sherrill Nielson – Elvis' Backing Vocalist 1971 to 1977
You will be directed to AXS.com to purchase your tickets. AXS is the official ticketing partner of The O2.
Important Information
Security
Coming to the show? Don't miss a moment. Head down early. Enhanced security is in place. Pack light, we only allow small bags into the arena.
Tickets
Please only purchase tickets through authorised ticketing sites such as www.axs.com. If you have, or suspect you may have been a victim of fraud when purchasing tickets, please report it to Action Fraud www.actionfraud.police.uk.
Taking care of your ticket
Your ticket's barcode is unique. Don't share the barcode of your ticket with anyone, especially online, as it may be used to sell your ticket on without your knowledge.
Help Desk
If you have already used our on-line help desk - and still need to get in touch? Drop us an email at http://www.theo2.co.uk/email and someone will get back to you as soon as possible.