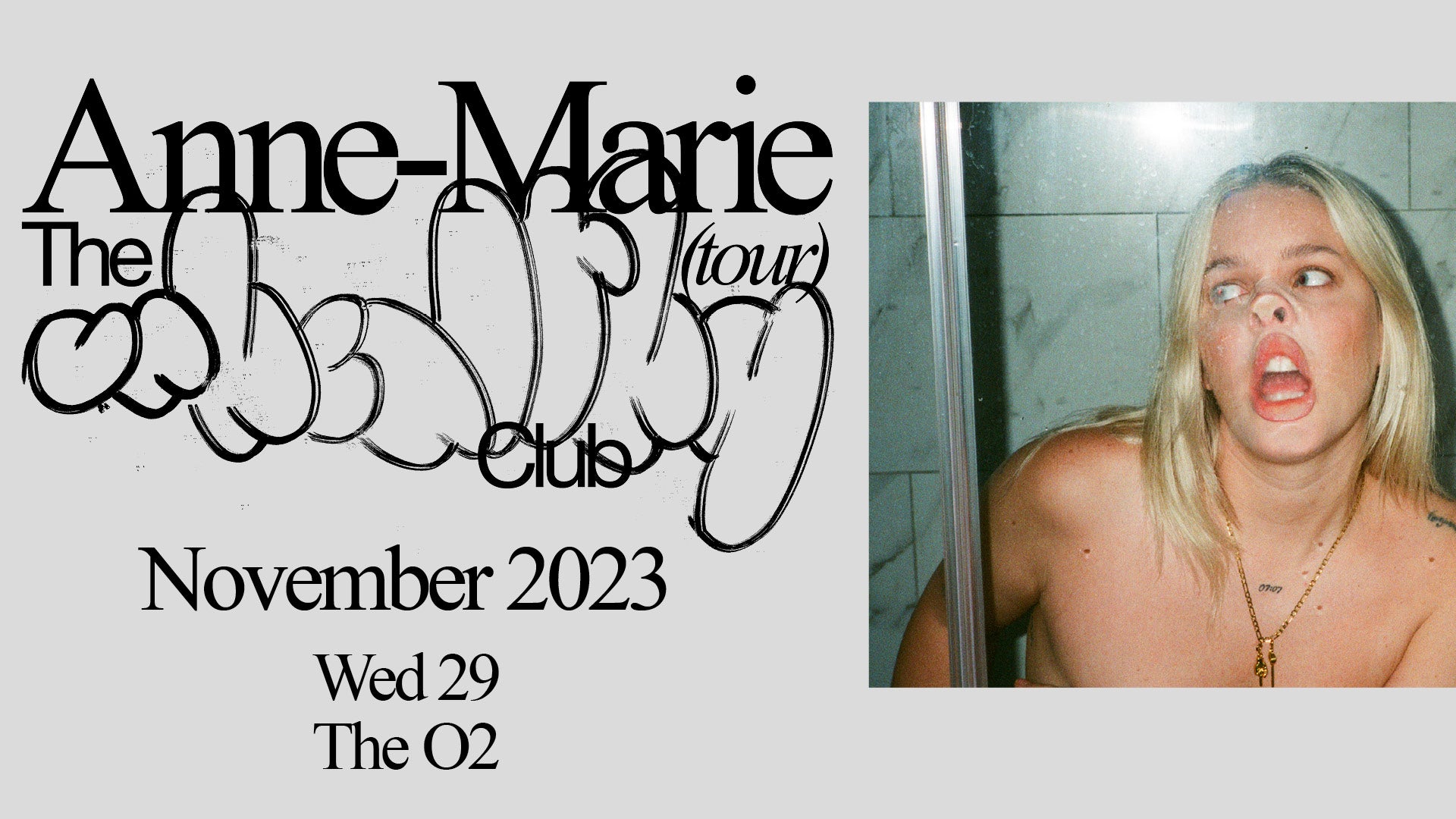 Anne-Marie
Plus special guests Leah Kate and Evissimax
Anne-Marie
Plus special guests Leah Kate and Evissimax
Date

29

Nov

2023

Venue

The O2 arena

Availability

On sale now
You will be directed to AXS.com to purchase your tickets. AXS is the official ticketing partner of The O2.
Event Details
Following the recent announcement of Anne-Marie's third album 'UNHEALTHY', the pop superstar will headline The O2 on Wednesday 29 November 2023.
Pulling from all parts of her life, Anne-Marie's third album 'UNHEALTHY' offers us a sneak peek into her perfectly imperfect world. Penned over a period when she felt ready to revisit and try and make sense of a host of raw, past relationships whilst also learning to process positive new ones, the new album takes us on a journey from chaos to contentment; this is Anne-Marie standing tall, embracing an all-new version of herself that's fiercer, bolder, and more blissfully happy than ever before.
Bridging topics of sadness, anger, joy, rebellion, and euphoria, UNHEALTHY is Anne-Marie living out her highs and lows on her own terms. Over the album's thirteen tracks, gutsy, empowerment anthems ('Trainwreck', 'Grudge') run alongside tender, vulnerable streaks ('Kills Me To Love You', 'You & I') and guitar-fuelled angst ('Haunt You'). Written and recorded alongside Kamille, McDonough Brothers, BillenTed, Evan Blair, and Nami, the album includes features from Aitch ('Psycho'), Khalid ('You & I') and, of course, Shania Twain ('Unhealthy').
To date, Anne-Marie has achieved seven UK 'Top 10' singles (including 'Psycho' feat. Aitch, which features on the new album), two 'Top 3' albums and seven billion global streams. Most recently, Anne-Marie collaborated with David Guetta and Coi Leray on 'Baby Don't Hurt Me'.
Important Information - How to download your tickets on The O2 app
For this show, if you've purchased your tickets from theo2.co.uk or AXS.com you'll need to display your ticket on your phone via The O2 app. Ticket purchasers will receive an email with news and information on AXS Mobile ID tickets and how you can download your tickets to your phone.
If you've bought your tickets for this show via AXS then you can re-sell your tickets with AXS Official Resale which gives you a safe, simple, and fair way to buy and sell tickets.
For more information on re-selling tickets from AXS and other ticket agents click here.
Please note: If you purchase resale tickets for this show through any website other than via theo2.co.uk or axs.com, your tickets may not be valid and access to the venue could be refused.
Sign up for updates and pre-sales
Date

29

Nov

2023

Venue

The O2 arena

Availability

On sale now
You will be directed to AXS.com to purchase your tickets. AXS is the official ticketing partner of The O2.
The 1st World Tour 'Show What I Have'