Event
timings
Coming to the show? Don't miss a moment. Head down early. Enhanced security is in place. Pack light, we only allow small bags into the arena.
Event timings: Doors: 17:30 (22nd: 17:00) // In Flames: 18:30 (22nd: 18:00) // Disturbed: 19:25 (22nd: 19:00) // Avenged Sevenfold: 20:55 (22nd: 20:30) // Finish: 22:45 (22nd: 22:15) (all event timings approx)
Close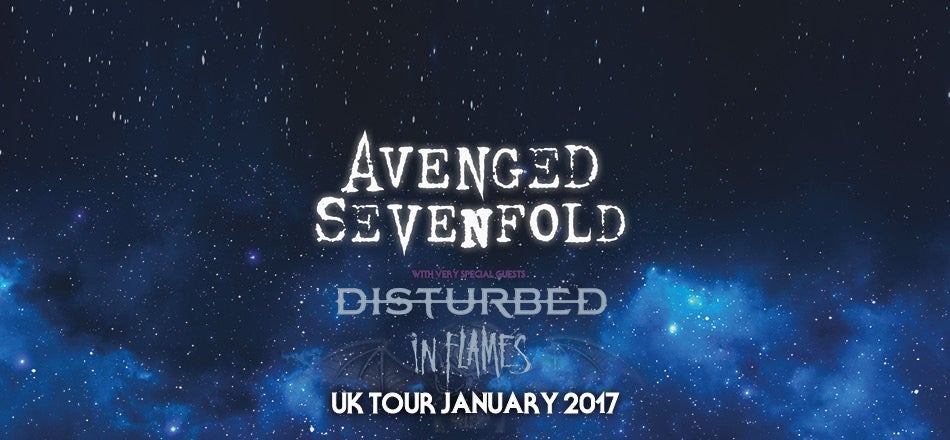 Avenged Sevenfold
Get access to exclusive updates and a heads-up on tickets.
Avenged Sevenfold are set to return to the UK bigger and badder than ever. The band has announced their UK tour for January 2017 which includes a headline performance at The O2 on Saturday 21 January.
Avenged Sevenfold achieved worldwide success with a string of best-selling albums — including their 2005 platinum breakthrough City Of Evil, 2007's Avenged Sevenfold, Nightmare (2010) and their most recent, Hail To The King — achieving Diamond, Platinum and Gold awards for album sales in nearly a dozen countries.
The band, which hails from Huntington Beach, Calif., have become known for their spectacular live shows, routinely selling out arenas worldwide and headlining some of the biggest and most prestigious music festivals.
Avenged Sevenfold self-released the action-adventure mobile video game Hail To The King: Deathbat to rave reviews; with music, concept, and gameplay created entirely by the band. The band appeared in stores and homes globally as the featured pre-launch artist in 2015's Guitar Hero: Live, including an industry first playable live performance.
Grammy nominated Disturbed returned to the rock arena after a 4-year hiatus with the critically acclaimed no.1 album Immortalized. The album has already boasted three huge no.1 smashes "The Vengeful One", "The Light," and the global sensation that is their powerful version of the Simon & Garfield classic "The Sound of Silence".
Melodic Death Metal pioneers In Flames will be opening the bill across this run of UK dates. With a back catalogue of classics in their arsenal, the Swedish Legends are set to kick these shows off with a bang.
Important Information
Security
Coming to the show? Don't miss a moment. Head down early. Enhanced security is in place. Pack light, we only allow small bags into the arena.
Road Works
Please be aware that there are road works taking place on Millennium Way affecting the route into Car Park 1. A short diversion is in place and Car Park 1 will be open as normal throughout the works. Please allow extra time when travelling to or from The O2 by road.
Tickets
Please only purchase tickets through authorised ticketing sites including www.axs.com and www.stubhub.co.uk - The Official Ticket Resale Marketplace of The O2. If you have, or suspect you may have been a victim of fraud when purchasing tickets, please report it to Action Fraud www.actionfraud.police.uk.
Taking care of your ticket
Your ticket's barcode is unique. Don't share the barcode of your ticket with anyone, especially online, as it may be used to sell your ticket on without your knowledge.
Help Desk
If you have already used our on-line help desk - and still need to get in touch? We can be contacted on 0208 463 2000 or click on the Help button at the bottom right of the screen. We're here to help Monday – Friday 9-7pm and 10-6pm at weekends.