British Basketball All-Stars Championship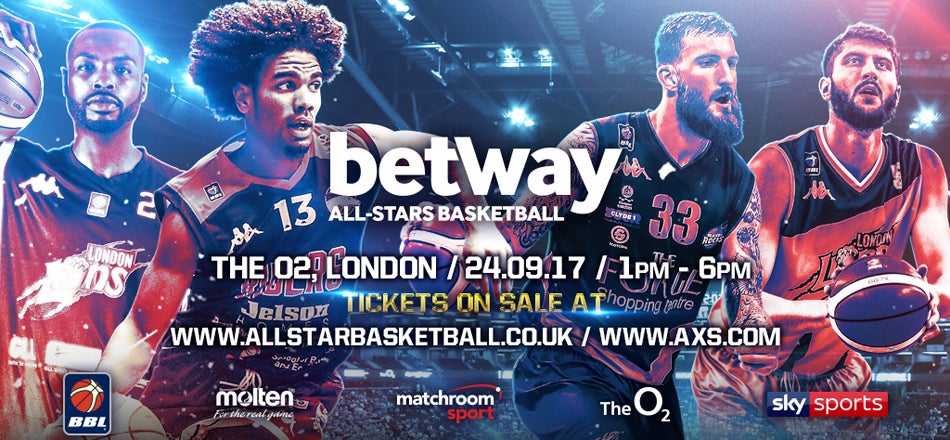 British Basketball All-Stars Championship
Get access to exclusive updates and a heads-up on tickets.
BETWAY are the title sponsors of the 2017 British Basketball All-Stars Championship which takes place at the iconic O2 Arena on Sunday 24th September. Live on Sky Sports for five hours, the fast-paced tournament will also be broadcast live in over 70 countries around the world.
British Basketball All-Stars Championship is a new, entertaining take on the speedy game with a record-breaking £100,000 prize fund, including £20,000 for the eventual champions. Five players per team will take to the court in shorter-timed quarters with unlimited roll-on/roll-off subs, time outs and an exciting double-point powerplay.
The tournament will showcase the best of British basketball talent on a grand stage at London's biggest venue as eight of the UK's top sides do battle over a total of 13 matches.
With double elimination in play to separate the teams from eight down to four, there are then semi-finals and then the championship match to determine the destination of the trophy.
Anthony Werkman, Director of Marketing and Operations at Betway, said: "It's great to be involved with this innovative and exciting spin on a well-established sport.
"At Betway, we like to be at the forefront of new ideas and we strongly believe that the All-Stars Championship will deliver a thrilling experience to basketball fans and Betway customers at the O2 Arena.
"We're also really pleased to be working with Matchroom Sport on another event. We have an excellent relationship with them and have worked on a number of successful sponsorships together."
Barry Hearn, Chairman of Matchroom Sport said, "We're very excited to be once again working with our good friends at Betway. Over the years we've enjoyed a close relationship centred on many of our sports including darts, snooker, boxing, pool, and now basketball.
"The All-Stars Championship is going to be a thrilling day out, showcasing one of the UK's most up-and-coming sport. It's the best of British as well as some exciting All-Stars, and I believe this can be the start of something big both for basketball and Betway."
Important Information
Security
Coming to the show? Don't miss a moment. Head down early. Enhanced security is in place. Pack light, we only allow small bags into the arena.
Road Works
Please be aware that there are road works taking place on Millennium Way affecting the route into Car Park 1. A short diversion is in place and Car Park 1 will be open as normal throughout the works. Please allow extra time when travelling to or from The O2 by road.
Tickets
Please only purchase tickets through authorised ticketing sites including www.axs.com and www.stubhub.co.uk - The Official Ticket Resale Marketplace of The O2. If you have, or suspect you may have been a victim of fraud when purchasing tickets, please report it to Action Fraud www.actionfraud.police.uk.
Taking care of your ticket
Your ticket's barcode is unique. Don't share the barcode of your ticket with anyone, especially online, as it may be used to sell your ticket on without your knowledge.
Help Desk
If you have already used our on-line help desk - and still need to get in touch? We can be contacted on 0208 463 2000 or click on the Help button at the bottom right of the screen. We're here to help Monday – Friday 9-7pm and 10-6pm at weekends.