close
Friday 28 June // Doors: 18:30 // Show time: 20:00
Saturday 29 June Matinee // Doors 14:00 // Show Time 15:30 Evening// Doors: 18:30 // Show time: 20:00
Sunday 30 June Matinee // Doors 11:00 // Show Time 12:30 Evening // Doors: 15:30 // Show time: 17:00
(all timings approx)
Home

•

Cirque du Soleil: Toruk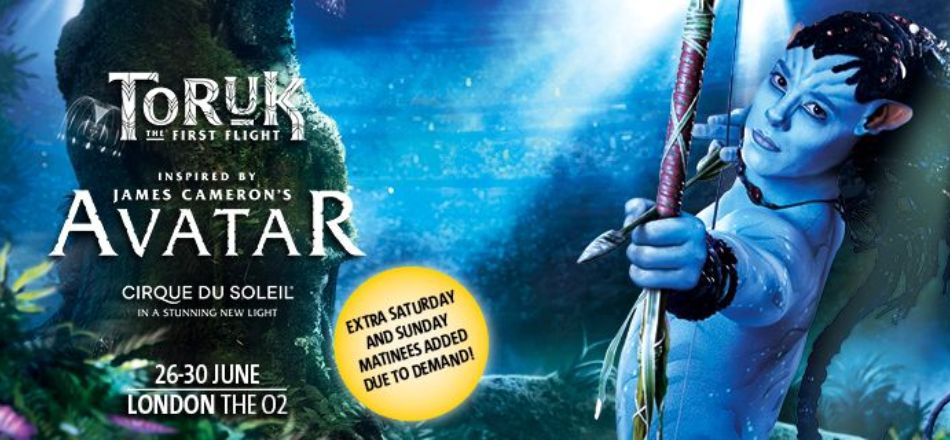 Cirque du Soleil: Toruk
You will be directed to AXS.com to purchase your tickets. AXS is the official ticketing partner of The O2.
Inspired by James Cameron's record-breaking movie AVATAR, Cirque du Soleil's uniquely different touring show TORUK – The First Flight will make its UK debut next June, stopping at The O2 from 26-30 June 2019.
With creative input from James Cameron and experts from the movie's production, TORUK – The First Flight is unlike any other Cirque du Soleil experience. With the brilliance of the Cirque du Soleil performers whose athleticism and acrobatics bring to life the Na'vi, the show is a visual effects spectacular where the world of Pandora is depicted through impressive multimedia projections, massive set-pieces and the largest collection of puppetry in Cirque du Soleil history creating a narrative driven official prequel to AVATAR.
"AVATAR is really meant to be a celebration of human motion and human emotion and Cirque is able to capture that absolutely perfectly, because it's all about human performance and physicality. It makes you feel alive to watch these performers," said James Cameron.
The show
Inspired by James Cameron's AVATAR, TORUK – The First Flight transports you to the world of Pandora in a visually stunning live setting. Experience a storytelling odyssey through a new world of imagination, discovery, and possibility.
Through a riveting fusion of cutting-edge visuals, puppetry and stagecraft buoyed by a soaring cinematic score, Cirque du Soleil applies its unique signature style to James Cameron's imaginary world and "makes the bond" between two kindred artistic visions that capture the imagination. From the Floating Mountains and the Omatikaya Hometree, to the Anurai's animal sanctuary and the lush jungles where the Tawkami live, video projections immerse the audience in the breathtaking world of Pandora.
This live immersive experience also bears the distinct signature of directors and multimedia innovators Michel Lemieux and Victor Pilon. It is a living ode to the Na'vi's symbiotic coexistence with nature and their belief in the basic interconnectedness of all living things.
Narrated by a "Na'vi Storyteller" and populated by unforgettable characters, TORUK – The First Flight is a mythical tale set thousands of years before the events depicted in the film AVATAR, and before any humans ever set foot on Pandora.
The story
When a natural catastrophe threatens to destroy the sacred Tree of Souls, Ralu and Entu, two Omatikaya boys on the brink of adulthood, fearlessly decide to take matters into their own hands. Upon learning that Toruk can help them save the Tree of Souls, they set out, together with their newfound friend Tsyal, on a quest high up in the Floating Mountains to find the mighty red and orange predator that rules the Pandoran sky. Prophecy is fulfilled when a pure soul rises among the clans to ride Toruk for the first time and save the Na'vi from a terrible fate.
You will be directed to AXS.com to purchase your tickets. AXS is the official ticketing partner of The O2.
Important Information
Security
Coming to the show? Don't miss a moment. Head down early. Enhanced security is in place. Pack light, we only allow small bags into the arena.
Tickets
Please only purchase tickets through authorised ticketing sites such as www.axs.com. If you have, or suspect you may have been a victim of fraud when purchasing tickets, please report it to Action Fraud www.actionfraud.police.uk.
Taking care of your ticket
Your ticket's barcode is unique. Don't share the barcode of your ticket with anyone, especially online, as it may be used to sell your ticket on without your knowledge.
Help Desk
If you have already used our on-line help desk - and still need to get in touch? Drop us an email at http://www.theo2.co.uk/email and someone will get back to you as soon as possible.