DC Exhibition: Dawn Of Super Heroes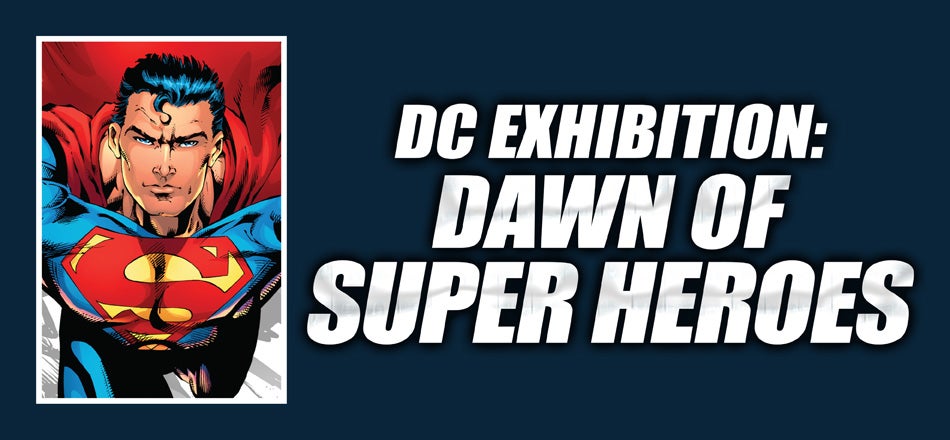 DC Exhibition: Dawn Of Super Heroes
Exclusive offers
Kids Go Free
Kids under 16 go free! When 1 adult ticket is purchased. T&C"s: 1 child ticket (5-16 years) to go free of charge when 1 adult ticket is purchased.
Two for 30.00
Two adult tickets for 30.00. For T&C's & tickets go to DCExhibition.co.uk.
Following a successful run in Paris, 2018 will see the London Premiere of 'DC Exhibition: Dawn of Super Heroes'. In residence at The O2 from 23 February to 9 September, this one-of-a-kind exhibition celebrates DC's rich history, unique mythology and iconic Super Heroes and Super Villains such as Superman, Batman, Wonder Woman and The Joker.
'DC Exhibition: Dawn of Super Heroes' features more than 200 original comic pages, around 300 preparatory sketches and concept artworks for the cinema, together with 45 original costumes, models and props used in the iconic films.
Fans visiting 'DC Exhibition: Dawn of Super Heroes' will be able to walk through the exhibition, which runs in chronological order, with each room offering guests a behind-the-scenes look at the creation of the mythical DC Universe. Featuring artwork of Super Heroes and Super-Villains such as Superman, Batman, Wonder Woman, The Joker, The Penguin and Mr. Freeze, the Exhibition will bring fans closer to the world's most iconic characters.
'DC Exhibition: Dawn of Super Heroes' features:
Exclusive artworks from the highly-acclaimed Wonder Woman film, directed by Patty Jenkins, that premiered in the summer of 2017.
Costumes and props from more recent films such as; 1989 to 1999's Batman franchise directed by Tim Burton and Joel Schumacher, the acclaimed The Dark Knight trilogy directed by Christopher Nolan, as well as The Man of Steel, Batman V Superman and the recent Justice League by Zack Snyder.
Original drawings of DC's stable of famous Super Heroes and Super Villains.
Original costumes from blockbuster DC films including the famous cape worn by Christopher Reeve in the Superman movies and Lynda Carter's iconic Wonder Woman costume from the 1970s.
Important Information
Security
Coming to the show? Don't miss a moment. Head down early. Enhanced security is in place. Pack light, we only allow small bags into the arena.
Road Works
Please be aware that there are road works taking place on Millennium Way affecting the route into Car Park 1. A short diversion is in place and Car Park 1 will be open as normal throughout the works. Please allow extra time when travelling to or from The O2 by road.
Tickets
Please only purchase tickets through authorised ticketing sites including www.axs.com and www.stubhub.co.uk - The Official Ticket Resale Marketplace of The O2. If you have, or suspect you may have been a victim of fraud when purchasing tickets, please report it to Action Fraud www.actionfraud.police.uk.
Taking care of your ticket
Your ticket's barcode is unique. Don't share the barcode of your ticket with anyone, especially online, as it may be used to sell your ticket on without your knowledge.
Help Desk
If you have already used our on-line help desk - and still need to get in touch? We can be contacted on 0208 463 2000 or click on the Help button at the bottom right of the screen. We're here to help Monday – Friday 9-7pm and 10-6pm at weekends.