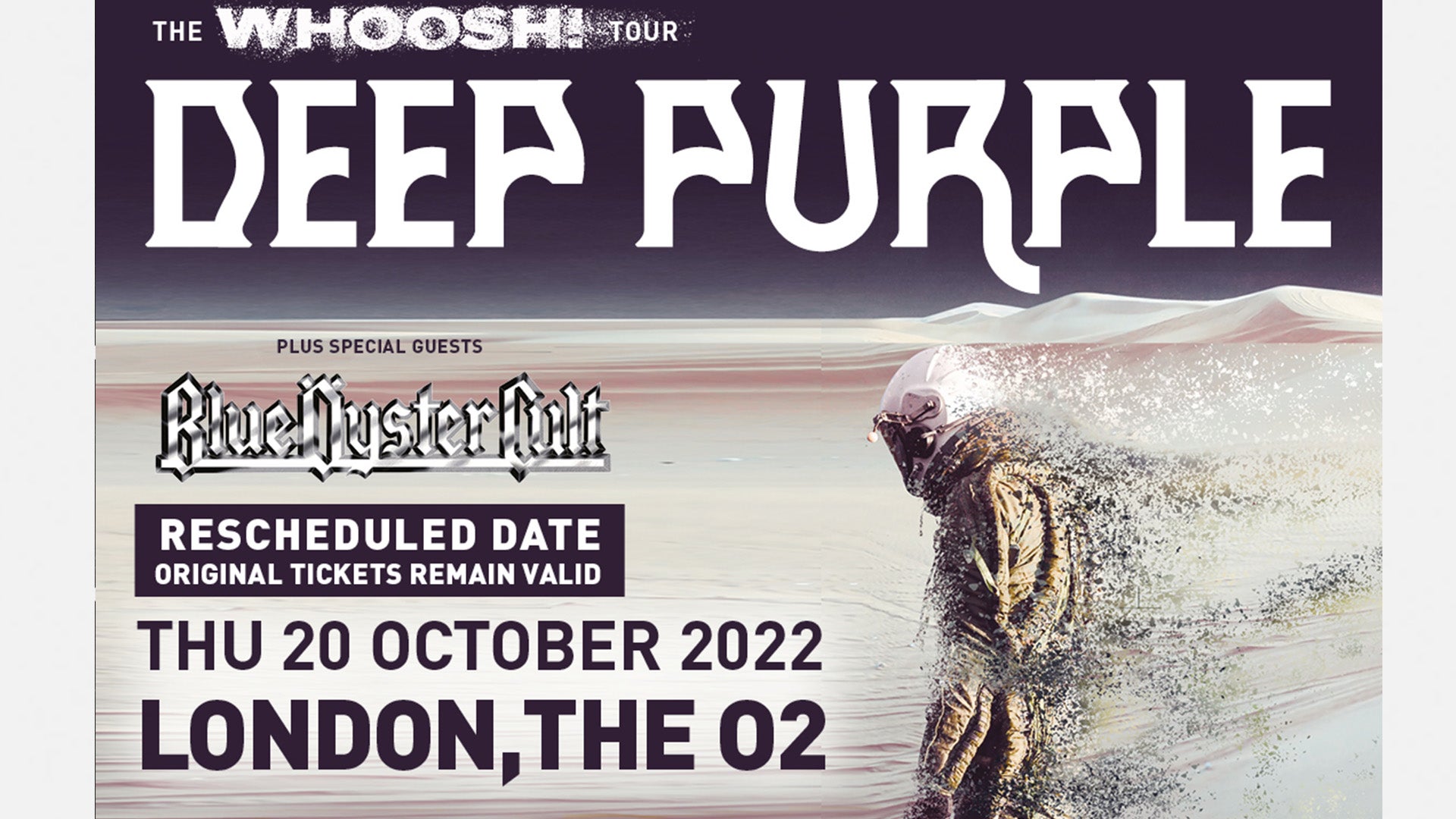 Deep Purple
Rescheduled
You will be directed to AXS.com to purchase your tickets. AXS is the official ticketing partner of The O2.
"In light of the ongoing situation with COVID-19, the Deep Purple UK tour can no longer take place in October 2021. The shows have been rescheduled to October 2022 , dates below, and all original tickets remain valid."
Tickets for Thursday 7th May 2021 will remain valid for the new date of Thursday 20th October 2022
Deep Purple is heading back to the UK with special guests Blue Öyster Cult.
The announcement of the live shows coincides with news on Deep Purple's social media with Ian Gillan confirming that they have completed the recording of a brand new studio album to be released in 2020, with further details to follow.
Ian Gillan, Roger Glover, Ian Paice, Steve Morse and Don Airey, Mark VIII of the band, continue to travel the scope of hard rock — the textures and nuances of recent works are anything but thudding retreads. If you set a random play setting for the band's entire catalogue, the result is one of the finest musical outputs to grace rock music.
Ian Paice said "As always playing in your home country is special and exciting and touring with the "Cult" ensures it's going to be a great run of gigs."
Ian Gillan said "It is fantastic to be playing some home shows again…the band is cranking and full of it, plus there will be a couple or three new songs, dunno how we're going to squeeze it all in, but we always manage somehow. Can't wait to blow your socks off."
BÖC's Eric Bloom said "I am personally thrilled to be playing with Deep Purple again. As a fan of their music, I'll be sure to stay and watch their show nightly. Such a deep catalog of great classic songs plus great musicianship and singing. Great guys too. Looking forward to it."
BӦC's Buck Dharma said "BӦC is excited to return to the UK and support Deep Purple, a band we've always admired and who has inspired BӦC to rock since the beginning."
For over four decades, Blue Öyster Cult has been thrilling fans of intelligent hard rock worldwide with powerful albums loaded with classic songs. Indeed, the Long Island, NY-­‐based band is revered within the hard rock and heavy metal scene for its pioneering work. Blue Öyster Cult occupies a unique place in rock history because it's one of very few hard rock/heavy metal bands to earn both genuine mainstream critical acclaim as well as commercial success.
The band is often cited as a major influence by other acts such as Metallica, and BÖC was listed in VH1's countdown of the greatest hard rock bands of all time.
The intense creative vision of BÖC's original core duo of vocalist/lead guitarist Donald "Buck Dharma" Roeser, and vocalist/rhythm guitarist Eric Bloom are complemented by Richie Castellano on guitar and keyboards, and the longtime rhythm section of bass guitarist Danny Miranda, and drummer Jules Radino.
The latter-year Deep Purple has moved progressively into new areas, piquing fans' interest who were not born when the mighty Purple machine ruled the music world's money trees. Their holy grail of 'In Rock' (1970) 'Machine Head' (1972) and 'Made In Japan' released in 1973 catapulted Deep Purple to the top in concert grosses and album sales around the world, with track 'Smoke On The Water' ascending to mega-status.
Having amassed so many songs that get coined under the "classic" moniker, setlists have been a never-ending debate among diehards and newer fans especially with the albums 'NOW WHAT ?!' and their last studio album 'inFinite'. Both Number one Gold Status and top ten albums across the globe.
The last chapter of a career strong of over 120.000 million albums sold and the band have sold well over a million concert tickets since 'inFinite' was released alone and the last Long Goodbye Tour.
Important Information - How to download your tickets on The O2 app
For this show, if you've purchased your tickets from theo2.co.uk or AXS.com you'll need to display your ticket on your phone via The O2 app. Ticket purchasers will receive an email with news and information on AXS Mobile ID tickets and how you can download your tickets to your phone.
If you've bought your tickets for this show via AXS then you can re-sell your tickets with AXS Official Resale which gives you a safe, simple, and fair way to buy and sell tickets.
For more information on re-selling tickets from AXS and other ticket agents click here.
Please note: If you purchase resale tickets for this show through any website other than via theo2.co.uk or axs.com, your tickets may not be valid and access to the venue could be refused.
Keeping you safe at events
To help everyone attending an event at The O2 to stay safe we've made some changes to how we operate. Find out more about our enhanced health and safety measures.
You will be directed to AXS.com to purchase your tickets. AXS is the official ticketing partner of The O2.
Important Information
Security
Coming to the show? Don't miss a moment. Head down early. Enhanced security is in place. Pack light, we only allow small bags into the arena.
Tickets
Please only purchase tickets through authorised ticketing sites such as www.axs.com. If you have, or suspect you may have been a victim of fraud when purchasing tickets, please report it to Action Fraud www.actionfraud.police.uk.
Taking care of your ticket
Your ticket's barcode is unique. Don't share the barcode of your ticket with anyone, especially online, as it may be used to sell your ticket on without your knowledge.
Help Desk
If you have already used our on-line help desk - and still need to get in touch? Drop us an email at http://www.theo2.co.uk/email and someone will get back to you as soon as possible.