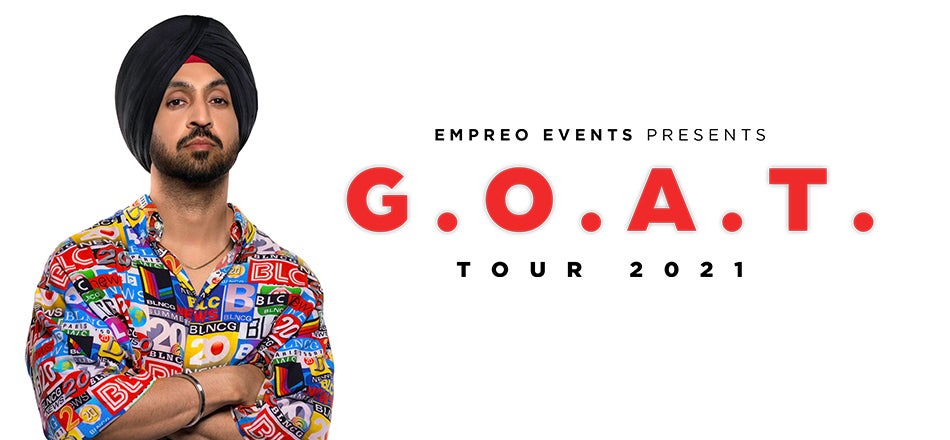 Diljit Dosanjh
Rescheduled
Diljit Dosanjh
Rescheduled
You will be directed to AXS.com to purchase your tickets. AXS is the official ticketing partner of The O2.
The Diljit Dosanjh show at The O2 has been rescheduled to Friday 20th August 2021. Tickets will remain valid for the new show date.
Statement:
Due to the continued uncertainty with regards to Covid-19 and keeping in mind the health and safety of the fans, the band and staff, a decision has been made to further postpone the tour. This will enable us to give you the best experience possible and also ensure the safety of all involved. We are also pleased to announce that after the recent success of the G.O.A.T album, it seems only right that the tour should be renamed to reflect this success and in doing so, will give us the opportunity to showcase the highlights of the album live on stage.
All tickets will be valid for the rescheduled show date. Ticket holders are advised to contact their point of purchase for information on ticket exchanges for the 2021 dates.
Summer 2021 is gonna be 🔥
---
2019 saw Diljit take his live shows to new heights surpassing the levels of production in Indian music history in his US and Canada "Roar Tour". The shows which are complete experiences for the whole family from children to the elderly include incredible visuals and the most elaborate production elements seen for Asian shows.

Now Diljit Dosanjh and his team are set to unveil the grandest production ever seen for his new 2021 tour in conjunction with Empreo Events.
---
Important information
We take the safety and security of all our fans and visitors very seriously, The O2 operate a strict screening procedure for all guests entering the arena.
Fans attending the Diljit Dosanjh concert with a Kirpan, a Sikh Article of Faith (ceremonial dagger), will be allowed entry as long as the Kirpan does not exceed the stipulated size of 4 inches, is worn alongside at least one other Article of Faith and concealed underneath clothes. All Sikhs wearing Kirpans are encouraged to declare the Kirpan upon entrance to the Arena and undergo security searches along with all other attendees.
Any fans that do not adhere to these regulations will be refused entry to the Arena.
Important Information - How to download your tickets on The O2 app
For this show, if you've purchased your tickets from theo2.co.uk or AXS.com you'll need to display your ticket on your phone via The O2 app. Ticket purchasers will receive an email with news and information on AXS Mobile ID tickets and how you can download your tickets to your phone.
If you've bought your tickets for this show via AXS then you can re-sell your tickets with AXS Official Resale which gives you a safe, simple, and fair way to buy and sell tickets.
For more information on re-selling tickets from AXS and other ticket agents click here.
Please note: If you purchase resale tickets for this show through any website other than via theo2.co.uk or axs.com, your tickets may not be valid and access to the venue could be refused.
Keeping you safe at events
To help everyone attending an event at The O2 to stay safe we've made some changes to how we operate. Find out more about our enhanced health and safety measures.
You will be directed to AXS.com to purchase your tickets. AXS is the official ticketing partner of The O2.
Important Information
Security
Coming to the show? Don't miss a moment. Head down early. Enhanced security is in place. Pack light, we only allow small bags into the arena.
Tickets
Please only purchase tickets through authorised ticketing sites such as www.axs.com. If you have, or suspect you may have been a victim of fraud when purchasing tickets, please report it to Action Fraud www.actionfraud.police.uk.
Taking care of your ticket
Your ticket's barcode is unique. Don't share the barcode of your ticket with anyone, especially online, as it may be used to sell your ticket on without your knowledge.
Help Desk
If you have already used our on-line help desk - and still need to get in touch? Drop us an email at http://www.theo2.co.uk/email and someone will get back to you as soon as possible.