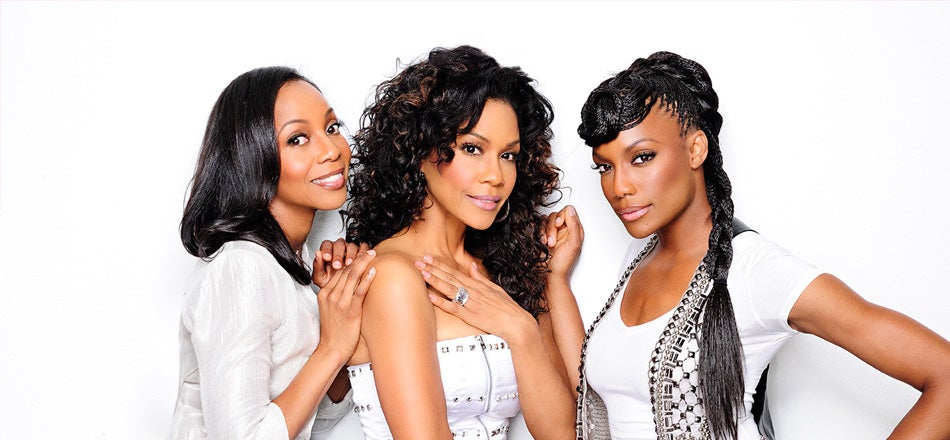 En Vogue
with support from Louise Golbey
En Vogue
with support from Louise Golbey
You will be directed to AXS.com to purchase your tickets. AXS is the official ticketing partner of The O2.
En Vogue; Terry Ellis, Dawn Robinson, Maxine Jones and Cindy Herron
Braggs. The name rings more than a bell. It invokes memories of a long line of red-hot R&B and pop smashes recorded in the 1990s. Songs like "Hold On," "My Lovin' (You're Never Gonna Get It)," "Giving Him Something He Can Feel," "Free Your Mind," and "Whatta Man" featuring Salt-N-Pepa, are just a sampling of the mega hits made famous by the Pop/R&B super group.
Fusing style, sophistication, sass, and sex appeal, the En Vogue formula was magical and the group went on to sell over eight million albums. In total, En Vogue recorded five albums: 1990's "Born To Sing;" 1992's "Funky Divas;" 1997's "EV3;" 2000's "Masterpiece Theatre;" and 2002's "The Gift of Christmas." There have also been several compilations released including 1999's "Best of En Vogue" and 2001's "The Very Best of En Vogue."
In addition to being featured on Elom's, (star of "Sesame Street") compilation CD "Elmopalooza!" the group also appeared on the soundtrack "Simply Mad About the Mouse," "Why Do Fools Fall In Love," and "Set It Off" with produced the number one hit, "Don't Let Go". Group member Terry Ellis also released a successful solo album "Southern Girl" in 1995.
Since En Vogue's 1990 debut, the ladies, who were the brain child of production team Denzil Foster and Thomas McElroy, set a standard for female R&B and pop acts like Destiny's Child and the Pussy Cat Dolls. While En Vogue may have been trendsetters for those who followed them, the group itself began receiving comparisons to The Supremes, especially after internal differences caused original member Dawn Robinson to exit the group in 1997. Fellow member Maxine Jones followed suit and left the group in 2001.
But unlike The Supremes, En Vogue never disbands. Instead, the group exemplified the fortitude of Motown veterans the Temptations and continued to record and perform. Like the Temptations, the remaining original members Cindy Herron-Braggs and Terry decided to revamp En Vogue and added new member Rhona Bennett. En Vogue also finds fulfillment while on stage. "It's about connecting with the people". It's about the energy you receive, the love, and the reciprocation from the message in the music."
In the summer of 2007 original member Dawn, reunited with the group at the Summer Festival in Tobago. The reunion was explosive and allowed the ladies to grab on to the essence of what originally made them awesome. The first televised taste that the public received nationally was at the 2008 BET Awards, where they performed a medley with Alicia Keys, TLC and SWV.
Although they embarked on their musical journey nearly 20-years ago, En Vogue's appeal is greater than ever before. From performing at the NFL Superbowls to The Kentucky Derby, the girls keep adding unique and global project to their already impressive resume. In 2011, the girls visited and performed at a number of US Military Bases in Iraq.
Having grown musically, emotionally, professionally, and creatively, the ladies believe each day is a living affirmation, "…Hold On to your Love" and these ladies love to sing - they have no plans to ever let go.
You will be directed to AXS.com to purchase your tickets. AXS is the official ticketing partner of The O2.
Important Information
Security
Coming to the show? Don't miss a moment. Head down early. Enhanced security is in place. Pack light, we only allow small bags into the arena.
Tickets
Please only purchase tickets through authorised ticketing sites such as www.axs.com. If you have, or suspect you may have been a victim of fraud when purchasing tickets, please report it to Action Fraud www.actionfraud.police.uk.
Taking care of your ticket
Your ticket's barcode is unique. Don't share the barcode of your ticket with anyone, especially online, as it may be used to sell your ticket on without your knowledge.
Help Desk
If you have already used our on-line help desk - and still need to get in touch? Drop us an email at http://www.theo2.co.uk/email and someone will get back to you as soon as possible.