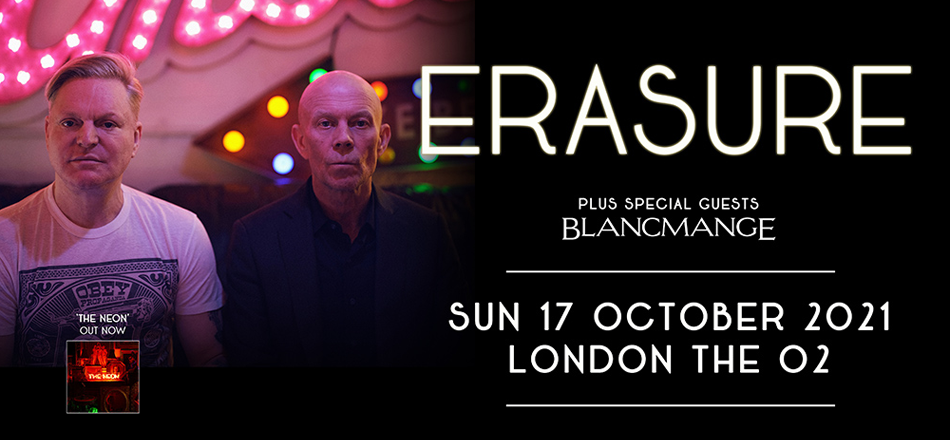 Erasure
Support from blancmange and DJ Wayne G
Erasure
Support from blancmange and DJ Wayne G
You will be directed to AXS.com to purchase your tickets. AXS is the official ticketing partner of The O2.
ERASURE (Andy Bell and Vince Clarke) celebrate the release of their eighteenth studio album, The Neon, with their eagerly anticipated tour including a date at The O2 on 17 October 2021.
Andy Bell says, "We're so excited to be able to - at last - announce dates for The Neon Tour! We'd hoped to have seen you sooner, but can't wait to see you all in 2021. Until then, keep safe!"
The Neon is a place that lives in the imagination, that we – you and me – put in the real world. It could be a night club, a shop, a city, a cafe, a country, a bedroom, a restaurant, any place at all. It's a place of possibility in warm, glowing light and this is music that takes you there.
The Neon brings warmth and a brilliant brightness, connecting us to our pasts and our futures as it glistens with hope. It creates beautiful places where our imaginations can roam, bringing us together, twinkling and beaming. The Neon puts you and me in a celebratory world, now and forever, illuminated and alive.
Important Information - How to download your tickets on The O2 app
For this show, if you've purchased your tickets from theo2.co.uk or AXS.com you'll need to display your ticket on your phone via The O2 app. Ticket purchasers will receive an email with news and information on AXS Mobile ID tickets and how you can download your tickets to your phone.
If you've bought your tickets for this show via AXS then you can re-sell your tickets with AXS Official Resale which gives you a safe, simple, and fair way to buy and sell tickets.
For more information on re-selling tickets from AXS and other ticket agents click here.
Please note: If you purchase resale tickets for this show through any website other than via theo2.co.uk or axs.com, your tickets may not be valid and access to the venue could be refused.
Keeping you safe at events
To help everyone attending an event at The O2 to stay safe we've made some changes to how we operate. Find out more about our enhanced health and safety measures.
You will be directed to AXS.com to purchase your tickets. AXS is the official ticketing partner of The O2.
Important Information
Security
Coming to the show? Don't miss a moment. Head down early. Enhanced security is in place. Pack light, we only allow small bags into the arena.
Tickets
Please only purchase tickets through authorised ticketing sites such as www.axs.com. If you have, or suspect you may have been a victim of fraud when purchasing tickets, please report it to Action Fraud www.actionfraud.police.uk.
Taking care of your ticket
Your ticket's barcode is unique. Don't share the barcode of your ticket with anyone, especially online, as it may be used to sell your ticket on without your knowledge.
Help Desk
If you have already used our on-line help desk - and still need to get in touch? Drop us an email at http://www.theo2.co.uk/email and someone will get back to you as soon as possible.