Felabration UK
You will be directed to AXS.com to purchase your tickets. AXS is the official ticketing partner of The O2.
The historic Felabration Music Festival conceived by Yeni Kuti, daughter of the African music icon and legend, Fela Anikulapo Kuti to commemorate his life and celebrate his legacy is coming to the UK on 30th August 2019 spearheaded by Fela's daughter Shalewa Kuti and DLA World.
With Music being an integral aspect of African culture, Felabration is one of the longest standing, most attended and ground-breaking music festivals in Nigeria that stages over 150 of the best African Artists over a one-week extravaganza at the New Afrika Shrine, Nigeria.
Fela's music and influence has travelled the global music landscape. The UK explosion and rise is arguably the biggest musical breakthrough in decades that is also responsible for the preservation of the African culture through music, fashion and arts in recent years.
It is fair to say, that all Afrobeats artists are descendants of or influenced by Fela Kuti in some way and for one day, the UK will celebrate Fela Kuti and host some of the biggest names in Afrobeats, Afropop and Afrosoul who will incorporate and showcase the Fela's music, his charisma and razzmatazz on the big stage at indigo at The O2.
The festival will foster unity and greatness and will be a show stopping experience from psychedelic stage performances, décor recreating the ambiance of The Shrine, on-screen visuals to cultural dances and the best line up in Afrobeats.
Lineup: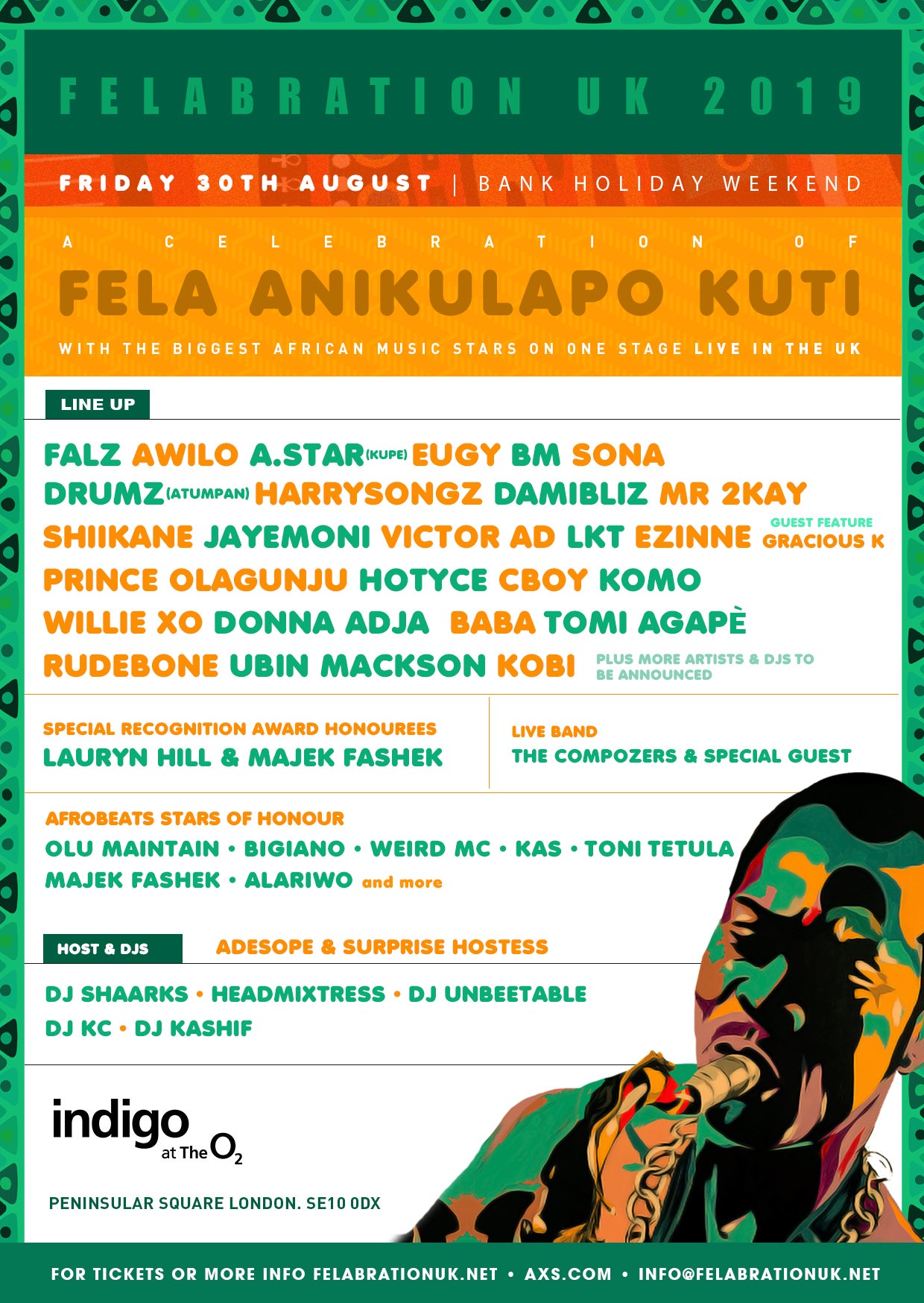 You will be directed to AXS.com to purchase your tickets. AXS is the official ticketing partner of The O2.
Important Information
Security
Coming to the show? Don't miss a moment. Head down early. Enhanced security is in place. Pack light, we only allow small bags into the arena.
Tickets
Please only purchase tickets through authorised ticketing sites such as www.axs.com. If you have, or suspect you may have been a victim of fraud when purchasing tickets, please report it to Action Fraud www.actionfraud.police.uk.
Taking care of your ticket
Your ticket's barcode is unique. Don't share the barcode of your ticket with anyone, especially online, as it may be used to sell your ticket on without your knowledge.
Help Desk
If you have already used our on-line help desk - and still need to get in touch? We can be contacted on 0208 463 2000 or click on the Help button at the bottom right of the screen. We're here to help Monday – Friday 9-7pm and 10-6pm at weekends.