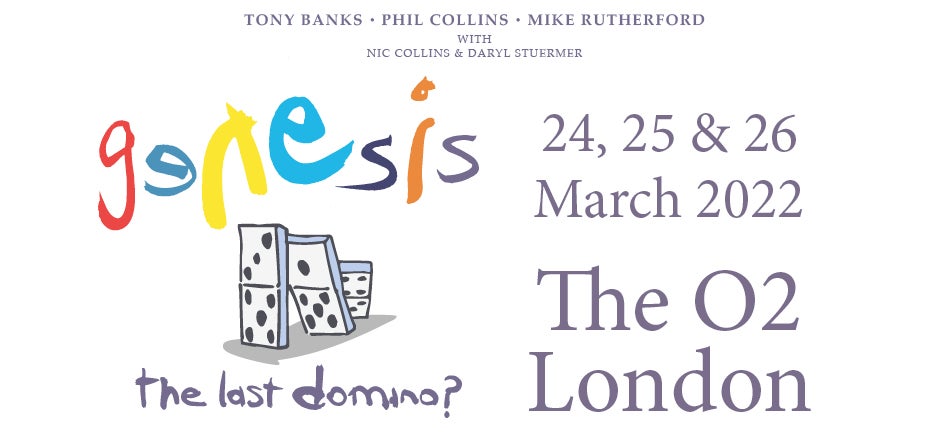 Genesis
You will be directed to AXS.com to purchase your tickets. AXS is the official ticketing partner of The O2.
The event organisers have been in touch to let us know that they've announced a new date for this show, which was originally due to take place on Monday 11, Tuesday 12 and Wednesday 13 October - will now be taking place on Thursday 24, Friday 25, Saturday 26 March. All tickets remain valid.
Monday 11th October 2021 > Thursday 24th March 2022
Tuesday 12th October 2021 > Friday 25th March 2022
Wednesday 13th October 2021 > Saturday 26th March 2022
Please click here for information on our Entry Requirements including the NHS COVID Pass and our Clear Bag Policy.
---
Genesis, who are among the biggest selling recording artists of all time and one of Britain's most internationally renowned bands, will be touring for the first time in 13 years.
The Last Domino? Tour will be Tony Banks, Phil Collins and Mike Rutherford's first live outing together since the globe-trotting, sell-out Turn It On Again: The Tour in 2007. They will be joined on stage by Nic Collins on drums, and the bands long time guitar and bass player Daryl Stuermer.
Genesis are one of the world's biggest selling and most successful bands of all time. They have sold an estimated 100 million albums and have played to sold-out stadiums and arenas all over the world for decades.
The evolution of Genesis is unique, their sound developed and progressed throughout their career and with multiple line-up alterations in the early years, the classic line-up of Tony Banks, Phil Collins and Mike Rutherford took shape in 1976.
'And Then There Were Three' (1978) was the first album the band released as a three-piece and spawned the single 'Follow You Follow Me' which was their first UK top ten and US top 30 single and proved to be the start of huge commercial global success. The albums 'Duke' (1980), 'Abacab' (1981), 'Genesis' (1983), 'Invisible Touch' (1986) and 'We Can't Dance' (1991) followed for the trio, alongside almost constant global stadium tours cementing the band as one of the most successful of all time.
Tony, Phil and Mike reunited again as a band in 2007 after almost 10 years for the Turn It On Again Tour which went on to be one of the biggest grossing tours on the year playing sold-out stadiums around the world.
Resale Restriction T&Cs – authorised resale permitted
1. This event is for fans only and these special conditions are in place to ensure that tickets are purchased for personal use only and are not resold for profit and/or through unauthorised resale sites.
2. A strict limit of 4 tickets per person (and per household) per event applies. Any tickets purchased over this limit may be cancelled and invalidated (in which case you will be refunded).
3. Tickets must not be purchased with the intention of reselling them for commercial purposes and/or profit.
4. If you can no longer use your tickets and are not eligible for an exchange or refund, you may resell them through AXS official resale (please check artist page on livenation.co.uk for further details).
5. You may not resell or offer to resell tickets for this event through any unauthorised resale site such as Viagogo or Stubhub, or for commercial purposes and/or profit.
6. Any tickets purchased, resold or offered for resale in breach of these special conditions may be cancelled and invalidated (in which case you will be refunded).
7. In the event of any inconsistency between these special conditions and any other applicable terms and conditions, these special conditions will apply.
Important Information - How to download your tickets on The O2 app
For this show, if you've purchased your tickets from theo2.co.uk or AXS.com you'll need to display your ticket on your phone via The O2 app. Ticket purchasers will receive an email with news and information on AXS Mobile ID tickets and how you can download your tickets to your phone.
If you've bought your tickets for this show via AXS then you can re-sell your tickets with AXS Official Resale which gives you a safe, simple, and fair way to buy and sell tickets.
For more information on re-selling tickets from AXS and other ticket agents click here.
Please note: If you purchase resale tickets for this show through any website other than via theo2.co.uk or axs.com, your tickets may not be valid and access to the venue could be refused.
Keeping you safe at events
For more information on how we are keeping you safe at events please click here.
NHS COVID Pass
PLEASE NOTE THE FOLLOWING ENTRY REQUIREMENT FOLLOWING THE GOVERNMENT RECOMMENDATIONS:
The O2 arena requires you to present a NHS COVID Pass on entry to gain access to this event.
The NHS COVID Pass is a certificate that demonstrates that you have at least one of the following:
• You have completed a full course of vaccination at least 14 days ago
• You have received a negative PCR or lateral flow test result within 36 hours of the event
• You have proof of natural immunity by way of a positive PCR test at least 180 days ago
Click here to find out more
Clear Bag Policy
To remove the need for bag searches, The O2 has implemented a new clear bag policy, this means that all customers' belongings must be in a 100% clear plastic, vinyl or PVC bag.
• For everyone's safety and security it's better if you do not bring a bag at all to the arena.
• We will only allow clear and transparent bags no larger than A4 size (20x10cm).
• If you have to bring a non-transparent bag with you, you can leave it at our bag storage facility just outside the main entrance to The O2 at a cost of £10 per bag.
• All bags will be searched and screened before being accepted into the bag storage facility.
• Backpacks, laptop bags, handbags and clutch bags are not permitted inside the arena unless they're clear and transparent.
You will be directed to AXS.com to purchase your tickets. AXS is the official ticketing partner of The O2.
Important Information
Security
Coming to the show? Don't miss a moment. Head down early. Enhanced security is in place. Pack light, we only allow small bags into the arena.
Tickets
Please only purchase tickets through authorised ticketing sites such as www.axs.com. If you have, or suspect you may have been a victim of fraud when purchasing tickets, please report it to Action Fraud www.actionfraud.police.uk.
Taking care of your ticket
Your ticket's barcode is unique. Don't share the barcode of your ticket with anyone, especially online, as it may be used to sell your ticket on without your knowledge.
Help Desk
If you have already used our on-line help desk - and still need to get in touch? Drop us an email at http://www.theo2.co.uk/email and someone will get back to you as soon as possible.