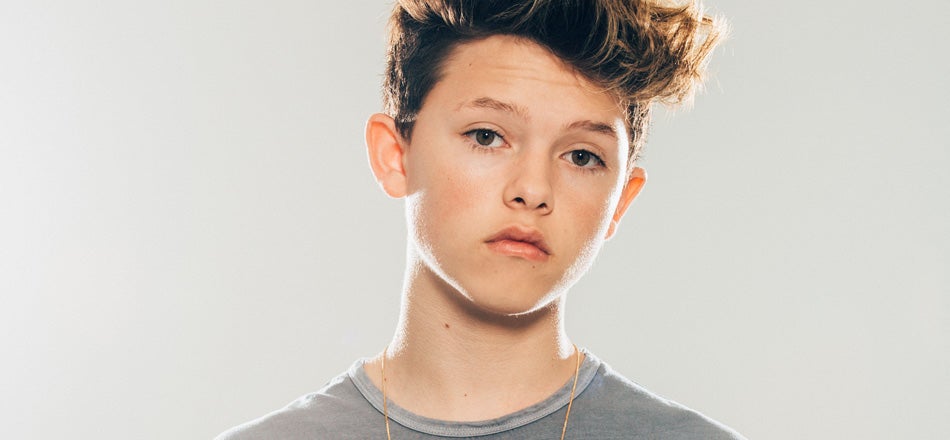 Jacob Sartorius
Get access to exclusive updates and a heads-up on tickets.
At the age of 8, Jacob started taking acting lessons and began pursuing roles in community theatre year-round.
The multi-talented entertainer quickly realized his passion for making people laugh and smile and brought his positive energy online, turning social platforms into stages and amassing a highly engaged and super active audience of online supporters. Jacob initially generated massive buzz online in 2015. His first official Vine post—an anti-bullying message—would eventually be looped 15 million times. As he conquered Vine, he began to build a following on Instagram and Twitter. His unwavering commitment to delivering honest and heartfelt content has catapulted him to the "5th most engaged user on Twitter" and "one of the most engaged accounts globally on Instagram." He also has become one of the most trafficked personalities on Musical.ly. In just one year, he added 6.4 million Instagram followers, he became a "Top 5 profile" on Musical.ly with 12 million followers and he added 1.8 million subscribers on his YouTube channel.
In addition to creating a flood of viral content and hosting unforgettable meet-n-greets with his supporters, Jacob has been spending time exploring one of his biggest passions: music.
After the successful release of his first-ever, original song, "Sweatshirt," which catapulted to Top 5 on iTunes Overall Top Songs chart and received an RIAA Gold plaque, Jacob released "Hit Or Miss." It entered the Hot 100 at #72, went Top 10 on the iTunes Overall Top Songs chart and has accumulated 10.6 million-plus Spotify streams. In early October, Jacob released his third single "All My Friends" which reached #4 on the iTunes Pop Charts and #9 on the Overall Top Songs chart. It has since amassed over 2 million streams on Spotify and nearly 7 million views on YouTube. Continuing to explore music is the next natural step for Jacob as he continues to progress as a pop culture presence, while speaking to a phenomenal demand for content of all kinds.
Important Information
Security
Coming to the show? Don't miss a moment. Head down early. Enhanced security is in place. Pack light, we only allow small bags into the arena.
Road Works
Please be aware that there are road works taking place on Millennium Way affecting the route into Car Park 1. A short diversion is in place and Car Park 1 will be open as normal throughout the works. Please allow extra time when travelling to or from The O2 by road.
Tickets
Please only purchase tickets through authorised ticketing sites including www.axs.com and www.stubhub.co.uk - The Official Ticket Resale Marketplace of The O2. If you have, or suspect you may have been a victim of fraud when purchasing tickets, please report it to Action Fraud www.actionfraud.police.uk.
Taking care of your ticket
Your ticket's barcode is unique. Don't share the barcode of your ticket with anyone, especially online, as it may be used to sell your ticket on without your knowledge.
Help Desk
If you have already used our on-line help desk - and still need to get in touch? We can be contacted on 0208 463 2000 or click on the Help button at the bottom right of the screen. We're here to help Monday – Friday 9-7pm and 10-6pm at weekends.