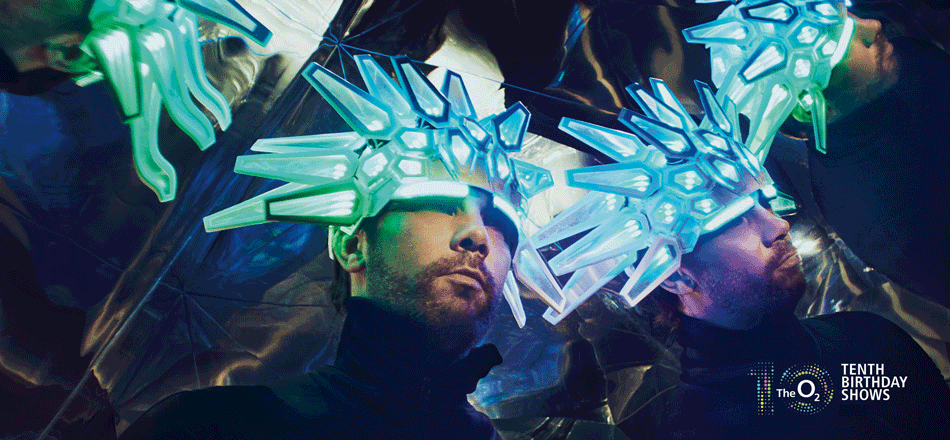 Jamiroquai
Date

3

Dec

-

6

Dec

2017

Venue

The O2 arena

Availability

On sale now
You will be directed to AXS.com to purchase your tickets. AXS is the official ticketing partner of The O2.
Event Details
Jamiroquai postpones The O2 10th birthday shows to December
Sadly due to Jay Kay currently recuperating and in rehabilitation after his procedure last week, it has been announced that Jamiroquai's two 10th birthday shows on the 23rd and 24th June have been postponed.
The shows will now take place on Sunday 3rd and Wednesday 6th December 2017. Tickets for the new date can be purchased here.
Jamiroquai's two shows marked the end of a week-long birthday celebration starting with performances by alt-J (Friday 16th June), Celine Dion (Tuesday 20 and Wednesday 21st) and Ed Sheeran (Thursday 22nd).
The O2 said: "We're sorry that the gigs have been moved and wish Jay Kay a speedy recovery. As we know he'd want, the celebrations are set to continue and for our birthday week we're transforming The O2 into a giant birthday party to thank all the fans for their support over the past 10 years. O2's Birthday gift box is in place all week including Jamiroquai show dates, where you'll have the opportunity to win amazing prizes in our live-streamed game show hosted by Vernon Kay.
We can't wait to have Jay Kay and the band back later in the year and promise we'll keep the party going for them."
All tickets will remain valid for the rescheduled dates and refunds, if required, are available from point of purchase.
Please note that tickets for the postponed show on Friday 23 June at The O2 will only be valid for the rescheduled show on Sunday 3 December. Tickets for The O2 show on Saturday 24 June will only be valid for Wednesday 6 December.
There are no plans at this stage for any additional shows to be affected. On behalf of the whole team we'd like to apologise to all ticket holders for any inconvenience caused. Jay thanks you all for the continued support and understanding:
A personal message from Jay Kay
Hi - Jay here,
It is with great regret that again I have to disappoint people due to the ongoing problem with my back. I have never felt so frustrated with a situation as I feel now, and I am desperate to get back to form. After two operations I am only marginally more active, and I know I could never give the 125% energy I need to give to you good people a super show. I am a proud man, and it breaks my heart to have to keep moving these performances and asking for people's patience. I am distraught at this and am feeling very low.
2017 is turning out to be a tough year, with the loss of several close friends in quick succession and the inability to perform properly in the way I've been doing, and the only way I know how to, since I did my first gig at 17 years old.
I want to thank all of you for the messages of support you have sent me. I can't quite believe how kind you all are. A thousand thanks.
I want to apologise to all of you who have no doubt made travel plans and taken time out to see us in Paris, Athens and London The O2, but I give you my word - I promise you I will come back and give you the shows you deserve. Faster, harder and stronger.
Thank you all so much once again for your unerring love and patience, your posts have really picked me up.
From a very wounded Buffalo.
Lots of love,
Jx
Our 10th birthday party doesn't stop though. Read all you need to know about the celebrations here.
Sign up for updates and pre-sales
Date

3

Dec

-

6

Dec

2017

Venue

The O2 arena

Availability

On sale now
You will be directed to AXS.com to purchase your tickets. AXS is the official ticketing partner of The O2.
Upcoming Events
Plus special guests Baby Drill and 21 Lil Harold
Plus special guests MNEK, John Martin, Jem Cooke and Jazzy
Plus special guests Bailey Zimmerman and Larry Fleet
Plus special guest Bob The Drag Queen
Plus special guests Cypress Hill and The Game