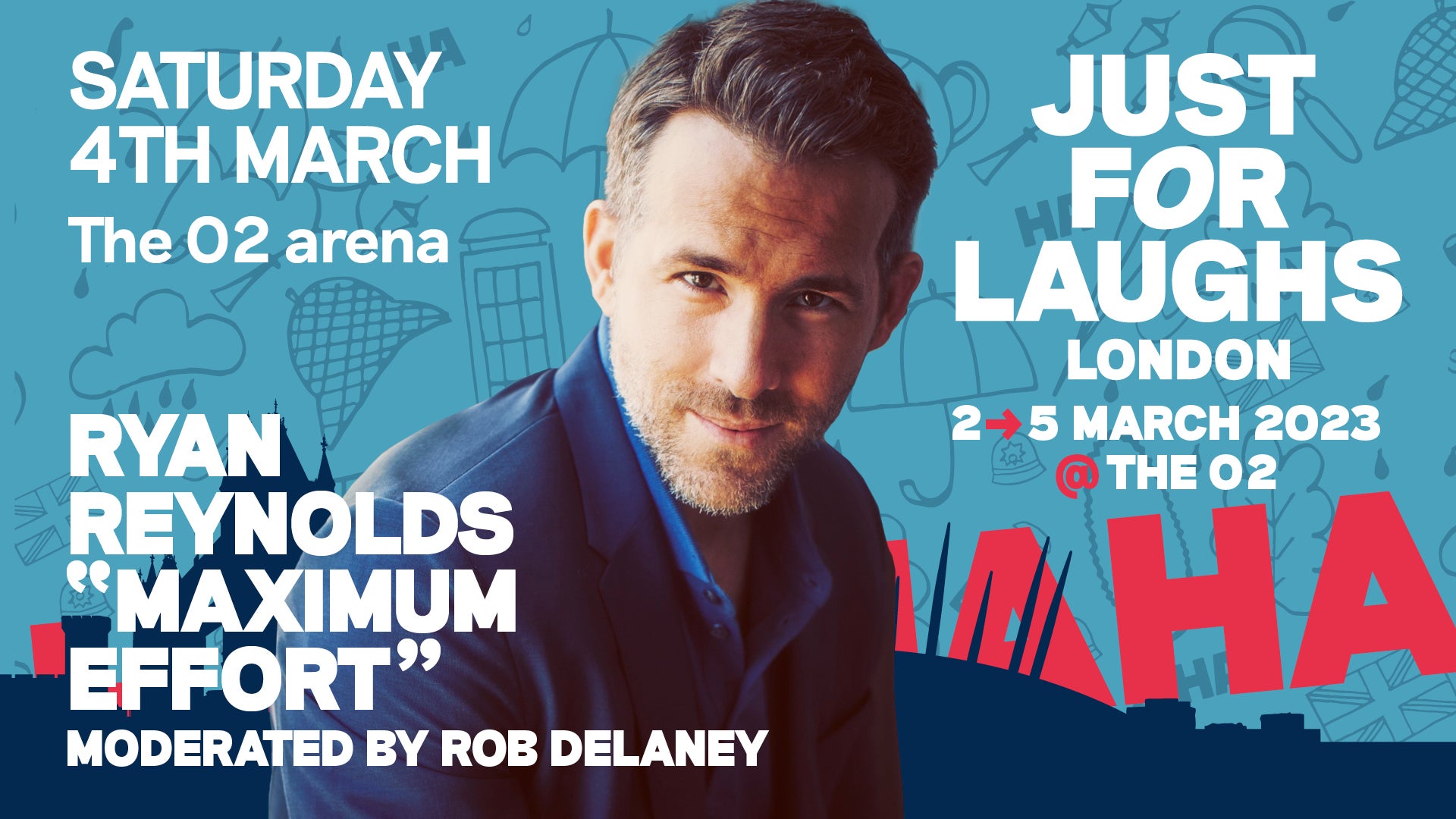 Ryan Reynolds - Maximum Effort
Ryan Reynolds - Maximum Effort
Date

4

Mar

2023

Venue

The O2 arena

Availability

On sale now
You will be directed to AXS.com to purchase your tickets. AXS is the official ticketing partner of The O2.
Event Details
Global super-star Ryan Reynolds will transport us into his creative multiverse as he talks about everything from his accomplished acting career to being a producer and screenwriter to a successful entrepreneur. This is sure to be a fun-packed conversation filled with laughter, anecdotes, and insight into the Hollywood superstar. Reynolds' acting career includes nominations for a Golden Globe and Grammy Awards for his work on the billion-dollar franchise Deadpool. He is the only actor with 3 films on Netflix's all-time top 10 list (Red Notice, The Adam Project, Six Underground). After beginning his acting career in 1991, Ryan rose to prominence in the comedy series Two Guys, A Girl and a Pizza Place and dozens of films. But there's more as Reynolds is also an award-winning marketer, creating breakthrough campaigns for Deadpool as well as Aviation Gin, Mint Mobile and the Match Group. And if you think he's not busy enough, he is also an owner of Aviation Gin, Mint Mobile, Wrexham Football Club, Chief Creative Officer of MNTN and a co-founder of Maximum Effort Productions. It's no wonder that he's been recognized as one of the most creative people in business by Fast Company, Wall Street Journal and AdWeek among others. Don't miss this exciting, funny and insightful conversation with Ryan Reynolds as he talks about his passions, future projects, his road to and secrets of his success.
Moderating the conversation will be Ryan's Deadpool 2 co-star, Rob Delaney. Rob is the Emmy nominated co-creator and co-star of the critically acclaimed Channel 4 and Amazon Prime comedy Catastrophe and is currently filming Showtime's drama series The Man Who Fell To Earth. He recently wrapped Judd Apatow's upcoming comedy The Bubble opposite Karen Gillan, and his stand-up special Rob Delaney: Live at the Bowery Ballroom, is available on Netflix.
About Just for Laughs
Global leader in comedy, Just For Laughs, in collaboration with leading live entertainment company, AEG Presents, and The O2, the world's most popular music, leisure and entertainment venue, are thrilled to share details of the first slate of programming to be added to the first-ever edition of Just For Laughs LONDON, a four-day festival being held between March 2-5 2023 inclusive at The O2.
Taking place in various venues covering the full campus of The O2 complex - from intimate club shows at indigo at The O2 to London's largest cinema, Cineworld as well as the world-famous 20,000-capacity arena - and featuring a mix of notable headliners, multi-comic shows, live podcast recordings, 'In Conversations', cast panels and more, Just for Laughs LONDON promises to deliver larger-than-life laughs as it unites today's funniest UK and international comedy stars.
Just for Laughs LONDON is joining forces with the major charity Comic Relief, who have been changing lives across the world since 1985. Both our organisations believe in the power of laughter and people coming together to create positive change, so we are thrilled to be working together to program 2-3 shows at the first edition of Just For Laughs LONDON. The comedy festival will raise money to help Comic Relief support people through the toughest times of their lives in the UK and around the world.
Important Information - How to download your tickets on The O2 app
For this show, if you've purchased your tickets from theo2.co.uk or AXS.com you'll need to display your ticket on your phone via The O2 app. Ticket purchasers will receive an email with news and information on AXS Mobile ID tickets and how you can download your tickets to your phone.
If you've bought your tickets for this show via AXS then you can re-sell your tickets with AXS Official Resale which gives you a safe, simple, and fair way to buy and sell tickets.
For more information on re-selling tickets from AXS and other ticket agents click here.
Please note: If you purchase resale tickets for this show through any website other than via theo2.co.uk or axs.com, your tickets may not be valid and access to the venue could be refused.
Sign up for updates and pre-sales
Date

4

Mar

2023

Venue

The O2 arena

Availability

On sale now
You will be directed to AXS.com to purchase your tickets. AXS is the official ticketing partner of The O2.
Upcoming Events
Plus special guests Baby Drill and 21 Lil Harold
Plus special guests MNEK, John Martin, Jem Cooke and Jazzy
Plus special guests Bailey Zimmerman and Larry Fleet
Plus special guest Bob The Drag Queen
Plus special guests Cypress Hill and The Game