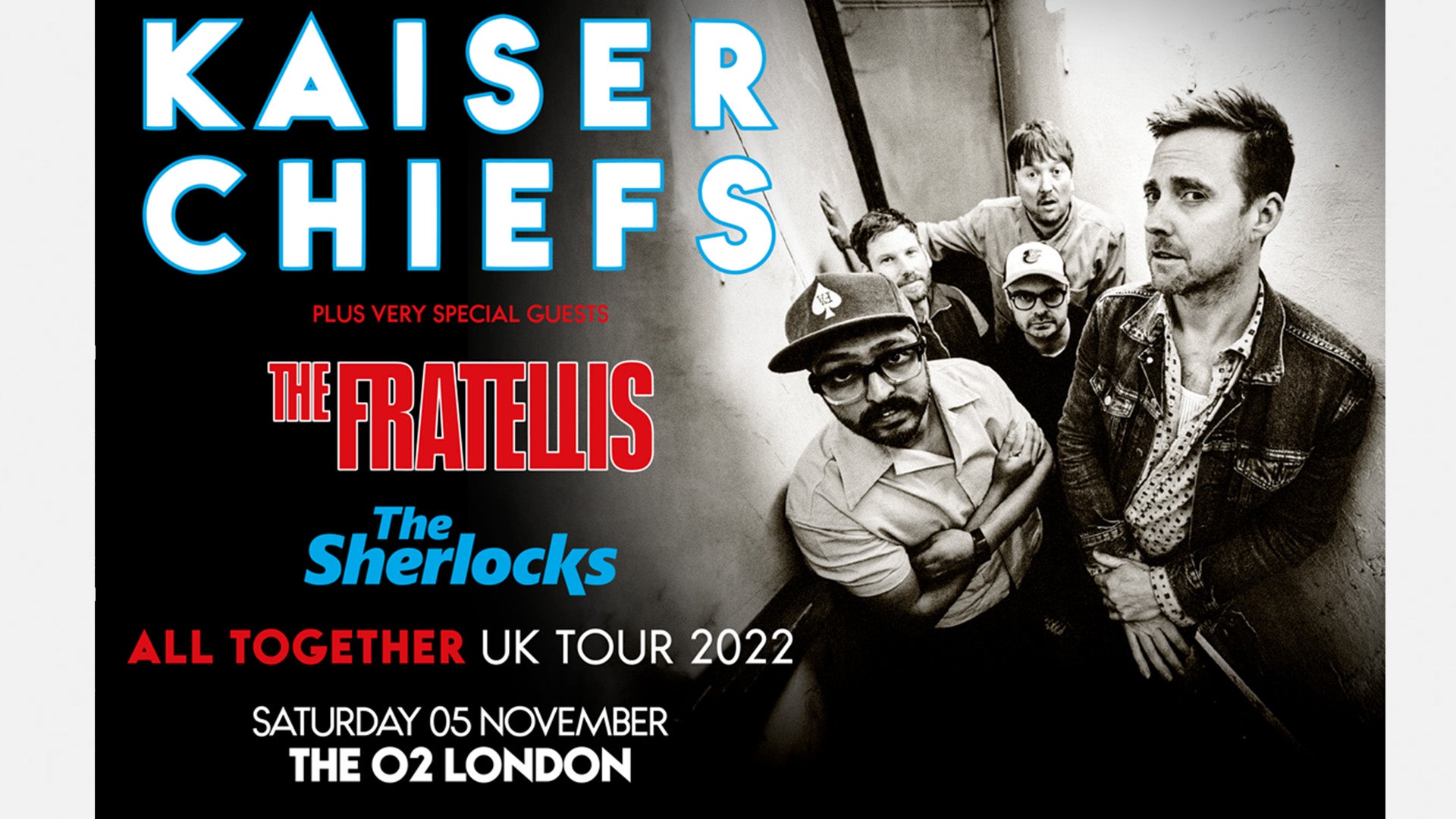 Kaiser Chiefs
Support from The Fratellis and The Sherlocks
Kaiser Chiefs
Support from The Fratellis and The Sherlocks
You will be directed to AXS.com to purchase your tickets. AXS is the official ticketing partner of The O2.
British multi-award-winning band Kaiser Chiefs has announced their nationwide tour which sees them stop The O2 on Saturday 5 November 2022, with support from The Fratellis and The Sherlocks.
Formed in Leeds in 2000, Kaiser Chiefs are one of the leading bands of their generation. Fronted by the magnetic Ricky Wilson with Simon Rix on bass, Andrew 'Whitey' White on guitar, Nick 'Peanut' Baines on keyboards and drummer Vijay Mistry, the band have been Mercury nominated for their debut album, 'Employment' and went on to win three BRIT awards, an Ivor Novello award for Album of the Year, and have sold over 8 million albums worldwide.
Kaiser Chiefs have solidly made their mark as heroes within the British music scene, with absolutely no sign of them slowing down. The band have released seven studio albums to date including chart toppers, 'Yours Truly, Angry Mob' and 'Education, Education, Education & War' plus their much praised 2019 and top 3 album 'Duck'. Watch this space for new music to come. Kaiser Chiefs have released multiple top ten singles including the infamous number 1 hit 'Ruby' and anthems such as 'Oh My God', 'I Predict A Riot', 'Everyday I Love You Less and Less', and 'Never Miss A Beat'.
Glaswegian trio The Fratellis will also perform, following a rollercoaster year in 2021 which saw them unleash a new album alongside a barrage of singles and collaborations, before rounding the year off by winning the prestigious King Tut's Songwriting Award at the Scottish Music Awards. They'll perform songs from their new album, 'Half Drunk Under a Full Moon' as well as fan-favourites and indie anthems such as 'Chelsea Dagger'.
Kaiser Chiefs' Yorkshire neighbours The Sherlocks will open each night, completing a star-studded line-up. The Sheffield quartet have become one of the most exciting live bands in the UK. Selling out tours across the nation, they have also achieved chart success with two UK Top 10 albums.
Important Information - How to download your tickets on The O2 app
For this show, if you've purchased your tickets from theo2.co.uk or AXS.com you'll need to display your ticket on your phone via The O2 app. Ticket purchasers will receive an email with news and information on AXS Mobile ID tickets and how you can download your tickets to your phone.
If you've bought your tickets for this show via AXS then you can re-sell your tickets with AXS Official Resale which gives you a safe, simple, and fair way to buy and sell tickets.
For more information on re-selling tickets from AXS and other ticket agents click here.
Please note: If you purchase resale tickets for this show through any website other than via theo2.co.uk or axs.com, your tickets may not be valid and access to the venue could be refused.
Sign up for updates and pre-sales
You will be directed to AXS.com to purchase your tickets. AXS is the official ticketing partner of The O2.
Important Information
Security
Coming to the show? Don't miss a moment. Head down early. Enhanced security is in place. Pack light, we only allow small bags into the arena.
Tickets
Please only purchase tickets through authorised ticketing sites such as www.axs.com. If you have, or suspect you may have been a victim of fraud when purchasing tickets, please report it to Action Fraud www.actionfraud.police.uk.
Taking care of your ticket
Your ticket's barcode is unique. Don't share the barcode of your ticket with anyone, especially online, as it may be used to sell your ticket on without your knowledge.
Help Desk
If you have already used our on-line help desk - and still need to get in touch? Drop us an email at http://www.theo2.co.uk/email and someone will get back to you as soon as possible.