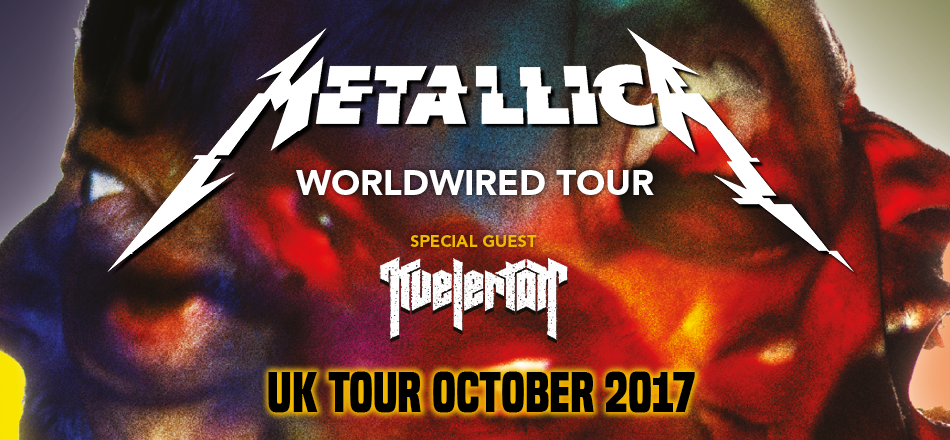 Metallica
Metallica today announced two dates at The O2 during the European leg of their WorldWired Tour, in support of their new album Hardwired… To Self-Destruct. The tour stops at The O2 on the 22 and 24 October 2017. Norway's Kvelertak will be support for the tour run.
Tickets go on sale Friday 24 March and are available at www.theo2.co.uk or by calling 0844 856 0202.
Hardwired...To Self-Destruct was released on the 18 November, 2016 on Metallica's own Blackened Recordings record label and debuted at No. 1 around the world, selling over 800,000 copies worldwide in its first week. The album was produced by Greg Fidelman with James Hetfield and Lars Ulrich.
Praise for Hardwired...To Self-Destruct includes: The New York Times: "Metallica has embraced its adulthood, reclaiming the attack of its music while jettisoning the image of a hard-rock band as young, fast and out of control;" Rolling Stone: "Metallica's "Hardwired" shreds back to vintage eighties terror;" Decibel: "Metallica balances legacy, longevity, and longitude with Hardwired...To Self-Destruct;" Kerrang!: "This is Metallica galvanized, refreshed, refocused and rediscovering themselves. Best thing they've done since The Black album? Yep;" The Guardian: "Metallica have just made their finest record in 25 years;" NME: "Metallica remain both vital and innovative;" San Jose Mercury News: "Metallica has once again delivered an album that echoes and underscores the mood of millions;" and much
Important information
Security
Coming to the show? Don't miss a moment. Head down early. Enhanced security is in place. Pack light, we only allow small bags into the arena.
Road Works
Please be aware that there are road works taking place on Millennium Way affecting the route into Car Park 1. A short diversion is in place and Car Park 1 will be open as normal throughout the works. Please allow extra time when travelling to or from The O2 by road.
Tickets
Please only purchase tickets through authorised ticketing sites including www.axs.com and www.stubhub.co.uk - The Official Ticket Resale Marketplace of The O2. If you have, or suspect you may have been a victim of fraud when purchasing tickets, please report it to Action Fraud www.actionfraud.police.uk.
Taking care of your ticket
Your ticket's barcode is unique. Don't share the barcode of your ticket with anyone, especially online, as it may be used to sell your ticket on without your knowledge.
Help Desk
If you have already used our on-line help desk - and still need to get in touch? We can be contacted on 0208 463 2000 or click on the Help button at the bottom right of the screen. We're here to help Monday – Friday 9-7pm and 10-6pm at weekends.