close
Event timings
Doors: 18:00 // Show Start: 19:30 // Finish: 23:00
(All times approx and subject to change)
Home

•

Music for The Marsden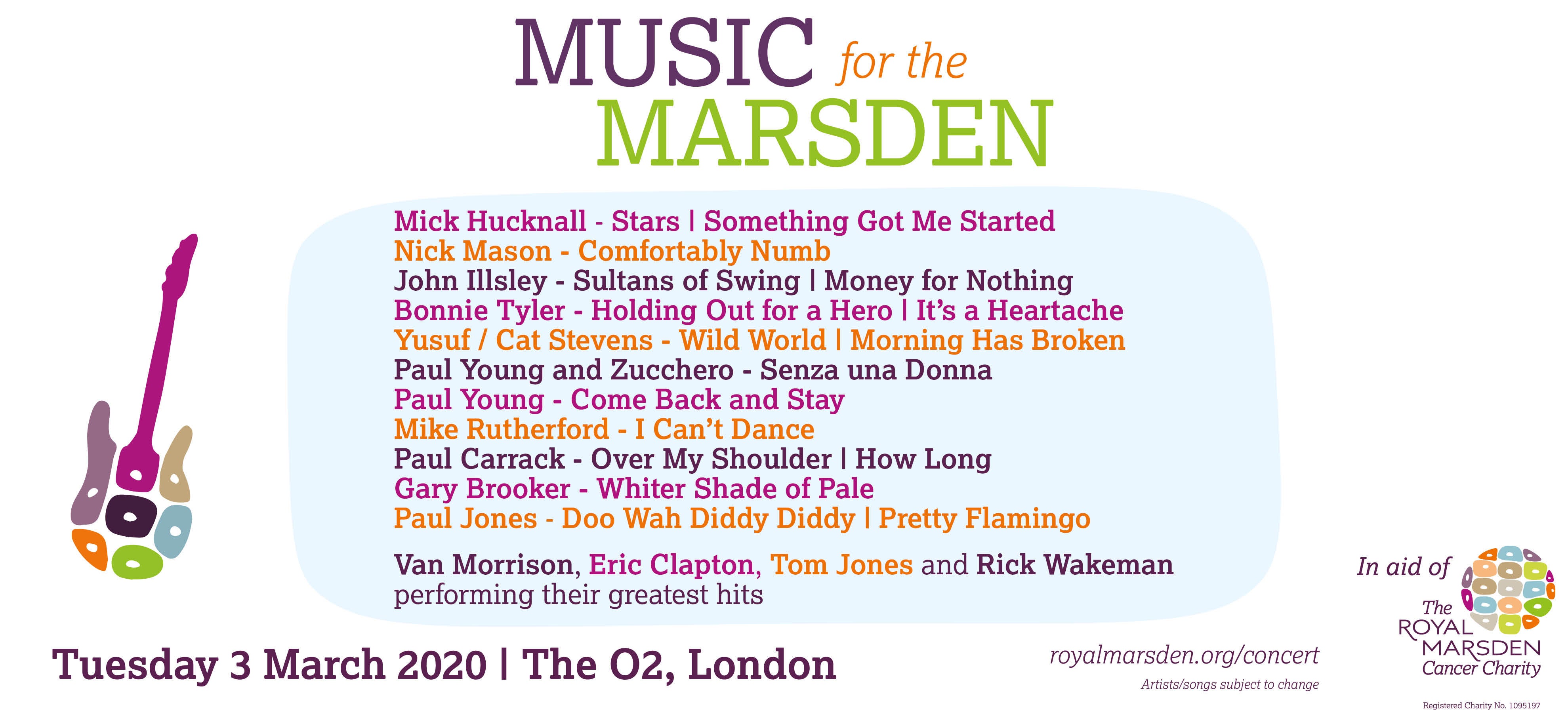 Music for The Marsden
Eric Clapton, Van Morrison, Sir Tom Jones, Bonnie Tyler, Mick Hucknall, Mike Rutherford, Paul Young, Zucchero, Paul Carrack, Paul Jones, John Illsley, Gary Brooker, Rick Wakeman, Yusuf / Cat Stevens, Nick Mason
Music for The Marsden
Eric Clapton, Van Morrison, Sir Tom Jones, Bonnie Tyler, Mick Hucknall, Mike Rutherford, Paul Young, Zucchero, Paul Carrack, Paul Jones, John Illsley, Gary Brooker, Rick Wakeman, Yusuf / Cat Stevens, Nick Mason
You will be directed to AXS.com to purchase your tickets. AXS is the official ticketing partner of The O2.
In aid of The Royal Marsden Cancer Charity. Registered Charity Number: 1095197
The Royal Marsden Cancer Charity is thrilled to announce a star-studded benefit concert to be held at The O2 on Tuesday 3 March 2020 with a stellar line up of superstars performing their biggest hits.
Funds raised from the concert will go towards building The Royal Marsden's brand new, state of the art cancer treatment and research facility, the Oak Cancer Centre.
Performing on Tuesday 3 March at the 'Music for the Marsden' concert will be a formidable line-up including Eric Clapton, Van Morrison, the legendary Tom Jones, Gary Brooker of Procol Harum plus Simply Red's Mick Hucknall, John Illsley from Dire Straits, Paul Jones, Rick Wakeman from Yes, Mike Rutherford and Paul Carrack, Yusuf / Cat Stevens and the unstoppable Bonnie Tyler. Paul Young and Zucchero will perform the smash hit duet Senza una Donna.
Gary Brooker, of Procol Harum, is Musical Director of the show and has worked tirelessly to bring together the line-up of the greats playing their hits live onstage, as well as the all-star house band. The house band line up is: Paul 'Wix' Wickens (keyboards), Andy Fairweather Low and Robbie McIntosh (guitars), Dave Bronze (bass), Graham Broad and Ian Paice (drums & percussion).
Tom Jones said "It's such a pleasure to be part of this amazing evening. I've worked with Gary Brooker before and to be asked to perform with these great musicians for such a wonderful and important charity is an honour. The Royal Marsden is an incredible hospital helping thousands of patients each year and I hope we can help in a small way to raise vital funds needed to continue their life saving work."
Eric Clapton added "This is a great cause and I'm honoured to be part of the efforts to raise money for The Royal Marsden. I've known Gary Brooker for many years so to have the chance to be back working together, along with other great artists and band mates was one I couldn't say no to. I am sure it'll be a fantastic evening providing much needed support for this pioneering hospital."
Managing Director of The Royal Marsden Cancer Charity, Antonia Dalmahoy, said "We're incredibly grateful for these legendary artists giving up their time and performing for this important cause, and are extremely thankful for the show producers and promoters who have worked tirelessly behind the scenes. The Royal Marsden has a long history of developing new treatments for cancer and much of this work has been made possible by supporters of The Royal Marsden Cancer Charity. By raising funds for the new Oak Cancer Centre, people buying tickets to the concert will be helping save and improve the lives of people affected by cancer."
The Royal Marsden NHS Foundation Trust is a world-renowned centre of excellence with an international reputation for ground-breaking research, pioneering the very latest cancer treatments and technologies for the benefit of patients not just at The Royal Marsden, but throughout the UK and further afield. It consists of hospitals in both Chelsea and Sutton, with some of the facilities and infrastructure in Sutton dating back to the 1960s.
The Royal Marsden Cancer Charity is raising £70 million for the Oak Cancer Centre. Named in recognition of Oak Foundation which has donated £25 million, the centre will replace some of the outdated facilities in the Sutton hospital with carefully designed modern spaces.
The centre will bring together over 400 researchers who are currently dispersed across the site, in areas designed to encourage collaboration and help speed up the development of new treatments, and will house a state of the art Rapid Diagnostic Centre to provide faster and earlier diagnosis for more people, helping to save lives by diagnosing cancer earlier when treatment is more likely to be successful.
Important Information - How to download your tickets on The O2 app
For this show, if you've purchased your tickets from theo2.co.uk or AXS.com you'll need to display your ticket on your phone via The O2 app. Ticket purchasers will receive an email with news and information on AXS Mobile ID tickets and how you can download your tickets to your phone.
If you've bought your tickets for this show via AXS then you can re-sell your tickets with AXS Official Resale which gives you a safe, simple, and fair way to buy and sell tickets.
For more information on re-selling tickets from AXS and other ticket agents click here.
Please note: If you purchase resale tickets for this show through any website other than via theo2.co.uk or axs.com, your tickets may not be valid and access to the venue could be refused.
You will be directed to AXS.com to purchase your tickets. AXS is the official ticketing partner of The O2.
Important Information
Security
Coming to the show? Don't miss a moment. Head down early. Enhanced security is in place. Pack light, we only allow small bags into the arena.
Tickets
Please only purchase tickets through authorised ticketing sites such as www.axs.com. If you have, or suspect you may have been a victim of fraud when purchasing tickets, please report it to Action Fraud www.actionfraud.police.uk.
Taking care of your ticket
Your ticket's barcode is unique. Don't share the barcode of your ticket with anyone, especially online, as it may be used to sell your ticket on without your knowledge.
Help Desk
If you have already used our on-line help desk - and still need to get in touch? Drop us an email at http://www.theo2.co.uk/email and someone will get back to you as soon as possible.