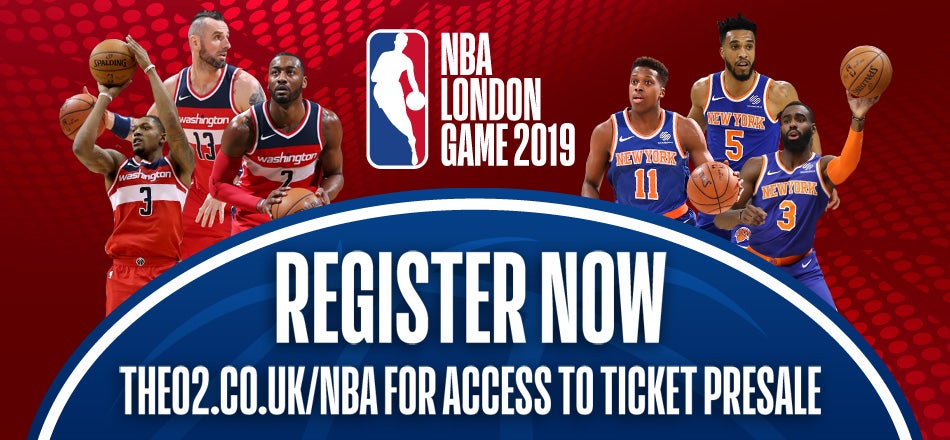 NBA London Game 2019
Sign up to be the first to know when tickets go on sale.
The National Basketball Association (NBA) have announced that the NBA London Game 2019 will feature a regular-season game between the Washington Wizards and the New York Knicks at The O2 on Thursday 17 January 2019.
The Wizards' roster currently features All-Star guards Bradley Beal and John Wall, who last season led the Wizards in points and assists, respectively, as well as Polish center Marcin Gortat. The Knicks' roster currently features Latvian forward Kristaps Porzingis, French point guard Frank Ntilikina, guard Tim Hardaway Jr. and newly appointed head coach David Fizdale.
The game will be broadcast by the NBA's broadcast partners across Europe, the Middle East and Africa and on NBA League Pass International.
The NBA London Game 2019 will mark the league's ninth regular-season game in London and the Knicks' third game in the capital, having played regular-season games against the Detroit Pistons in 2013 and the Milwaukee Bucks in 2015. The Wizards will be playing their first game in the UK. All eight previous regular-season NBA games in London sold-out.
In addition to the oncourt action, the NBA London Game 2019 will feature a variety of interactive fan activities, NBA Cares community outreach initiatives and Jr. NBA basketball programming that will bring the NBA experience to fans in London.
Executive and Player Quotes:
NBA Commissioner Adam Silver:
"We've been playing regular-season match-ups in London for nearly a decade, and over that time the games and the surrounding festivities have grown into the equivalent of an NBA All-Star experience transported to Europe. Fans and partners from across the continent come to celebrate basketball and enjoy the excitement and experience of an NBA game."
NBA EME Senior Vice President and Managing Director Benjamin Morel:
"The excitement of the NBA returns to London next January as we welcome back the New York Knicks and host the Washington Wizards for the first time. Bringing regular-season NBA games to London has become a staple of the sports calendar and is testament to the popularity of our league that fans from across Europe will descend on The O2 for another great game."
AEG Vice President of Sports Gael Caselli:
"Playing host to a regular-season NBA game is a huge privilege for us and has become a cornerstone event in our sporting calendar. With its unrivalled reputation, The O2 is the perfect venue and we look forward to welcoming our NBA friends each year. I know the 2019 clash between the Washington Wizards and the New York Knicks will be another unmissable game."
Washington Wizards guard John Wall:
"It will be an honor to represent the Washington Wizards organization as we play our first game in the UK. I look forward to connecting with our fans in London and using the experience to further bond as a team."
New York Knicks guard Tim Hardaway Jr.:
"I am excited to return to London. We had a great experience during our last visit in 2015 playing in front of passionate fans and are looking forward to another trip overseas."
Tickets will go on sale later in the year.
Important Information
Security
Coming to the show? Don't miss a moment. Head down early. Enhanced security is in place. Pack light, we only allow small bags into the arena.
Tickets
Please only purchase tickets through authorised ticketing sites such as www.axs.com. If you have, or suspect you may have been a victim of fraud when purchasing tickets, please report it to Action Fraud www.actionfraud.police.uk.
Taking care of your ticket
Your ticket's barcode is unique. Don't share the barcode of your ticket with anyone, especially online, as it may be used to sell your ticket on without your knowledge.
Help Desk
If you have already used our on-line help desk - and still need to get in touch? We can be contacted on 0208 463 2000 or click on the Help button at the bottom right of the screen. We're here to help Monday – Friday 9-7pm and 10-6pm at weekends.