Noel Fitzpatrick is the Supervet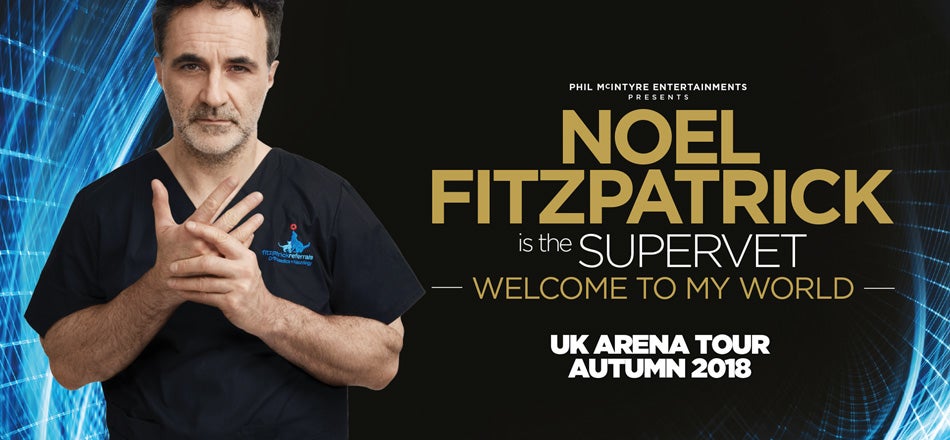 Noel Fitzpatrick is the Supervet
Following the huge success of his Channel 4 show, Professor Noel Fitzpatrick, The Supervet, is delighted to be bringing his first ever live stage show Welcome to My World to major arenas and theatres across the UK & Ireland next year.
This groundbreaking new show - a must for all animal lovers and fans of the TV show alike - will see Noel enlighten audiences with his incredible life story and explain how he became The Supervet we know and love.
When the show began on Channel 4, Noel wanted to tell a story about love, a story about hope, with incredible science in the background. He recognised the important bond humans have with animals, how they really are part of the family and how much families will do for them in return for the unconditional love which they give.
Join Noel on a journey from his early years in Ireland, where he was full of fantastical ideas through to today where the future of medicine is full of incredible promise. Welcome to My World is a deeply immersive experience, which will transport Noel into a virtual theatre thanks to the very latest in creative technology, allowing him to illustrate some of his remarkable techniques in front of the audience.
This is a unique opportunity to encounter Noel's pioneering bionic inventions first hand, as he takes to the stage to share how his past has paved the way for a more compassionate future for animals and those who love them.
Welcome to My World is a brand new live experience to really understand all that may be possible in the future within this breathtaking production.
Important Information
Security
Coming to the show? Don't miss a moment. Head down early. Enhanced security is in place. Pack light, we only allow small bags into the arena.
Road Works
Please be aware that there are road works taking place on Millennium Way affecting the route into Car Park 1. A short diversion is in place and Car Park 1 will be open as normal throughout the works. Please allow extra time when travelling to or from The O2 by road.
Tickets
Please only purchase tickets through authorised ticketing sites including www.axs.com and www.stubhub.co.uk - The Official Ticket Resale Marketplace of The O2. If you have, or suspect you may have been a victim of fraud when purchasing tickets, please report it to Action Fraud www.actionfraud.police.uk.
Taking care of your ticket
Your ticket's barcode is unique. Don't share the barcode of your ticket with anyone, especially online, as it may be used to sell your ticket on without your knowledge.
Help Desk
If you have already used our on-line help desk - and still need to get in touch? We can be contacted on 0208 463 2000 or click on the Help button at the bottom right of the screen. We're here to help Monday – Friday 9-7pm and 10-6pm at weekends.