Home •
Our Planet Live In Concert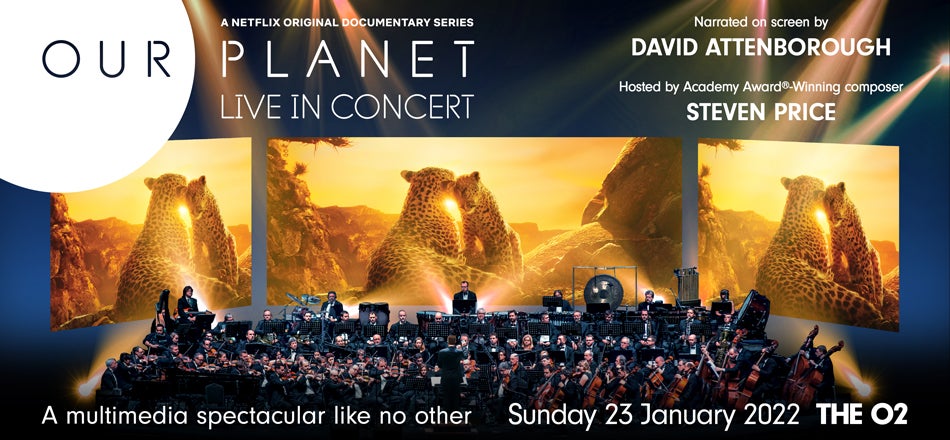 Our Planet Live In Concert
Rescheduled
Our Planet Live In Concert
Rescheduled
You will be directed to AXS.com to purchase your tickets. AXS is the official ticketing partner of The O2.
It is with great disappointment that due to the coronavirus global pandemic, we are unsure whether this show will be able to take place this October. Therefore we have taken the decision that in order for the show to go ahead as originally planned and safely, we are rescheduling the concert to the 23rd January 2022. All tickets will remain valid and will be automatically transferred over to the new date.
Emmy® Award-winning Netflix documentary, Our Planet, is to be re-imagined as a live arena experience with full orchestra and exclusive on screen narration by the legendary broadcaster David Attenborough. The world premiere of the live concert will take place at The O2.
General Entertainment Associates and Senbla are delighted to announce a spectacular new live experience, Our Planet Live in Concert. The production will reimagine the Emmy® Award winning series as a live experience, combining highlights from the series with some brand-new arrangements to create an immersive journey across Our Planet.
Specially developed by the series producers Silverback Films, and Oscar winning composer Steven Price, Our Planet Live in Concert is narrated on screen by legendary broadcaster, David Attenborough. Combining the outstanding natural world visuals of Our Planet with creative innovations in live production, this concert will be a live experience like no other.
The landmark eight-part Our Planet documentary series is being reimagined into a two-hour arena show with beautiful visual and sound effects and will be accompanied by a breath-taking 66-piece orchestra and live vocalist, the magnificent Lisa Hannigan. Three giant screens will present the incredible cinematography of Our Planet on a scale that has never been seen before, allowing audiences to be fully immersed into the wonders of earth's wildlife and their habitats. Intelligent lighting will heighten the visual experience beyond the screens and around the arena, programmed to run in sync with the footage.
All net profits from the Our Planet live project will be donated to WWF's global Our Planet education and awareness initiatives. These include providing a wealth of educational materials for schools and young people, based on the series, with the aim to inspire and motivate the next generation to protect our planet. The creators of the live events are also introducing measures to ensure the production is environmentally-friendly, working with host venues to minimise the environmental impact of each event.
Our Planet took the world by storm when it was released in April 2019. Taking viewers on a spectacular journey of discovery, showcasing the beauty and increased fragility of our natural world, the series explores the fact that humans have become the greatest threat to the survival of our planet, and all the species that inhabit it. The series also highlights the fact that there is still time to address the challenges that we have created, if we act now. It helped people to understand what is at stake and realise how imperative it was to lobby businesses and governments to start paying attention.
Our Planet Live in Concert brings together some of the world's greatest creatives, filmmakers, musicians and conservationists to provide an experience like no other.
Composer Steven Price's Emmy®-nominated score has been reworked for an epic two-hour performance and will be performed by local orchestras, the Philharmonia Orchestra in London and the Scottish National Orchestra in Glasgow. Irish vocalist Lisa Hannigan will sing alongside the 66-strong orchestra as music and special effects are delivered through 250 speakers to create a complete surround sound experience for the audience, allowing them to be further immersed in the production.
Academy-Award® winning composer Steven Price said "I can't wait to bring the music of Our Planet to live audiences for the very first time. Using a combination of the most memorable sequences from the Netflix series exclusively designed for this show, our incredible musicians and I plan to take you on a journey that celebrates the wonders of our planet- the one home we all share- whilst showing the urgent need to treasure and protect it. It's going to be an emotional and immersive experience and I hope to see you there."
CEO of Senbla Ollie Rosenblatt commented "I'm so excited to bring this spectacular programme that holds such important messages about the world we live in to live audiences with an incredible live symphony orchestra and exquisite visual effects. It's going to be special!"
The ground-breaking Our Planet series premiered on Netflix in April 2019 to a global audience in 190 countries worldwide. It focuses on the breadth of the diversity of habitats around the world - from the remote Arctic wilderness and mysterious deep oceans to the vast landscapes of Africa and diverse jungles of South America - giving an unprecedented look at the planet's most precious species and fragile landscapes. More than just a showcase of the Earth's natural wonders, the series also reveals why the natural world matters to us all and what steps must be taken to preserve it. Our Planet was watched by 33 million households in the first month of its release inspiring people around the world to connect to the one place we all call home.
Our Planet Live in Concert is making a conscious effort to reduce the environmental impact of its events in many ways and this includes working with venues that are also committed to sustainability. The O2 arena has now removed a wide range of single-use plastics from the venue and will continue these conversations about waste in the coming years. At The O2 a state- of- the- art waste compound, green cleaning program, ongoing energy reduction projects and on-site Wormery and Eco-Digester are just some of the actions in place that have contributed to a 40% reduction in transport to the site and less than 1% of waste going to landfill per year.
Important Information - How to download your tickets on The O2 app
For this show, if you've purchased your tickets from theo2.co.uk or AXS.com you'll need to display your ticket on your phone via The O2 app. Ticket purchasers will receive an email with news and information on AXS Mobile ID tickets and how you can download your tickets to your phone.
If you've bought your tickets for this show via AXS then you can re-sell your tickets with AXS Official Resale which gives you a safe, simple, and fair way to buy and sell tickets.
For more information on re-selling tickets from AXS and other ticket agents click here.
Please note: If you purchase resale tickets for this show through any website other than via theo2.co.uk or axs.com, your tickets may not be valid and access to the venue could be refused.
Keeping you safe at events
To help everyone attending an event at The O2 to stay safe we've made some changes to how we operate. Find out more about our enhanced health and safety measures.
You will be directed to AXS.com to purchase your tickets. AXS is the official ticketing partner of The O2.
Important Information
Security
Coming to the show? Don't miss a moment. Head down early. Enhanced security is in place. Pack light, we only allow small bags into the arena.
Tickets
Please only purchase tickets through authorised ticketing sites such as www.axs.com. If you have, or suspect you may have been a victim of fraud when purchasing tickets, please report it to Action Fraud www.actionfraud.police.uk.
Taking care of your ticket
Your ticket's barcode is unique. Don't share the barcode of your ticket with anyone, especially online, as it may be used to sell your ticket on without your knowledge.
Help Desk
If you have already used our on-line help desk - and still need to get in touch? Drop us an email at http://www.theo2.co.uk/email and someone will get back to you as soon as possible.