Home •
Queen + Adam Lambert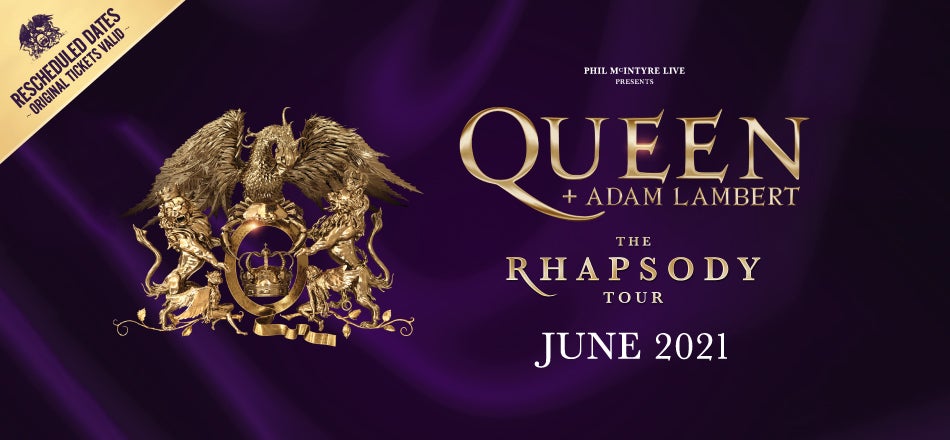 Queen + Adam Lambert
Rescheduled to June 2021
Queen + Adam Lambert
Rescheduled to June 2021
You will be directed to AXS.com to purchase your tickets. AXS is the official ticketing partner of The O2.
Queen + Adam Lambert regretfully announced today that their upcoming 27-date UK & European Rhapsody tour is being postponed due to the on-going global coronavirus outbreak.
The decision has been made with the safety of our audiences, band, crew and venue staff in mind and with close on 400,000 tickets sold across the tour, was not a decision taken lightly.
The 2020 tour was due to include a massive London run of ten nights at The O2, which have now been rescheduled for the following 2021 dates: Tue 1, Wed 2, Fri 4, Sat 5, Mon 7, Tue 8, Wed 16,Thu 17,Sat 19, Sun 20 June.
| | | |
| --- | --- | --- |
| Previous Dates | | Rescheduled Dates |
| Tuesday 2nd June 2020 | > | Tuesday 1st June 2021 |
| Wednesday 3rd June 2020 | > | Wednesday 2nd June 2021 |
| Friday 5th June 2020 | > | Friday 4th June 2021 |
| Saturday 6th June 2020 | > | Saturday 5th June 2021 |
| Monday 8th June 2020 | > | Monday 7th June 2021 |
| Tuesday 9th June 2020 | > | Tuesday 8th June 2021 |
| Wednesday 17th June 2020 | > | Wednesday 16th June 2021 |
| Thursday 18th June 2020 | > | Thursday 17th June 2021 |
| Saturday 20th June 2020 | > | Saturday 19th June 2021 |
| Sunday 21st June 2020 | > | Sunday 20th June 2021 |

All tickets will be valid for the rescheduled show dates. Ticket holders are advised to contact their point of purchase for information on ticket exchanges for the 2021 dates.
Addressing fans, Brian May said: "We're very sad to announce the postponement of our summer shows in Europe, although in the present crazy state of the world, it cannot be a surprise to our fans. Those incredible scenes at our concerts just over a month ago now seem like an impossibly distant dream. We were so lucky to be able to complete that tour, running just ahead of the wave that was about to break on us. I know many of our fans are having similar moments of disbelief and bewilderment out there. Of course we would have gone ahead with the dates had it been humanly possible. The good news is that we do NOW have a PLAN B ready to roll. If you hold on to your tickets they will be valid for the rescheduled shows. God willing, we will be there with bells on!"
Drummer Roger Taylor responded to the postponement saying: "We're all in this together. Devastating! Boringly frustrating! Scary and upsetting! But...pick ourselves up, dust ourselves down...start all over again!!! Be well....take care...coming right back at you as soon as we possibly can!!!
Much love...Roger T xxx
Singer Adam Lambert added: "I am very disappointed that we won't be touring Europe as planned, but we have to look after each other and put everyone's health first. Look forward to getting out there when it's safe."
#DontStopUsNow
At the same time as making this announcement, the band also highlighted its recently launched #DontStopUsNow initiative which is aimed at encouraging fan interaction, saying:
"Finally, a thank you from us! Our hearts have been warmed by the growing influx of Queen inspired videos from fans and supporters from all over the world in recent days. Keep them coming and we will highlight as many as we can across our social channels! #DontStopUsNow.
"We would like to bring the Queen family around the world even CLOSER together".
Important Information - How to download your tickets on The O2 app
For this show, if you've purchased your tickets from theo2.co.uk or AXS.com you'll need to display your ticket on your phone via The O2 app. Ticket purchasers will receive an email with news and information on AXS Mobile ID tickets and how you can download your tickets to your phone.
If you've bought your tickets for this show via AXS then you can re-sell your tickets with AXS Official Resale which gives you a safe, simple, and fair way to buy and sell tickets.
For more information on re-selling tickets from AXS and other ticket agents click here.
Please note: If you purchase resale tickets for this show through any website other than via theo2.co.uk or axs.com, your tickets may not be valid and access to the venue could be refused.
Keeping you safe at events
To help everyone attending an event at The O2 to stay safe we've made some changes to how we operate. Find out more about our enhanced health and safety measures.
You will be directed to AXS.com to purchase your tickets. AXS is the official ticketing partner of The O2.
Important Information
Security
Coming to the show? Don't miss a moment. Head down early. Enhanced security is in place. Pack light, we only allow small bags into the arena.
Tickets
Please only purchase tickets through authorised ticketing sites such as www.axs.com. If you have, or suspect you may have been a victim of fraud when purchasing tickets, please report it to Action Fraud www.actionfraud.police.uk.
Taking care of your ticket
Your ticket's barcode is unique. Don't share the barcode of your ticket with anyone, especially online, as it may be used to sell your ticket on without your knowledge.
Help Desk
If you have already used our on-line help desk - and still need to get in touch? Drop us an email at http://www.theo2.co.uk/email and someone will get back to you as soon as possible.