Home

•

Queen + Adam Lambert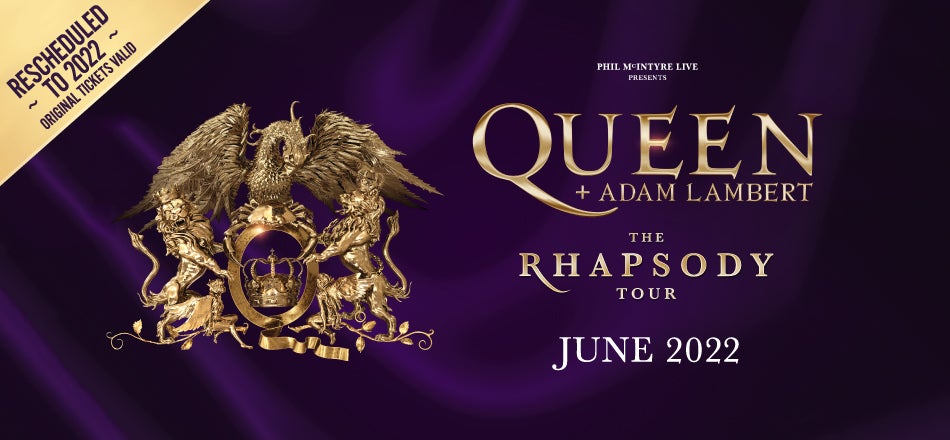 Queen + Adam Lambert
Rescheduled to June 2022
Queen + Adam Lambert
Rescheduled to June 2022
You will be directed to AXS.com to purchase your tickets. AXS is the official ticketing partner of The O2.
Queen's Brian May and Roger Taylor, plus singer Adam Lambert, spoke today of the "heartbreak" at having to once again postpone the highly anticipated UK and European dates of their Rhapsody World Tour.
Following a sensational run across Asia and Oceania last winter, Queen + Adam Lambert were originally set to rock the UK and Europe in summer 2020. During the band's spring break, however, the coronavirus outbreak left them no choice but to prioritise the safety of fans, crew and venue staff by postponing the dates until 2021.
Now, with the COVID-19 pandemic still far from resolved, the band are forced for a second time to reschedule the tour dates, moving them to 2022. "Under continuing Europe-wide Covid restrictions there's no possible way the tour can go ahead as planned for this year," Queen + Adam Lambert said today. "The prospect of again not being able to look forward to performing and getting to experience those wonderful audiences is just heartbreaking."
To ease their loyal fans' disappointment, Brian, Roger and Adam have announced a new and expanded set of 2022 dates for the UK and Europe Rhapsody shows, when they hope it will finally be safe to perform for large audiences.
Promoters for the Rhapsody Tour confirmed today that all previously purchased tickets continue to be valid for the corresponding rescheduled shows. Ticket holders will be contacted by their point of purchase for information on ticket exchanges for the new dates. New dates can be found at QueenOnline.com. "We wish to make it clear. None of the shows from 2020 and 2021 have been cancelled, just re-arranged due to COVID-19. We really do hope that as many people as possible who were booked for those original dates in 2020 will still be able to join us for the shows."
On getting back to performing live again Roger Taylor says: "When we do eventually get to play in front of live audiences it will be with a ferociously renewed attack and we shall revel in the wonderful experience of actually interacting with them again."
Frontman Adam Lambert said: "It's so disappointing to have to postpone again, but safety comes first, and we look forward to spring 2022 when we will be back, better than ever."
The postponement of this year's tour dates is especially disappointing for the band, who were looking forward to playing the shows as part of a significant landmark for Queen. With 50 years now having passed since the 1971 recruiting of John Deacon, completing Queen's classic line-up, 2021 marks a Queen Golden Jubilee that the band was hoping to celebrate with fans.
Nevertheless, The Show Must Go On – and it will in 2022 when Queen + Adam Lambert return to touring and embark on their next chapter together.
| | |
| --- | --- |
| CURRENT DATES JUNE 2021 | REPLACEMENT DATES: JUNE 2022 |
| | |
| Tuesday 1st June | Sunday 5th June |
| Wednesday 2nd June | Monday 6th June |
| Friday 4th June | Friday 17th June |
| Saturday 5th June | Thursday 9th June |
| Monday 7th June | Monday 20th June |
| Tuesday 8th June | Tuesday 14th June |
| Wednesday 16th June | Wednesday 15th June |
| Thursday 17th June | Wednesday 8th June |
| Saturday 19th June | Saturday 18th June |
| Sunday 20th June | Tuesday 21st June |
Important Information - How to download your tickets on The O2 app
For this show, if you've purchased your tickets from theo2.co.uk or AXS.com you'll need to display your ticket on your phone via The O2 app. Ticket purchasers will receive an email with news and information on AXS Mobile ID tickets and how you can download your tickets to your phone.
If you've bought your tickets for this show via AXS then you can re-sell your tickets with AXS Official Resale which gives you a safe, simple, and fair way to buy and sell tickets.
For more information on re-selling tickets from AXS and other ticket agents click here.
Please note: If you purchase resale tickets for this show through any website other than via theo2.co.uk or axs.com, your tickets may not be valid and access to the venue could be refused.
Keeping you safe at events
To help everyone attending an event at The O2 to stay safe we've made some changes to how we operate. Find out more about our enhanced health and safety measures.
You will be directed to AXS.com to purchase your tickets. AXS is the official ticketing partner of The O2.
Important Information
Security
Coming to the show? Don't miss a moment. Head down early. Enhanced security is in place. Pack light, we only allow small bags into the arena.
Tickets
Please only purchase tickets through authorised ticketing sites such as www.axs.com. If you have, or suspect you may have been a victim of fraud when purchasing tickets, please report it to Action Fraud www.actionfraud.police.uk.
Taking care of your ticket
Your ticket's barcode is unique. Don't share the barcode of your ticket with anyone, especially online, as it may be used to sell your ticket on without your knowledge.
Help Desk
If you have already used our on-line help desk - and still need to get in touch? Drop us an email at http://www.theo2.co.uk/email and someone will get back to you as soon as possible.