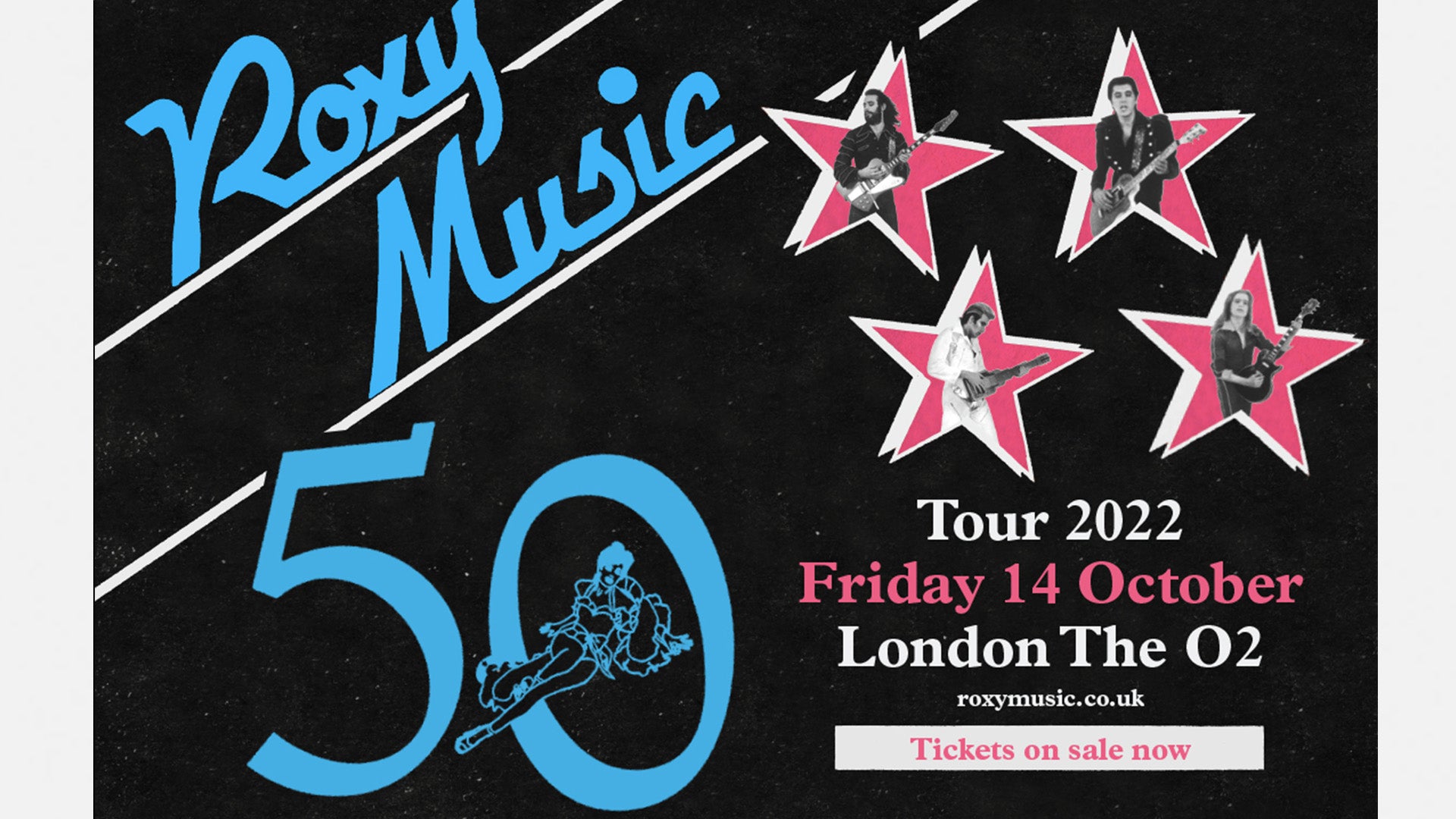 Roxy Music
You will be directed to AXS.com to purchase your tickets. AXS is the official ticketing partner of The O2.
Roxy Music, one of the most influential and exhilarating music acts in history, will tour for the first time in more than a decade to mark the 50th year since their ground-breaking debut album, with a headline show at London's The O2 on Friday 14 October 2022.
Since their formation in 1972, multi-platinum Rock and Roll Hall of Fame inductees, Roxy Music have left an indelible mark on the worlds of music, fashion, and art, merging the three with a singular and astonishing vision that brought them immediate, global success. Today they are regarded as one of the most influential bands of all time, whose work has inspired generations of musicians. Intense, emotive, and clever, with iconic graphics, Roxy Music's eight studio albums birthed the art-rock movement, blurring the lines between genres and infusing a new kind of glamour into rock music for the first time.
2022 marks a year of celebration for Roxy Music. Throughout the year, each of their eight studio albums, all heralded as modern classics, will be reissued as special anniversary editions with a new half-speed cut, revised artwork and a deluxe gloss laminated finish. The first 2 LPs, "Roxy Music" and "For Your Pleasure", will be released on April 1, 2022, with the remaining albums arriving in paired drops throughout the year.
Important Information - How to download your tickets on The O2 app
For this show, if you've purchased your tickets from theo2.co.uk or AXS.com you'll need to display your ticket on your phone via The O2 app. Ticket purchasers will receive an email with news and information on AXS Mobile ID tickets and how you can download your tickets to your phone.
If you've bought your tickets for this show via AXS then you can re-sell your tickets with AXS Official Resale which gives you a safe, simple, and fair way to buy and sell tickets.
For more information on re-selling tickets from AXS and other ticket agents click here.
Please note: If you purchase resale tickets for this show through any website other than via theo2.co.uk or axs.com, your tickets may not be valid and access to the venue could be refused.
You will be directed to AXS.com to purchase your tickets. AXS is the official ticketing partner of The O2.
Important Information
Security
Coming to the show? Don't miss a moment. Head down early. Enhanced security is in place. Pack light, we only allow small bags into the arena.
Tickets
Please only purchase tickets through authorised ticketing sites such as www.axs.com. If you have, or suspect you may have been a victim of fraud when purchasing tickets, please report it to Action Fraud www.actionfraud.police.uk.
Taking care of your ticket
Your ticket's barcode is unique. Don't share the barcode of your ticket with anyone, especially online, as it may be used to sell your ticket on without your knowledge.
Help Desk
If you have already used our on-line help desk - and still need to get in touch? Drop us an email at http://www.theo2.co.uk/email and someone will get back to you as soon as possible.