Sound of My Heart Jason Zhang 2017 World Tour in London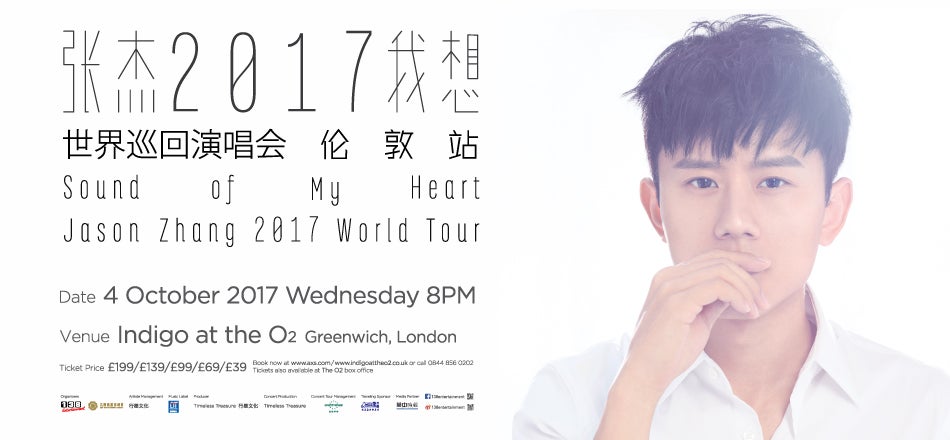 Sound of My Heart Jason Zhang 2017 World Tour in London
Get access to exclusive updates and a heads-up on tickets.
Jason Zhang, also known as Zhang Jie, is a Chinese pop singer who rose to fame after winning the first season of 'My Show'. From 2007 till now is Jason 's golden 10 years. He have participated in countless populate Chinese singing show including "Super boy" and "Singer ". And now he is one of the leading singers and pop idols in the Chinese music industry.
Along with 12 hit albums and over 30 concerts, Jason has received the "Most Popular Male Singer" award 33 times in China and was named "Best Asian Artist" of 2010 at the Mnet Asian Music Awards. In November of 2014, Zhang became the first Chinese singer to win the prestigious International Artist Award at the American Music Awards. He recently recorded the hit single "Lost in the Stars" for movie Star Trek Beyond, as well as "Torches" - his latest collaboration with X Ambassadors for the release of movie Transformers 5 in Asia.
Jason's "Sound of my Heart World Tour" started in in 2016, and has achieved great success in cities such as New York, Los Angeles, Sydney and Vancouver etc
For the very first time, Jason is hitting the London stage, get ready for some serious Chinese pop music in "Indigo at the O2 on this October the 4th!
Important Information
Security
Coming to the show? Don't miss a moment. Head down early. Enhanced security is in place. Pack light, we only allow small bags into the arena.
Tickets
Please only purchase tickets through authorised ticketing sites such as www.axs.com. If you have, or suspect you may have been a victim of fraud when purchasing tickets, please report it to Action Fraud www.actionfraud.police.uk.
Taking care of your ticket
Your ticket's barcode is unique. Don't share the barcode of your ticket with anyone, especially online, as it may be used to sell your ticket on without your knowledge.
Help Desk
If you have already used our on-line help desk - and still need to get in touch? We can be contacted on 0208 463 2000 or click on the Help button at the bottom right of the screen. We're here to help Monday – Friday 9-7pm and 10-6pm at weekends.