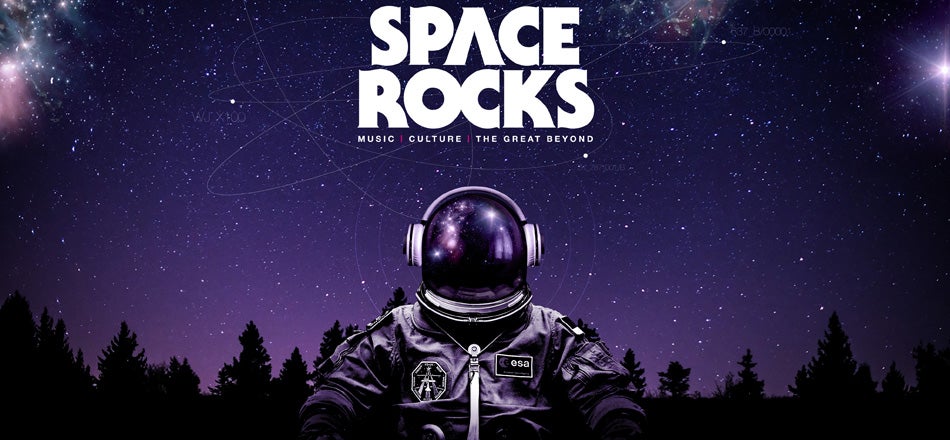 Space Rocks
Space Rocks
Sunday April 22nd, 2018.
Space Rocks is a celebration of space exploration and the art, music, and culture it inspires. Presented in association with ESA, the European Space Agency, it is a unique gathering of the best and brightest in every scientific and creative field but united by a common passion for the Universe beyond our world.
Our pilot event consists of three sessions and covers a broad range of space enthusiasts, from devoted superfans to the sci-curious. Space Academy, our first session, is aimed at kids of all ages and will highlight the incredible range of space science currently underway. Session 2, Space Goes to the Movies, will look at popular portrayals of space and space exploration and pick apart some of the biggest blockbusters of our day. Session 3 is our live gig, and will feature visionary music inspired by humankind's fascination with the great beyond.
Sessions:
12.30pm – 2.30pm Session 1 – Space Academy hosted by Dallas Campbell with panellists Dr Maggie Lieu, Dr Matt Taylor (Rosetta Mission), Tim Peake and tbc.
3.30pm – 6.00pm Session 2 – Space Goes To The Movies hosted by Dallas Campbell with panellists Mark McCaughrean, the author Alastair Reynolds, Tim Peake, and tbc.
7.30pm – 10.30pm Session 3 – Space Rocks Live with Lonely Robot, Charlotte Hatherley & tbc
Info:
There are a variety of tickets available across the three sessions here with merchandise & ticket bundles available via mechdirect.com/spacerocks
These sessions are open to all, with under 14's needing to accompanied and seated with an adult.
Our Space Lounge at Indigo with tea, coffee and drinks to purchase will be open all day to all ticketholders (whist capacity allow) from midday to 8pm.
Space Rocks merchandise will be available from midday to 10.30pm at the Indigo lobby.
Important Information
Security
Coming to the show? Don't miss a moment. Head down early. Enhanced security is in place. Pack light, we only allow small bags into the arena.
Road Works
Please be aware that there are road works taking place on Millennium Way affecting the route into Car Park 1. A short diversion is in place and Car Park 1 will be open as normal throughout the works. Please allow extra time when travelling to or from The O2 by road.
Tickets
Please only purchase tickets through authorised ticketing sites including www.axs.com and www.stubhub.co.uk - The Official Ticket Resale Marketplace of The O2. If you have, or suspect you may have been a victim of fraud when purchasing tickets, please report it to Action Fraud www.actionfraud.police.uk.
Taking care of your ticket
Your ticket's barcode is unique. Don't share the barcode of your ticket with anyone, especially online, as it may be used to sell your ticket on without your knowledge.
Help Desk
If you have already used our on-line help desk - and still need to get in touch? We can be contacted on 0208 463 2000 or click on the Help button at the bottom right of the screen. We're here to help Monday – Friday 9-7pm and 10-6pm at weekends.