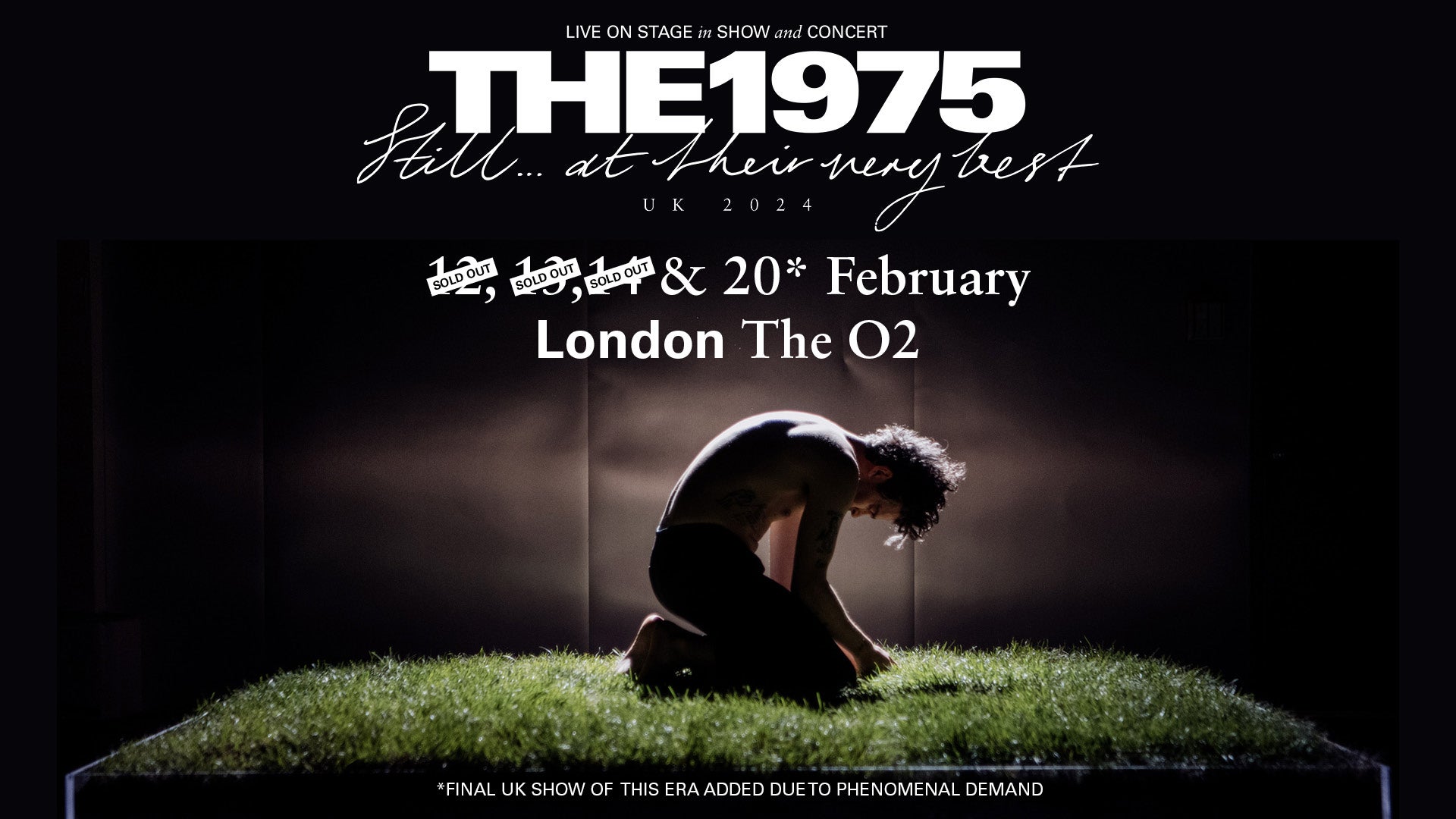 The 1975
Still... At Their Very Best Tour
The 1975
Still... At Their Very Best Tour
Date

12

Feb

-

20

Feb

2024

Venue

The O2 arena

Availability

On sale now
You will be directed to AXS.com to purchase your tickets. AXS is the official ticketing partner of The O2.
Event Details
The 1975's new 'Still… At Their Very Best' tour will see the band arriving in the UK and in 2024. Between the impressive staging, high concept performance art and surprise appearances from friends, the tour has been lauded as a band truly in their prime; a claim backed up by the plethora of five-star reviews from critics. The 1975 'Still… At Their Very Best' will set the bar even higher, featuring newly expanded production.
The O2 is the first arena worldwide to announce that it will be hosting 'carbon removed' events, in collaboration with carbon removal experts CUR8 and sustainable event specialists A Greener Future. Over The 1975 shows, The O2 will remove over 100 tonnes of residual carbon emissions per event, thereby neutralising the carbon impact, as part of an industry-leading pilot
These pilot events will use a portfolio of carbon removal methods to physically extract the carbon generated by the events from the atmosphere and durably store it out of harm's way – a game-changing step on the path to helping the global live events industry reach genuine net-zero.
With A Greener Future's expertise, the venue can now predict the emissions of an event in advance of it taking place, based on expected outputs for categories including catering, travel/transport and electricity, which equates to over 100 tonnes per show for The 1975 at The O2.
Using this data, the cost of removing the carbon associated with the events can be folded into the existing business model. AEG Europe, alongside The O2 arena's hospitality partner Levy UK + Ireland, have accounted for the removal costs in their operations, while emissions for audience travel are estimated based on travel surveys and covered by a 90p investment which has been incorporated into the event ticket price.
Important Information - How to download your tickets on The O2 app
For this show, if you've purchased your tickets from theo2.co.uk or AXS.com you'll need to display your ticket on your phone via The O2 app. Ticket purchasers will receive an email with news and information on AXS Mobile ID tickets and how you can download your tickets to your phone.
If you've bought your tickets for this show via AXS then you can re-sell your tickets with AXS Official Resale which gives you a safe, simple, and fair way to buy and sell tickets.
For more information on re-selling tickets from AXS and other ticket agents click here.
Please note: If you purchase resale tickets for this show through any website other than via theo2.co.uk or axs.com, your tickets may not be valid and access to the venue could be refused.
Sign up for updates and pre-sales
Date

12

Feb

-

20

Feb

2024

Venue

The O2 arena

Availability

On sale now
You will be directed to AXS.com to purchase your tickets. AXS is the official ticketing partner of The O2.