The League Of Gentlemen Live Again!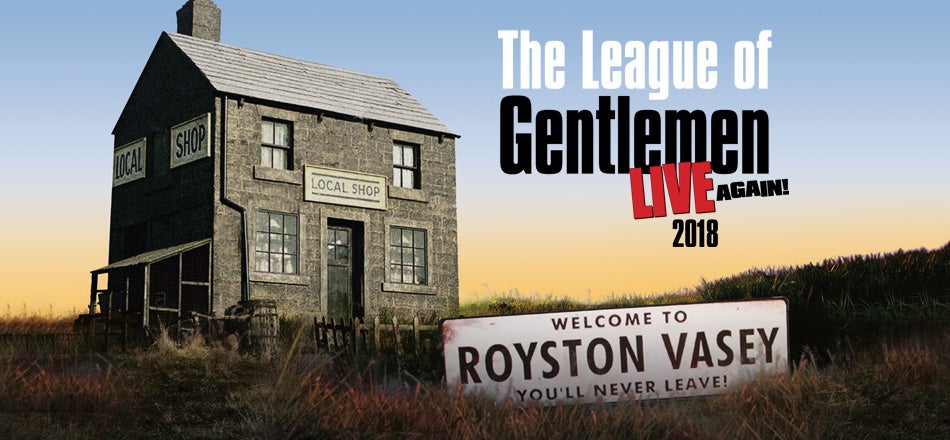 The League Of Gentlemen Live Again!
The League of Gentlemen will return to the stage in 2018 for their first UK tour in over 12 years, with their brand new live show 'The League of Gentlemen Live Again!' They will stop at The O2 on Sunday 23rd September 2018.
The tour will see BAFTA Award winning comedy legends Reece Shearsmith, Steve Pemberton, Mark Gatiss and Jeremy Dyson bring their dark and unhinged fictional village of Royston Vasey to theatres and arenas across the country.
The critically acclaimed black comedy which originally ran from 1999 – 2002 on BBC Two, also returns to our television screens this Christmas to celebrate 20 years since the show began with three special episodes on 18th, 19th and 20th December 2017.
Reece Shearsmith, Steve Pemberton, Mark Gatiss and Jeremy Dyson said: "The League of Gentlemen started as a live show over 20 years ago and in many ways performing in front of an audience gives us the biggest thrill of all. We're overjoyed to be taking the citizens of Royston Vasey on a road-trip and can't wait to see all the wonderful local places in our increasingly local country. Plus we'd already gone to the trouble of getting the costumes and learning the voices again for the TV show so we thought why not? Something to do isn't it?"
Tubbs Tattsyrup added: "I'm so eccited to take my preshus things on tour agen I did a little brown fish! Do wee go to Swansea?"
Tickets go on sale Thursday 21st December at 12.45pm.
Important Information
Security
Coming to the show? Don't miss a moment. Head down early. Enhanced security is in place. Pack light, we only allow small bags into the arena.
Tickets
Please only purchase tickets through authorised ticketing sites such as www.axs.com. If you have, or suspect you may have been a victim of fraud when purchasing tickets, please report it to Action Fraud www.actionfraud.police.uk.
Taking care of your ticket
Your ticket's barcode is unique. Don't share the barcode of your ticket with anyone, especially online, as it may be used to sell your ticket on without your knowledge.
Help Desk
If you have already used our on-line help desk - and still need to get in touch? We can be contacted on 0208 463 2000 or click on the Help button at the bottom right of the screen. We're here to help Monday – Friday 9-7pm and 10-6pm at weekends.